ILP funding has helped to pay for much needed repairs and upgrades at an historic building in Lancashire that once belonged to one of the organisation's founders, Katherine Bruce Glasier.
Earby Youth Hostel was opened in 1958 as a "permanent memorial" to Bruce Glasier who had lived in the Pendle house when it was known as Glen Cottage in the early years of the 20th century.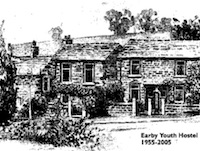 The hostel was closed by the Youth Hostel Association 10 years ago but is slowly being brought back into use by a small group of enthusiasts from the local community, called Friends of Earby Hostel.
A recent donation from the ILP has helped to pay for a new telephone and answering machine, a boiler and radiators, a carbon monoxide detector, a shower, electrical safety check and new locks.
A new lease is currently being finalised for the building and, after years of local campaigning, ownership of the hostel has been transferred from Pendle Council to Earby Town Council.
Further donations are urgently needed, however, before the hostel can be re-opened. Funds are required to pay for work on the building's exterior, to buy a new cooker, and to fit a new bathroom and kitchen in the warden's cottage.
Donations can be sent by cheque to:
The Treasurer
Friends of Earby Hostel
1 Heather Brow
Earby
Barnoldswick
Lancashire
BB18 6LP
—-
For more about the Earby Youth Hostel you can contact Bob Abel, secretary of Friends of Earby Hostel, on Bobabel2224@gmail.com.
See also: 'Katharine Bruce Glasier – The ILP's Spiritual Socialist' by Paul Salveson.