'The revolution is dead, long live the revolution' is the theme of an afternoon seminar in London on Saturday 21 October to mark the centenary of the Russian Revolution in 1917.
Organised as part of Philosophy Football's 'Art out of Revolution' festival, in association with the Soundings journal of politics and culture, it aims to provide three hours of participative discussion on the meaning of revolution then and now, models of change old and new, and the legacy of 1917 for today's left.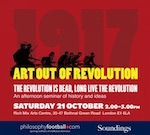 The seminar will be chaired and introduced by Jeremy Gilbert, Professor of Cultural and Political Theory at the University of East London and author of Common Ground: Democracy and Collectivity in an Age of Individualism.
The panellists will include:
John Medhurst, author of No Less than Mystic: A History of Lenin and the Russian Revolution for a 21st Century Left.
Kevin Morgan, one of the editors of the Twentieth Century Communism journal and author of Communists and British Society 1920-1991: People of a Special Mould.
Marina Prentoulis of Syriza whose chapter on what Corbynism can learn from the Greek left's experience of government is in The Corbyn Effect.
Hilary Wainwright, founder and co-editor of Red Pepper. Her latest book A New Politics from the Left will be published early in 2018.
Booking is essential from Philosophy Football. The event is free but a small fee will be charged to cover admin costs.
—-