BARRY WINTER examines the political origins of Jeremy Corbyn's politics, asking: what are its ideological roots and what is the nature of his leadership?
Until the two recent Labour leadership elections, I had never met Jeremy Corbyn, nor even heard him speak, although I attended party conference and its numerous fringe meetings for a couple of decades.
In one sense, uncovering the roots of Corbyn's politics appears simple. He comes very much from the Bennite left tradition: at its best sincere and committed; at times politically simplistic.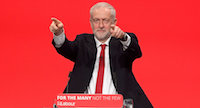 In 1988, that tradition faced a monumental defeat. Tony Benn made a desperate bid for the party leadership, challenging Neil Kinnock. Benn secured roughly 11% of the vote, compared with Kinnock's 89%. The Bennite left never really recovered from that rash endeavour.
At the time the ILP warned that, given conditions in the party, it was a bad idea for Benn to stand. We felt the left was already enfeebled and defeat would only make matters worse and highlight its weakness. We likened Benn's challenge – thanks to Eric Preston's formulation – to the Charge of the Light Brigade.
Sadly, we were right. Benn's defeat marked the demise of what, for a time, had been a vibrant Labour left in which the ILP had often played an active part. At the time, Corbyn was secretary of the Bennite Campaign Group of Labour MPs.
Corbyn has been a very active and long-term member of the broader Labour movement. Like many on the left, he was a member of CND in the 1960s. In the 1970s, he worked for the tailor and garment workers' union and then as an organiser for the National Union of Public Employees. He was in the Anti-Apartheid Movement and a member of its executive. "Ever the activist", as the socialist writer Richard Seymour put it.
Corbyn strongly opposed the expulsion of the vanguardist Militant tendency, saying, perhaps rather unwisely, "If expulsions are in order for Militant, they should apply to us too." I'd argue that this failed to recognise that Militant was a manipulative, bullying and self-serving presence within the party.
In 1983, Corbyn entered Parliament representing Islington North, and joined the Campaign Group. He's been a stalwart, hard-working member of the Labour left. However, his judgement on some issues like Northern Ireland, with his uncritical support for Sinn Fein, suggests an oversimplified political outlook.
Between 1997 and 2010, he held the record for voting against the Labour government, particularly against the three-line whips. In just five years – between 2005 and 2010 – he rebelled on 428 occasions. The fact that he never had the whip removed suggests the leadership did not feel he posed them much of a problem.
It is also worth remembering that between 1997 and 2010, Labour shed five million votes.
Corbyn was also a vigorous anti-war campaigner and was heavily involved in the Stop the War Coalition. He vehemently opposed the Iraq War, speaking at many of its rallies, as well as organising the massive demonstration against the war, which many of us will remember well.
To sum up his politics, I would situate Corbyn within the ethical socialist tradition. However, he has had a tendency to oversimplify some complex issues. Never the careerist, he has been a sincere, hard-working MP, both nationally and locally.
'It kind of clicked'
As for the nature of Corbyn's leadership, I first want to comment on his candidature; then briefly to consider the wider political context; and finally to present the thoughts of a good friend of mine who is among his many ardent supporters.
First, how come he stood for the leadership of the party? Here, I find the  remarks of another long-time Bennite – Jon Lansman, now chair of Momentum – very revealing. Lansman, as you will probably know, is standing for Labour's NEC, hoping to fulfil a long-term aspiration.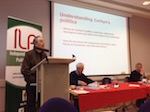 He recently told Red Pepper magazine that after Ed Miliband resigned, "I was desperate to find a left candidate. John McDonnell wasn't willing to stand." With his then boss, the late Michael Meacher, he struggled to find someone else.
As he reports: "We went round. I went round. Jon Trickett, Ian Lavery, some other names I feel very embarrassed about! Jeremy didn't actually spring to mind."
I repeat: Jeremy didn't actually spring to mind. Only when the national officer of the Trade Union and Labour Liaison Organisation, said: "I think you should go for Jeremy" did it cross his mind. As Lansman admits: "Jeremy? It kind of clicked."
In other words, while both he and Meacher were anxious to find a left candidate – from quite a small pool of MPs – neither initially considered Corbyn.
The unfolding story of Corbyn's subsequent rise and rise is well known. The left academic, David Coates writes in Reflections on the Future of the British Left that the received wisdom at the time was that if Corbyn is the answer, then Labour is asking the wrong question. The Observer was disparaging about his candidature. And we all know about the Daily Mail.
But as Coates says of Corbyn, "Whatever his limits, he has tapped into and mobilised a large sea of discontent within contemporary society."
I attended two Corbyn leadership rallies in Leeds. The first was attended by 1,000 people of all ages and varied backgrounds. It was a very friendly and festive event. At the second, after the Parliamentary Labour Party had voted to remove him, the attendance was even larger, with some 1,500 very enthusiastic supporters. Compare this with the 20 people from Leeds who went to hear Yvette Cooper in the first leadership election.
On both occasions he spoke calmly, but with passion and clarity, although I must admit I only went the second time because a former politics student of mine – in her 20s – was one of the platform speakers. She is very, very fond of Corbyn. At the time, she was working in London and sleeping on her mother's settee.
Last June, Corbyn came to North West Leeds to support the Labour candidate in the general election. The constituency has a large student population. Some 3,000 mainly young people came to the outdoor event. Many students sat in the trees and quite a lot took their exam revision notes with them to read before he spoke.
Touched a chord
I am not alone in suggesting that much of this appeal is his authenticity. Arguably, he is not seen as a conventional politician in a time of quite understandable but worrying, political alienation.
As Elian Glaser puts it in the Coates collection, Reflections on the Future of the British Left: "He is explicit about what he thinks is wrong with Britain in an era of political disaffection."
She adds that he may have been derided as a fossil from the 1970s but his politics are relevant to the grievances that establishment politics has neglected. Corbynism represents a breakthrough, she argues, but there is still a long way to go. As she says, it's "the start of a process not the end".
Another source argues that he offered a message of hope while facing a blizzard of abuse.
I would add that all of this is taking place when social democracy is in crisis, not just in the UK but internationally. Like the substantial support for Bernie Sanders' candidature in the US elections, it's a sign that all is not lost.
In his book, Corbyn: The Strange Rebirth of Radical Politics, Richard Seymour talks of how Tony Blair admitted how baffled he was about Corbyn's support, declaring: "I'm not sure I fully understand politics right now."
To be honest, he is not alone. These are difficult times to comprehend. In Corbyn's case, he has touched a chord among a significant swathe of people, many of them – but not all – relatively young.
There is a debate to be had about whether this support is basically the cult of personality or whether it represents something much more creative, an opportunity to build a radical movement of substance.
To conclude, I want to quote something written by a friend in her 30s about her support for Corbyn and the Labour Party. This was written specifically for this meeting at my request. It is only one voice but it is an authentic one.
This friend developed a serious disability later in life, Tourette's, but has still become a Labour Party activist as a result of Corbyn's leadership.
She writes:
"I joined the Labour Party for the first time in May 2015 to specifically vote for Corbyn in the leadership election. I never thought for one second he would win, but to me it was important after the Blair and Brown eras (although some positive things did happen), to show that there was still an appetite for a true democratic socialist Labour Party.

"I went to 'uni' just after Blair was first elected. At that time Blair provided so much hope for many and I had some knowledge of political issues, but very little of political parties. These were days before there was much access to information other than the mainstream newspapers and BBC News. There was no social media and people were only just starting to use the Internet.

"So 'uni' opened my mind to the different political perspectives and the prevalence of biased reporting. With that knowledge and what followed in the Blair and Brown eras, there was just no way I would join the Labour Party… This was not in the main a democratic socialist party. So in elections I mainly voted Labour (as the lesser of evils) and after Iraq, I just could not vote for a long time.

"Getting a bit older, I learned to become less idealistic and more tactical in my voting. After the coalition government were formed (I voted Labour at that election), I could not vote Lib Dem again. So, although I described myself as political, to my mind there just had not been any credible opposition by Labour.

"The party just kept selling out over and over. I couldn't connect to any political party. Labour were just better than the Tories, even though at times it was hard to spot a difference, or much of one.

"So I joined the party to vote mainly as a protest to the catastrophic situation, in my opinion, the main Labour Party had put itself in.

"Why I like Corbyn is that he seems to genuinely care about people. He is passionate, dedicated and fought against injustices and for rights for decades, way before many others, and for unpopular and unrecognised causes. He stands up for what he believes is right and is not anyone's puppet or a careerist.

"I can connect to such a politician and he speaks socialism. In my lifetime no Labour leader before has, well certainly not consistently. So I had not seen this before. This, I think, is why so many had and still have a very emotional and positive affection for him.

"He's not perfect, I don't agree with everything he has ever said or done, but with all that opposition from the media, the big corporations, all the back stabbers in the Labour Party and the coup, etc, he stuck to his guns because he believed in the voice of the grassroots membership.

"Corbyn had such a steep learning curve to completely relearn his role in a short space of time, against mass all-round opposition. He isn't a youngster either and whilst it wasn't a transition without some mistakes, he did it, against all odds. And he brought so much life back into the party. How can anyone not respect and admire him, even if they disagree with him, after all that?"

"So Corbyn has relit my passion for politics and this general election was the first time I was proud and excited to vote Labour. And for that I do love the man."
—-
This article is based on a presentation given to the ILP's dayschool on 'Corbyn, Labour and the Revitalisation of Social Democracy' held at The Circle centre in Sheffield on Saturday 9 December 2017.