The state of British democracy and how we can fix it will come under scrutiny at the Dronfield Labour Party Discussion Meeting in north-east Derbyshire this Sunday when Vicky Seddon, coordinator of Sheffield for Democracy and former chair of Unlock Democracy, will be the main speaker.
Seddon campaigns to encourage greater participation by the public in democratic processes and will raise issues such as the reform of the House of Lords, the need for decentralisation, media bias, whether we need proportional representation, and if referendums are a good idea.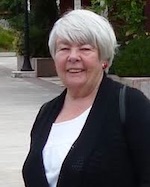 She was national treasurer of her trade u nion, the National Association of Teachers in Further and Higher Education (NATFHE, now merged with AUT to form UCU), for seven years and had a long term career with Sheffield Hallam University.
What: Is Our Democracy Broken? How can we Fix It?
When: 8pm-9.15pm, Sunday 14 January 2018
Where: Dronfield Labour Party Discussion Meeting, Contact Club, Snape Hill Lane, Dronfield S18 2GT
Who: Vicky Seddon, coordinator of Sheffield for Democracy