A report on Alternative Models of Ownership will be discussed by the Labour Party at a conference in central London on Saturday 10 February.
Labour leader Jeremy Corbyn and shadow chancellor John McDonnell will be joined by Clare McCarthy of the Coop Party, Red Pepper's Hilary Wainwright, Big Capital author Anna Minton, and other experts and activists to consider "how the things we rely on like housing, transport and energy, can be run in the interests of all of us by looking at alternative models of ownership — from rail nationalisation to council housing."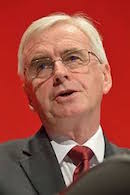 The conference will focus on a new report on Alternative Models of Ownership written by 'external experts' for the shadow chancellor.
The report considers three broad alternatives to private property and discusses the pros and cons of co-operative ownership models, municipal and locally led ownership and national ownership.
The report states: "The predominance of private property ownership has led to a lack of long-term investment and declining rates of productivity, undermined democracy, left regions of the country economically forgotten, and contributed to increasing levels of inequality and financial insecurity. Alternative forms of ownership can fundamentally address these problems."
It concludes: "What we have presented, as an alternative, amounts to the first steps in challenging that dominant model of ownership and control. We have shown, in simple, practical terms, how a government committed to addressing those profound, structural problems could implement key policies that would rectify them.
"Its goal would be nothing other than the creation of an economy which is fairer, more democratic, and more sustainable; that would overturn the hierarchies of power in our economy, placing those who create the real wealth in charge; that would end decades of under-investment and wasted potential by tearing down the vested interests that hold this country back."
Alternative Models of Ownership conference
When: Saturday 10 February at 10.00am for a 11.00am start
Where: Central London (exact location will be confirmed post registration).
—-