MARTIN WRIGHT remembers the remarkable life and immense contribution of a north Walian stonemason's son who was instrumental in the early ILP's growth and influence in Wales.
Wales was one of the great socialist heartlands of 20th century Britain. The early growth of the ILP was, however, relatively slow there. The party began to put down roots in industrial south Wales in the 1890s, but it wasn't until after 1906 that it began to make headway in the mountainous, slate quarrying regions of the north.
The north Wales quarrymen formed the ILP's backbone in the region, and the party's politics and culture reflected the distinctive character of their communities: self-educated, highly literate, steeped in traditions of political radicalism and, above all else, Welsh-speaking.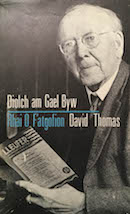 If the quarrymen formed the rank and file of the north Walian ILP, however, it was a young schoolteacher who was primarily responsible for the movement's growth in the region.
The son of a stonemason, David Thomas was born in Llanfechain, Montgomeryshire, in 1879. From an early age he exhibited remarkable diligence, conscientiousness and a deep sense of social duty: qualities that were to make him a highly effective socialist organiser. After a brief spell working in a clothes shop in Llanfyllin, Thomas gained a position as a pupil teacher at the local British School. He thereafter followed a career in teaching that took him to Anglesey, Bridgend, Walton on Thames and Cradely Heath, before settling in Dyffryn Nantlle, Caernarfonshire, in 1905, where he taught at schools in Rhostryfan and TalySarn.
Thomas was an active member of mutual improvement societies in Montgomeryshire and Cradely Heath, and the culture of intellectual improvement and debate they encouraged provided an essential context for his developing political views. The culture of mutual improvement was part of the intellectual fabric from which early Welsh socialism was made.
This was to some extent also true of the Welsh nationalist Cymru Fydd movement, and it was at a Cymru Fydd meeting at Llanfyllin in 1895 that he was given a copy of Robert Blatchford's enormously influential work of socialist propaganda, Merrie England. From this point, Thomas was on the intellectual road to socialism.
Thomas's voracious reading, which embraced a canon spanning Plato to Ruskin and included, of course, a diet of Fabian Society publications, was one important influence upon his intellectual development. Another was his nonconformist (Wesleyan) faith, which he believed to be inherently democratic and which had social salvation at the heart of its message.
His beliefs were crystallised, however, by his personal experience of unchecked industrial capitalism. His time in the Black Country – Blatchford's Dismal England – at Cradely Heath was particularly influential. His encounter with a place where "the sky is never blue, the brooks are never clear, the sensibilities of the people are blunted for lack of sunshine, [and] their lungs are choked with the impure atmosphere", deeply shocked him, and he recorded his aspiration to "leave the factories where they are and transport the whole population a few miles into the country where they might have cleaner and sweeter homes, and where the little children instead of playing among the ashes and cinders, might run about and chase butterflies in the open green fields and under the unsullied blue of heaven".[1]
As with other socialists of his generation, Thomas's socialism was the product of a painful collision between an intellectual world of hope and the harsh realities of industrial capitalism.
By the time Thomas settled in Caernarfonshire in 1905 his socialist beliefs were essentially formed, and it wasn't long before he began acting upon them. Over the following decades he devoted time and energy to numerous socialistic organisations, including the National Union of Teachers, the Workers' Union, the Fabian Society, the Workers' Educational Association and, ultimately the Labour Party.
It was, however, the ILP that Thomas adopted as his political home in the years before the Great War, and his contribution to the party was immense. Buoyed by the atmosphere of optimism arising from Labour's breakthrough in the 1906 general election, Thomas set about organising branches of the ILP across north Wales. He used his personal contacts, making exhaustive lists of supporters and inspiring them to give their time to the party.[2]
He organised public meetings, travelling around Caernarfonshire and Meirionnydd in his spare time to speak from socialist platforms, and debated the merits of socialism in the local press. By the end of the decade, largely as a result of his efforts, north Wales boasted a network of 13 ILP branches stretching from Harlech to Bangor.
Prolific writer
Great though Thomas's efforts as an organiser were, his contribution as a writer was arguably his most significant and long-lasting work for socialism. He undertook extensive research on the social issues of the day, which he mobilised in a persistent flow of letters to the local press, making the argument for socialism and, as war began to threaten, for peace.[3]
Most of Thomas's contributions were in Welsh, and he also provided Welsh translations of pamphlets and articles by leading British socialists, such as Keir Hardie and Philip Snowden. He thus played a crucial role in making socialist ideas accessible to an overwhelmingly Welsh-speaking population. His greatest achievement in this respect was the publication in 1910 of his socialist masterpiece, Y Werin a'i Theyrnas ('The Common People and Their Realm'), the most important book on socialism ever written in the Welsh language.[4]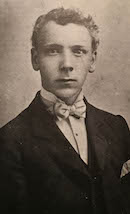 The book, which Thomas published and distributed himself (the national ILP would not take on the risk of such a substantial Welsh publishing venture), provided an analysis of contemporary social problems, a survey of social movements and an introduction to socialist ideas. Branches of the North Wales Quarrymen's Union loaned copies to their members and set examinations on its contents, and Welsh speaking labour leaders used it as a handbook well into the inter-war period.[5] Indeed, Y Werin a'i Theyrnas is a neglected classic of pre-Great War socialist literature.
Thomas's culturally and politically Welsh viewpoint was integral to everything that he did, and it was this that made his contribution to the ILP so distinctive and so important. His experience away from Wales as a young man provided a perspective that was formative in this respect. In an early contribution to the Cradely Heath Mutual Improvement Society Thomas argued that "we should [not] lose our love of home and native land and change it for a vague and mystical love of humanity. We can do both – love the great and the small at the same time",[6] and this belief underpinned his life's work.
Thomas was a mediator between the universalist ideas of socialism and the particular cultural and political conditions of his Welsh homeland. To be relevant to the Welsh people, he argued, socialism needed to be presented in Welsh dress and taught the Welsh language, by which he meant "saturating it with the history and traditions of the Welsh democracy".[7]
In 1911 he sought to provide political substance to these beliefs by organising a meeting of sympathisers at the national Eisteddfod in Carmarthen, the aim of which was to form a 'Welsh ILP', which would have its own identity distinct from the national ILP. His idea attracted considerable attention from Welsh socialists, but didn't gain enough support to come to full fruition. Its suggestion of a devolved socialism respecting the national pluralism of the British Isles nevertheless stands as one of the great 'could-have-beens' of British socialism.
Lifelong activist
Thomas remained active throughout his life, but his political work never again reached the intensity of the period before the Great War. He was a Conscientious Objector during the war, and afterwards worked for a spell as an organiser for the Workers' Union. He transferred his primary allegiance to the Labour Party in the post-war world, in the belief that the work of the ILP in establishing that larger and broader political alliance was effectively complete. He supported Labour for the rest of his life, refusing to give his support to the nationalist politics of Plaid Cymru. He nevertheless maintained his passionate advocacy of the Welsh language and culture.
In addition to his political work he wrote instructional books on composing cynghanedd (strictly metered Welsh poetry), and published important works on the local history of north Wales.[8] His most significant contribution to progressive causes, however, was his support of the Workers' Educational Association. He acted as editor of the Association's Welsh journal Lleufer from 1943 until 1965, an important role which underlined his passionate belief in the central role of education in social improvement.
The WEA in Wales provided an educational counterpoint to the work of the more confrontationally Marxist Central Labour College. It provided space for a more inclusive, socially liberal and culturally Cymric educational philosophy, and was an expression of the remarkable intellectual and cultural diversity of the Welsh radical tradition. Thomas's role in sustaining it through the middle years of the 20th century was crucial.
Historically, Thomas's contribution to British socialism remains under-appreciated, isolated from its mainstream traditions. The fact that he lived primarily through the medium of Welsh places his work beyond the reach of the majority of British labour historians. It is important, though, that he is not forgotten. His life stands testament to the rich diversity of British socialism – a diversity that was marginalised by the fundamentally unionist nature of the great 20th century socialist project.
We live in an age which has witnessed the demolition of much of the architecture of that project. Sooner or later we will face the task of rebuilding, and Thomas's message – that true unity can only be found in an appreciation of diversity – should not be forgotten when the time comes.
—-
Dr. Martin Wright is Lecturer in History in the School of History, Archaeology and Religion at Cardiff University.
He is the author of Wales and Socialism: Political Culture and National Identity Before the Great War, which was published by the University of Wales Press in 2016.
Martin Wright's PhD thesis, Wales and Socialism: Political Culture and National Identity c. 1880-1914, is available to read here.
Thanks to Modern Welsh Publications for permission to use the images.
Click here to read other ILP Profiles.
---
Notes
[1] Bangor University Archive, Bangor MS18959: David Thomas, Notebook, March 2nd 1905.
[2] Many of the lists and notebooks that Thomas used are preserved in Bangor University Archive. See, for example, Bangor MS 19159. Thomas was an almost obsessive preserver of documents, making his papers an invaluable source for the study of the ILP in Wales.
[3] See, for example, Thomas's letters on socialism in Yr Herald Cymraeg, February to August 1908, and his extensive contributions to Y Dinesydd Cymreig from 1912-1914.
[4] There was one other full-length work in this period, D. Tudwal Evans, Sosialaeth(Barmouth, 1911).
[5] The great labour leader Huw T. Edwards (known in the 1950s as the 'unofficial prime-minister of Wales') recalled that he regarded the book as his Bible, and quoted from it daily in the inter-war period, Huw T. Edwards, 'Dafydd Tomos', in B.B. Thomas (ed.), Lleufer y Werin: Cyfrol Deyrnged i David Thomas M.A. (Abercynon, 1965), pp. 51-7, p. 56.
[6] Bangor MS 19055
[7] National Library of Wales, David Thomas Papers (Box 3), 'Wales and the Politics of the Future' (Manuscript).
[8] Of particular interest are, Y Cynganeddion Cymreig (Wrexham, 1923); Hen Longau a Llongwyr Cymry [Old Ships and Sailors of Wales] (Cardiff, 1949); Cau'r Tiroedd Comin [The Enclosure of the Common Lands] (Liverpool, 1952).
Further Reading
Virtually all work of significance concerning Thomas has been written in Welsh. The fullest work is Angharad Tomos's biography, Hiraeth am Yfory: David Thomas a Mudiad Llafur Gogledd Cymru (Llandysul, 2002) (Angharad Tomos is Thomas's granddaughter). Thomas wrote a volume of autobiography, Diolch am Gael Byw: Rhai o f'Atgofion (Liverpool, 1968), which is unfortunately incomplete.
For specific discussions of the attempt to form a 'Welsh ILP' see Dylan Morris, 'Sosialaeth I'r Cymry: Trafodaeth yr ILP', Llafur 4/2/ (1985), pp. 51-63, and D. Hopkin, 'Y Werin a'i Theyrnas: Ymateb Sosialaeth i Genedlaetholdeb, 1880-1920', Cof Cenedl, VI (1991), pp.162-192.
The growth of the socialist movement in north Wales is dealt with in English in Martin Wright, Wales and Socialism: Political Culture and National Identity Before the Great War (Cardiff, 2016), chapters 4 & 5.