"The Brexit vote was the biggest single democratic revolution the UK has experienced in decades," according to Neal Lawson of Compass. "In hindsight everyone saw it coming, but at the time the news when it trickled through in the early hours after the close of polling was a seismic shock. It still is."
A new Compass report brings together more than 20 short essays on why people voted to leave the European Union and what our collective response should be – looking at issues of economy, democracy and culture.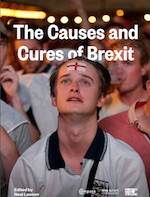 Thinkers and politicians have been drawn together from across politics – including  Jon Trickett and Lisa Nandy from Labour, Caroline Lucas from the Green Party and the SNP's Tommy Sheppard.
The cures recommended in The Causes and Cures of Brexit include Universal Basic Services and Income, a Green New Deal, proportional representation, pay ratios, addressing immigration at a regional level. These "would help answer the call for greater control represented by the vote to leave", says Lawson.
"The vote for Brexit had been a long time coming. Millions of our fellow citizens had been ignored and humiliated for decades.
"Whatever you think of Brexit, even if you would like to stop it altogether, it is beholden on all of us to respond to that demand for political and social change. It is shocking that none of the political parties have systematically tried to do this.
"Where is an ambitious and coherent national response? Theresa May feigned some interest the day she took over as PM, but then almost immediately turned Brexit into a political football by trying to divide Labour from its heartland seats.
"Because of these very real divisions between many of its voters and members, Labour has so far found it hard to construct a meaningful approach. Its 2017 election manifesto addressed some of the issues, but there has been no coherent or significant attempt to look at the causes of Brexit and the possible cures.
"It is a vacuum that needs to be filled. While most debate centres on how Brexit should or should not happen, the reasons for the shock vote still need to be fully investigated and responded to – regardless of what happens with Brexit itself."
The Causes and Cures of Brexit, edited by Neal Lawson and published by Compass, can be dowloaded here.
—-