A new report from the Co-operative Party is calling for the post-pandemic economy to be built on equality, community ownership and a spirit of solidarity, rather than a return to division and austerity.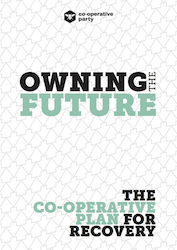 Owning the Future: The co-operative plan for recovery was launched last week by Labour's Shadow Chancellor Anneliese Dodds who said that the coronavirus crisis "has exposed the precariousness of work, the strain on household incomes, the gaping holes in our safety net and the extent of underfunding of our public services.
"But it has also revealed our community spirit," she added, "our willingness to help a neighbour, to meet crisis with kindness. This new-found co-operation is something we must hold onto."
The report's introduction and a first chapter on a plan for fair tax are available now on the party's website while further sections will be released every week covering plans for expanding the co-operative sector, job retention, democratic public ownership, an alternative financial services sector and a co-operative green new deal.
General Secretary Joe Fortune said: "As we slowly emerge from the Covid-19 lockdown, we are at a crossroads. We can return to the unequal economy that characterised pre-Covid Britain, or we can create something better. The last few months have shown that we can respond to crisis with kindness, and communities – not corporations – have led the way.
"It's time we gave communities more ownership of businesses and the economy. By widening ownership, we can narrow inequality and create a new normal – one where you own your workplace, own your community and own the future."
Welsh First Minister Mark Drakeford and Scottish Labour Leader Richard Leonard also endorsed the report during online events.
Drakeford said: "From Robert Owen onwards this is what has hallmarked the co-operative movement – strong principle allied to practical action.  It is to that experience of the co-operative movement, rooted in people and place, that comes out so strongly in the excellent recent Co-op Party report, Owning the Future… 
"By working together we can build new strength and new solidarity into our communities, by giving new opportunities to those that need it, by re-building our communities around co-operative values of social justice and fairness, and through fair shares for all."
Leonard called for the co-operative sector in Scotland to be doubled "at least".
He added: "I believe in Owning the Future, the Co-operative Party has played an important role in setting out important milestones on the road to recovery. Scottish Labour will work with the Scottish Co-operative Party to promote these policies and it will contribute to Scottish Labour's thinking in the weeks and months ahead."
—-
You can download a copy of Owning the Future by leaving your name and email here.