The Salter Centenary Project's exhibition at the Lake Gallery in Southwark Park, south-east London, has won recognition from the Quakers with a special feature in the society's magazine, the Friend.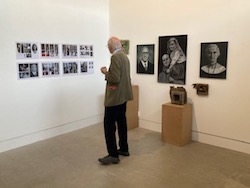 Called 'The Spirit of the Salters Lives On', the exhibition was curated by project coordinator Sheila Taylor and celebrated how pioneering ILPers Ada and Alfred Salter transformed the area of Bermondsey through social reform in the early decades of the 20th century, improving health, housing and the environment for local people in the notoriously poor region of the capital.
Taylor told the Friend's Rebecca Hardy how she found "two amazing artists" – Nigel Moyce, who painted portraits of the Salters based on old photographs, and Eugene Ankomah, who created an installation and sculpture work in collaboration with young people from a local youth centre after being inspired by the Salters' story, especially the loss of their daughter, Joyce.
"One of the things he put in the installation was a little children's medical kit," explained Sheila. "The young people thought that if Joyce had not died she might have become a doctor too."
The artists received a supportive letter from the project's patron, Judi Dench, who mentioned the young people involved.
The exhibition, held in the gallery's Salter Space, also featured a number of carefully reproduced photos from the era, selected by Ada's biographer, Graham Taylor, who counted more than 25 ILP members among the grainy black and white figures (see photo above).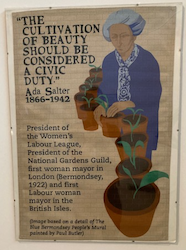 The exhibition, which ran from 11 September till 9 October, was only one of the dozens of events held throughout 2022 so far to mark the 100th anniversary of Ada's election as the first female mayor in London and Alfred's as Bermondsey's Labour MP.
Among Sheila's exhaustive list are many talks, walks and book group discussions; bike rides and coach trips; concerts, books, education packs and tea towels (pictured left). The year's activities also included a Town Partnership Day, with visitors from Ada's home town of Raunds, plus a new mural, a podcast and a radio play.
The year-long series of celebrations will finish in January 2023 with a new play, produced by John Whelan of the People's Company, which will be the centrepiece of an Ada Salter Festival at Southwark Playhouse.
The festival is scheduled for 12, 13 and 14 January, fittingly coinciding with the 130th anniversary of the birth of the ILP whose founding meeting was held in Bradford on 13 January 1893.
—-
For more details of the Ada Salter Festival contact Southwark Playhouse.
Much more about the Salter Centenary Project, including information about all the events, is on this website.