The row over the exclusion of Jamie Driscoll from the longlist of candidates for North East Mayor has rapidly become a major issue in British politics. It does the Labour party no good at all, says DAVID CONNOLLY.
Jamie Driscoll is currently Mayor of North of the Tyne and has over the past three years used his position to build a very creditable record in community wealth building, green investment, adult education, housing development and support for the most disadvantaged people in his region.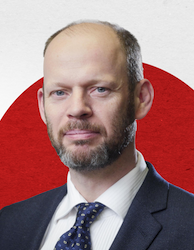 Highly regarded by many constituents and widely respected by his political opponents, he would be a popular and effective candidate for the new expanded role of North East Mayor.
Yet he has been excluded from the selection by the Labour Party, causing much dismay for many party members who have also appreciated his very public support of striking workers over the past 18 months. Seven CLPs in the region have voted not to make any nomination for the contest in protest at his exclusion.
Other than a claim that he does not meet the required 'standard', no official reason for his exclusion has been given by Labour central, and there is no right of appeal.
However, the press has been briefed – albeit anonymously – that his interview with expelled veteran filmmaker Ken Loach at a cultural event in Newcastle was why the panel decided to bar him. Their argument appears to be that Driscoll should have questioned Loach about allegations of antisemitism, at the same time disingenuously implying that Driscoll's own views on the subject are in some way suspect.
Wide support
Driscoll, who was instrumental in persuading the government to include transport in the remit of regional mayors, has received support from a wide range of figures including Greater Manchester Mayor Andy Burnham, the Metro Mayor of Liverpool, Steve Rotherham, Guardian columnist Simon Jenkins and even Tony Blair's former spokesperson, Alistair Campbell.
Following the Labour leadership's manipulation of a number of parliamentary selections in recent months, it is clear that this latest development is part of a concerted effort to exclude anyone on the left from publicly representing the party, effectively rejecting the idea of Labour as a 'broad church'.
In the interests of democracy and fairness, Labour should now suspend the North East mayoral candidate selection process, include Jamie Driscoll on a new longlist, and give its members a genuine political choice about who should represent them in this important election next year.
—-
David Connolly is chair of the ILP.
Click here to sign a letter of protest to Labour leader Keir Starmer and members of the National Executive Committee: 'Fair And Just Treatment For Jamie Driscoll'.
See also: 'A Tale of Two Keirs: Labour & its Broad Church' by David Connolly.