The ILP's 130th anniversary will be marked by a major new exhibition due to open at the Working Class Movement Library in Salford on Wednesday 16 August.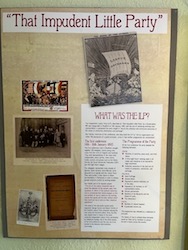 Called 'That Impudent Little Party' – a phrase used by a Conservative MP during its early years – the new display explores the history of the ILP from its birth in 1893 until 1975 when it changed its name to Independent Labour Publications and rejoined the Labour Party.
The Working Class Movement Library is home to some of the ILP archives and the exhibition uses rare objects from its collection to examine how the organisation demanded social reform, including free education, a minimum wage, a shorter working day and a reduction in unemployment.
Using examples from Manchester and Salford, the exhibition shows how the ILP sought to represent working class people in Parliament and fought for a fairer, more peaceful society. It traces the key role the ILP played in founding the Labour Party in 1906 and how it campaigned for peace and women's suffrage while fighting the rise of fascism in the 1930s.
The exhibition uses a broad selection of photographs from the ILP archive, including a number from the organisation's annual summer schools, which attracted many activists of the period, including George Padmore, James Maxton and Fenner Brockway.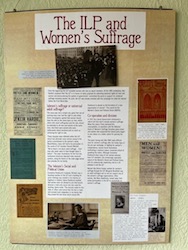 'That Impudent Little Party': The Independent Labour Party 1893-1975 is open from 16 August until 30 December at the Working Class Movement Library on Wednesday, Thursday and Friday afternoons between 1pm and 4.30pm.
The exhibition complements the ILP's new history pamphlet, The ILP: Past & Present. Part 1, covering 1893 until 1945, is available to buy now.
Part 2, to be published in October, will bring the story up to date.
—-
The ILP: Past & Present, Part 1 costs just £7.00 including postage and you can order your copy now on our Publications page.
Details of the new exhibition are here.