The 130th anniversary of the founding conference of the ILP is due to be marked by a special event in Bradford on Saturday 14 January 2023.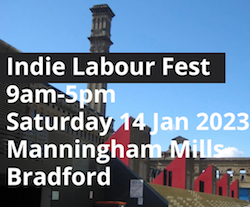 The Independent Labour Party (now Independent Labour Publications) was formed on 13 January 1893 when 130 socialist, trade union and labour movement activists converged on Bradford with the explicit intention of setting up a new political party to represent the working class, independent of the Liberal Party.
Chaired by Keir Hardie, it was, to quote Barry Winter's brief history of the organisation, The ILP: Past & Present, "conducted in good spirits".
"After years of campaigning and debate, the Impudent Little Party, as its critics now described it, had been born," he writes.
Under Hardie's leadership, the ILP went on to help establish the Labour Party in 1906, and provided a political home and guiding influence to many Labour figures, including James Maxton, George Lansbury, Fenner Brockway and Clement Attlee.
The 130th anniversary of the ILP's first meeting will be marked by 'Indie Labour Fest', a gathering of 130 invited guests at Bradford's Manningham Mills, the site of a long and bitter strike in the early 1890s that persuaded many in the early Labour movement that a new national party was needed.
The brainchild of local community activist Catherine Simes, Indie Labour Fest promises to be "a gathering to create a positive, collective vision of what a society that works for everyone might look like, and then go to work on what we need to do to bring it about".

"The event is born out of mine (and others) frustration at the lack of any meaningful opposition to the current state of the country," explains Simes, "and linked to that the lack of any positive, compelling narrative about how the world could be better and the power of politics and people to make change.
"We want to leave the outcomes of the event to be decided on the day. We want it to be a collaborative process, but one where everyone goes away knowing what's next.
"Our aim is to create a community, a new sense of hope and purpose, and most crucially to galvanise action. While some days can feel hopeless, the future is unwritten – our aim is to grab it."
The 130 invitees are people chosen for the meeting's "historical significance". Doors will open from 9am, while the day is "designed as a series of group work sessions and conversations with a lot of time in between to meet, connect and talk with others".
—-
Click here for more on the ILP's history.
Click here to contribute to Indie Labour Fest's crowdfunding campaign.