On a day that saw around two million workers from 29 trade unions take strike action in defence of their pensions, thousands gathered at rallies around the UK on Wednesday 30 November.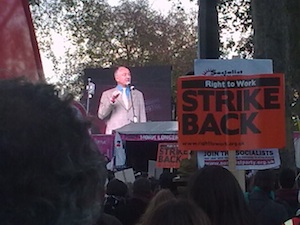 In London, a 30,000-strong march and rally heard Labour's London Mayoral candidate Ken Livingstone, who argued: 'There is still time for the government to adopt a more constructive position and enter into genuine talks. That would be the responsible course of action and I urge them to think again and act in the interests of public servants and Londoners.'
Livingstone claimed that for all the talk of 'gilt-edged pensions' for public sector workers, it is MPs who get the best pension deal among public servants having voted to award themselves a guaranteed two-thirds final salary pension after just 20 years service that ensures at least £40,000 a year. Two days later a health worker calling BBC's Radio 5 Live pointed out that after 42 years service she will receive a pension of £7,500 – and that's before the government's reforms.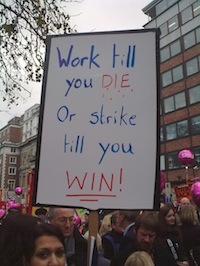 TUC general secretary Brendan Barber accused the government of scrapping a tax on bankers in favour of a tax on nurses, teachers and lollipop ladies, while PCS general secretary Mark Serowtka vowed to strike again and again until the government agree to proper negotiations – a pledge greeted by whoops and cheers from the crowd along London's Embankment.
The lack of decent pensions in the private sector, he said, was no good reason to cut pensions for the public sector workers. It was a result of Thatcher's anti-union policies which stripped private sector workers of their rights and protection.
In other cities, 20,000 gathered in Manchester, 10,000 in Edinburgh, Glasgow and Sheffield city centre (see pic below). John Stevenson, from the GMB in Sheffield, directed some predictable ire at local MP Nick Clegg: 'Nick Clegg accuses everyone involved with the trade union movement of telling porkies. But remember what Mr Clegg said to the students? He is the expert in telling lies – not us."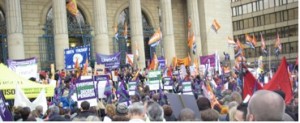 The numbers striking and turnouts at rallies belied Tory efforts to portray the day as simultaneously damaging and a 'damp squib'. And despite failing (to the annoyance of many) to back the strikes, Ed Miliband still managed some to express some genuine anger on behalf of 'the dinner lady, the cleaner, the nurse who earns less in a week than George Osborne spends on his skiing holiday'.