The education system in England is undergoing the most profound structural change since the 1944 Education Act. The rapid growth of academies, chains and free schools has raised concerns about a growing democratic deficit, the loss of local authority control and weaker accountability to local stakeholders.
MERVYN WILSON argues that increasingly popular co-operative schools provide a democratic, community-based alternative.
The idea of co-operative schools has been around for a long time. Followers of Robert Owen, inspired by his work at New Lanark where young people were sent to school rather than working in the mills, formed co-operative schools in Salford, Wigan and elsewhere. As consumer co-operative societies flourished from the mid-19th century, some set up their own schools which were later absorbed into the emerging state system.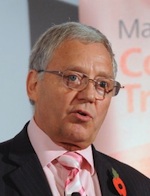 Today's developments in England follow a series of reforms that are fundamentally changing the nature of the education system. Successive governments have substantially reduced the role of local authorities in education provision since budgets were delegated to governing bodies in 1988.
The 2006 Education and Inspections Act was a key part of that process, stating that "going forward it shall be for schools, not LEAs to provide education directly". It envisaged much more formal collaboration between schools themselves by introducing trust schools to encourage strategic partners to work with schools and bring about a more diverse system.
Trust schools become foundation schools with a charitable trust. They remain maintained schools and part of the local authority family of schools. In many cases local authorities become partners in the trust, formalising local ties. Land and assets transfer from the local authority to the trust and the schools gain additional powers, becoming the employer and admissions authority.
The Co-operative College worked with a number of schools to develop a co-operative model for trust schools. The first, Reddish Vale in Stockport, adopted the model in March 2008.
Co-operative schools share a number of key characteristics:
An ethos drawn from the globally shared co-operative values, recognised in the trust constitution.
Governance mechanisms that directly engage key stakeholder groups – parents and carers, staff, learners and the local community – through membership.
A curriculum and pedagogy that embraces co-operation, using the global co-operative sector as a learning resource and drawing on co-operative approaches to teaching and learning.
These characteristics have proved attractive to many schools and are seen as a way of building on good practice, in particular offering a legal framework for local collaborative arrangements.
"Many of our larger trusts have grown from existing well established local partnerships," comments Sean Rogers, who leads on trust schools for the Co-operative College. "In many places where the local community is already vibrant a co-operative school can be a logical development, and conversely in areas where there has been a previous lack of community engagement the development of a co-operative school can facilitate the emergence of such engagement."
Co-operative clusters are becoming the predominant model in a number of areas, and it is expected that there will be over 130 schools in co-operative trusts in Devon and Cornwall alone by the end of the year.
"Schools and trusts are also seeing the importance of collective action in the increasingly fragmented education system," says Rogers. "They see the advantages of joint procurement and provision of important services such as schools improvement, as well as filling mutually and ethically, the vacuum left by the rapid and massive shrinkage of LEAs by the coalition government"
A national network
Schools have already formed a national network, the Schools Co-operative Society, which is quickly developing a regional structure. Dave Boston, chief executive of the SCS, emphasises how this network is different to academy chains.
"We see this as a stark contrast to the emerging academy chains," he says. "The Schools Co-operative Society is a network owned and directly controlled by co-operative schools. It does not top slice budgets of schools, as is the practice of most of the chains, and even more importantly schools retain their own autonomy and identity."
Local community ownership is critical to the success of co-operative models, according to Dr Pat McGovern, headteacher at Helston Community College, one of the 15 schools in Helston and Lizard trust in Cornwall.
"The membership based model, community stake-holding, is about safeguarding these assets for communities in the long term," she says. "Co-operative trusts are about mutualisation and not privatisation, groups of schools working strategically together."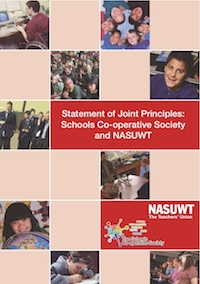 The SCS has developed protocols with major trade unions in the education sector to maintain terms and conditions in employment.
"We believe strongly in developing positive relationships with trade unions representing employees in co-operative schools," says Boston. "The National Framework Agreement with UNISON extends recognition to staff not covered under the Teachers' Pay and Conditions Regulations. We are now actively working to extend that agreement to cover all of the major education sector unions."
The coalition government's emphasis on free schools and academies initially seemed to threaten the development of trust schools. But the Co-operative College responded by working with the DfE to develop a co-operative model for converter academies. By June 2012, 20 schools were co-operative academies, which share many of the characteristics of trust schools, with parents/carers, staff, learners and the local community engaged through membership.
The Swanage free school, scheduled to open in 2013, is committed to using a co-operative model building on the active community engagement that led to the successful proposal for the school.
Elsewhere groups of schools are seeing the potential of working together on school improvement and in supporting schools facing short-term difficulties. This provides a co-operative alternative to the 'forced take over' model currrently causing alarm in many parts of the country.
Deb Bacon is consortium operations manager at the Burton Co-operative Learning Trust. "The benefit of the trust is to work collaboratively and support each other to ensure the best outcomes for children, as well as utilising the strength of numbers to procure products and services more competitively which will enable funds to be reinvested into positive activities for children and young people," she says.
Today co-operative schools offer a distinct values-driven contribution to diversity of provision in a rapidly changing education environment. More than 300 schools were part of co-operative trusts or co-operative academies by the end of summer term 2012, with many more in the pipeline. Their rapid growth may be one of the co-operative success stories of the United Nations International Year of Co-operatives.
—-
Read case studies of co-operative schools and trusts here.
Mervyn Wilson is Principal of the Co-operative College which has been at the heart of the co-operative schools movement.
For further information on co-operative schools, click here, or email: schools@co-op.ac.uk.