The 100-year-old ILP Clarion House in Nelson was visited by Hardeep Singh Kohli for his Sunday Lunch programme on BBC Radio 4 this week (16 December).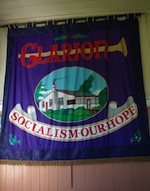 The Lancashire tea rooms, run by volunteers from the Nelson ILP Land Society, was established by the Independent Labour Party in 1912 and has remained open ever since.
Once visited by Keir Hardie, it is now the last ILP tea room in the country and still displays a sign saying 'Sociallism our Hope' outside. The Clarion House centenary was celebrated in August this year.
You can hear Singh Kohli's half-hour programme on BBC iPlayer until next Sunday 23 December. The presenter chatted to the present-day Clarionettes about the history of the Clarion movement as a means of spreading the socialist message, and the Nelson venue's present-day role as a haven for cyclists and walkers in search of tea and talk.
The East Lancashire Clarion Community Choir was also featured, singing 'Raise Your Banners', while Sing Kohli finished his programme wondering whether Britain would be a better place if more tea rooms like this still existed.
—-
Hardeep's Sunday Lunch is on BBC Radio 4 on Sundays at 13:30.
You can hear the Clarion House episode, fourth in a series of six, on BBC iPlayer until Sunday 23 December.
Read more about Clarion House and the history of the Clarion movement here.