Hugh Roberton is best known for creating the Glasgow Orpheus Choir. He was also a pacifist and an ILPer, as HELEN CORR explains.
Hugh Stevenson Roberton was born on 23 February 1874 in Glasgow, son of James Roberton, manager of a prosperous family funeral undertakers business and Mary (née Sim). Hugh attended Abbotsford elementary school until the age of 14 and then entered into the family business.
He proved to be a shrewd and enterprising businessman and at the age of 21, was made manager of the family firm. One of Roberton's duties was to collect rents in working class tenement buildings. The stark and depressing conditions of Glasgow slum life made an indelible impression on Roberton and was a powerful influence in awakening his social conscience. He later recalled:
"Thirty years and more have passed but the odour remains with me still. Terrible hovels they were, jaw boxes at the staircase window, other sanitary conditions too dreadful for words." Lute (1927) 50
Although his formal education ended at 14, Roberton had a keen intellect and was an avid reader of radical literature. He was particularly impressed with Fabian writers such as George Bernard Shaw and the Webbs. As a result he developed a deep interest in Fabian socialism during the 1890s.
During this period Roberton's spare time was almost exclusively devoted to studying music. In fact, he was an extremely talented musician which was recognised in his appointment, at the age of 25, as conductor of a Wesleyian Methodist choir. In 1901, he left to become conductor of the Glasgow Toynbee House Choir. His new appointment brought him into close contact with the Toynbee working men's social club, whose founders were the originators of the choir. Roberton, with no funds or constitution, was faced with the task of building the choir into a reputable musical body.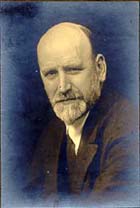 Under Roberton's influence the choir derived its musical inspiration from the Negro Jubilee singers in America. It was made up of men and women employed in small businesses (ie. in grocer's shops), manual and domestic occupations. The Toynbee House Choir sang in lodging houses and in front of working class audiences in the east end of Glasgow. However, as the choir's popularity grew, they received invitations from various church organisations and charitable agencies. Their first major performance before a middle class audience was in Glasgow City Hall in 1905.
Tensions soon arose between Roberton and the Toynbee Club organisers. This was primarily because the choir had become an economic asset whereas the club was not, and since the club had overall control over the choir, they frequently refused to plough money back into it for musical intruments and costumes. Consequently Roberton decided to become completely independent of the Toynbee Club and in January 1906 he founded the Glasgow Orpheus Choir. Inspired by personal loyalty towards Roberton many of the 30 singers left the Toynbee House Choir to join him in this new venture.
An instrument of social worth
From the beginning Roberton imposed his philosophical and authoritative stamp on the Orpheus Choir. He conceived of it primarily as 'an instrument of great social worth' and as a way of uplifting and brightening the lives of the general public, but those of working class people in particular.
He also insisted that the Orpheus Choir was neither a political nor a sectarian body and this was in spite of his personal sympathy with socialism and his Church ·of Scotland upbringing. Later Roberton was more specific in outlining the relationship between religion and the composition of the choir:
"The choir is a non sectarian body. It includes Protestants, Catholics, Jews, agnostics and people of no decided views. But it is essentially a religious body in the widest and best acceptance of the term." Lute (1922) 551
The first major performance of the Glasgow Orpheus Choir took place in St Andrews Hall, Glasgow, in 1907 and was hailed as a huge success. In the period that followed, Roberton and his choir performed in almost every large town and city throughout Britain. Everywhere they sang large audiences responded with enthusiasm and pleasure. The outstanding popular appeal of the Orpheus Choir was attributed to their distinctive melodic choral singing combined with the personal charisma and musical imagination of Hugh Roberton as conductor.
Roberton's work for music extended far beyond the actual life of the Glasgow Orpheus Choir. He willingly gave his services as adjudicator at numerous musical competitions and festivals throughout Britain. He also became a well known lecturer on the arts and music and in doing so he established himself as an extremely humorous and fluent public speaker.
To enable musical enthusiasts to follow the progress of the Orpheus Choir he founded, in 1911, a magazine called the Monthly Record of the Glasgow Orpheus Choir, later known as Lute. Roberton was editor of the magazine and wrote most of its contents including essays on choral technique and musical criticism. The magazine contained a book column which reflected Roberton's political views and among the books recommended were Kropotkin's Mutual Aid and Tressell's The Ragged Trousered Philanthropist.
In accordance with this desire to popularise the arts among working class people Roberton, along with William Martin Haddow from the Independent Labour Party, pioneered the opening of the Glasgow Musical Festival in 1911. This provided a cultural outlet for many radicals to express their ideas not only in relation to music but also on art, poetry and the Scottish folklore tradition. His personal influence and motivation also inspired the growth of many local choirs in Glasgow and among the Welsh mining communities.
In this way Roberton established extremely close links with the Labour movement and particularly with members of the ILP who also laid stress on the cultural side of the movement. One such figure was Ramsay MacDonald. Apart from shared political ideals, MacDonald was a life-long admirer of Roberton's intellectual and musical abilities. They sustained a close and life-long friendship which survived the defection of MacDonald in 1931. When MacDonald visited Glasgow he was usually guest at the Robertons' home. When he died in 1937, Roberton conducted a special funeral service at Lossiemouth in his honour.
Anti-war stance
Roberton eventually consolidated his political allegiances with the ILP and joined it in 1914. One of the main incentives for joining the ILP was its anti-war stance. Roberton was a convinced and life-long pacifist as he found it impossible to reconcile the humanism of art with the brutality of war. As he put it in 1916:
"War and art is an impossible combination, impossible as hate and love. War is in an insidious position. It scars and brutalises us unconsciously … Oh the vanity and hypocrisy and brutality of the world, oh the ignorance of the people." Lute (1916) 98,99
However, in spite of his personal opposition to war, the Orpheus Choir performed numerous concerts for soldiers in hospitals and camps.
After the war Roberton became extremely active in local politics and education. In March 1919 he was adopted as Labour candidate for Govan and Pollock in the Glasgow municipal elections but failed to get elected. He was also a prominent figure in the rousing send-off to Westminster of the Clydeside MPs at St Enoch's Station in 1922.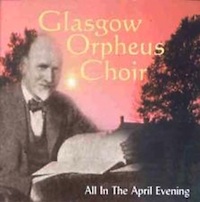 The following year he gave a massive free concert for Glasgow's unemployed and in the process managed to raise £200 on their behalf. His deep interest in the need for expanding social and educational opportunities for the under-privileged led to him twice being appointed onto Glasgow educational euthority around 1920. Like many ILPers of this period, Roberton was closely associated with the Glasgow Socialist Sunday School Movement and in addition to his role as conductor he composed many of the hymns sung at these meetings.
Overall, the 1920s represented a decade when Hugh Roberton and the Glasgow Orpheus Choir travelled extensively winning worldwide acclaim for their performances. They toured the continent, South Africa and, in 1926, performed 20 concerts in Canada and the USA. Roberton regarded himself as the ambassador for Scottish culture and when he was abroad, ruthlessly ensured that all members of the choir were well-behaved and thoroughly professional singers.
The reputation and prestige of the choir was such that when Labour was in office they were twice invited to sing at 10 Downing Street. Among those present were the prime minister, Ramsay MacDonald, Lady Cynthia Mosley and Mrs Billington Greig. In October 1928 they performed at Balmoral Castle in front of George V and Queen Mary and, later, before George VI and Queen Elizabeth.
Roberton's outstanding talent as a musician was formally acknowledged in 1931 when MacDonald awarded him a knighthood. Initially he was reluctant to accept this award in the fear that it would set him apart from the Labour movement and the working class. However, after much persuasion from his family and friends he accepted the award on behalf of the Orpheus Choir.
National controversy
The 1930s witnessed the retreat of Roberton from formal politics following the disaffiliation of the ILP from the Labour Party in 1932. Nevertheless, he continued to encourage the cultural development of the Labour movement in accordance with the traditional heritage of the ILP. This was manifested in the continued existence of many working men's choirs within Welsh and Scottish communities.
As a life-long pacifist Roberton was also deeply concerned over the drift to war in the late 1930s. Shortly before the outbreak of war he wrote to Forward condemning the introduction of military conscription, saying "leave the boys alone (and) go straight for the conscription of wealth"; a few months later he joined the No Conscription League.
In 1940 Roberton's pacifist views became the subject of national controversy. The focus of the controversy centred on the BBC's refusal to broadcast performances by the Orpheus Choir because of Roberton's pacifism. After a meeting with the regional director of the BBC in December 1940 Roberton re-affirmed that his pacifist views remained unchanged, declaring that:
"My views were my own business and affected neither the BBC nor the Orpheus Choir as far as my musical work was concerned that the choir was a musical and definitely neither a political or a sectarian body." Roberton (1963) 300
He received a great deal of national support from the press and public who declared that in spite of his pacifist views his music made a valuable contribution to the war effort. He also gained the support of his wife Helen (who was also a pacifist) and his family even though his pacifist views were not shared by two of his seven sons who gained distinction for military services during the war.
In 1942 Roberton's case was raised in parliament and after much discussion the ban on pacifist artistes who performed for the BBC was rescinded. Consequently, Roberton and his choir were formally re-instated and they broadcast a concert for the BBC in June of that year. However, Roberton continued to be at the centre of controversy for his refusal to end his concerts with the national anthem, and instead insisted upon 'Auld Lang Syne'.
Shortly after the defeat of Germany Roberton and his choir decided to visit the British occupied zone. He was extremely touched by the response of soldiers and war victims to the presence of the Glasgow Orpheus Choir. In particular, his visit to devastated cities such as Hamburg made a lasting impression on him. In a pamphlet, A German Odyssey, Roberton said of this visit:
"For over 40 years we have been music making. On two continents we have time and again faced crowded and excited audiences … but the German tour was the most thrilling and most worthwhile thing we ever did." Roberton (1946) 23
In the next few years Roberton continued to give public performances and he was one of the main contributors at the annual Edinburgh Festival. Nevertheless, by this time he had reached his early 70s and hence his stamina for public appearances had waned somewhat. He had already retired as director of the funeral business in the 1930s. At the age of 77 he also decided to retire as conductor and to disband the Orpheus Choir altogether. This was in accordance with his longstanding belief that the ideals of the choir would disappear without his mastered authority over it.
This decision caused widespread condemnation and public outrage among musical enthusiasts. However, fears were somewhat allayed when the choir continued under a new name of Glasgow Phoenix Choir with Sir Hugh as its honorary president. He also gave his blessing to the continued existence of the Glasgow Orpheus Society which provided a regular social meeting place for ex-members of the choir.
It was appropriate that the final concert of the Orpheus Choir should take place in Glasgow and it marked the end of an era in which Roberton had performed more than 1,300 concerts throughout the world.
Sir Hugh Roberton had a most distinguished and versatile career. He made an immense contribution to the arts not only in his capacity as conductor but also as composer of solos and musical comedies, lecturer and adjudicator. Perhaps more important than this, Roberton succeeded in his cherished ambition to popularise choral music by making it accessible among all classes of society. In doing so he never forgot his Scottish heritage and he constantly inspired his choir to be proud of their history and culture as manifested in the poetry of Burns. He expressed these nationalist sentiments when he wrote:
"We have a history, a tradition, all of our own … and I am sure it comes out in our singing… English choirs on the whole are probably more competent than Scottish ones: they are also more facile … their work wants roots." Roberton (1963) 109
His political contribution lay in his ability to instil confidence and to encourage the artistic side of the Labour movement. This was largely due to his acute awareness that the working classes had their own cultural heritage and hence he was always keen to find a cultural outlet in the form of music.
One obituary made a frank assessment of Sir Hugh Roberton's character:
"Though his temperament mellowed in later years, Sir Hugh was a vigorous controversialist, self-assured and unshakeable in his beliefs. His caustic criticisms of musicians and his outbursts against current happenings in society often appeared to show little regard for the feelings of others and on that account he was sometimes described as the Bernard Shaw of Glasgow." Scotsman, 8 October 1952
In appearance, it could be said that Roberton represented the Glasgow version of Nikolai Lenin. In latter years he had a bald head, an angular thinly pointed beard and nose, while his facial expression tended to be reflective and earnest. However, in terms of height, build and shape, Roberton was smaller and less obtrusive.
Sir Hugh Roberton died on 7 October 1952 at the age of 78. His first wife Joan (née McGillivray), a dressmaker and daughter of a Protestant police constable of Highland descent, pre-deceased him in 1907. He was survived by his second wife Helen Birkmyre, his housekeeper before their marriage in 1909, and by seven sons and two daughters. The estate was valued at £12,723.
Writings: Regular contributor to the Monthly Record of the Orpheus Choir and the Lute; Kirsteen (1922) 57 pp; Curdies (1931); A German Odyssey: an account of a tour in the British occupied zone of Germany by the Orpheus Choir (Glasgow, 1946) 42 pp; Preclude to the Orpheus (Glasgow, 1946); HS and K Roberton, Orpheus with his Lute (1963).
Sources: Baillie, 4 Feb 1920; Glasgow Weekly Herald, 26 Aug 1933; Scottish Biographies (1938); Forward (1939); T Johnston, Memories (1952); J Mann, Women in Parliament (1962); RK Middlemas, The Clydesiders (1965); Evening News, 3 Oct 1968; Scots Magazine, 97, (Apr-Sept 1977); D Marquand, Ramsay MacDonald (1977). OBIT. Glasgow Herald, Scotsman and Times, 8 Oct 1952.
—-
This article was originally published in Scottish Labour Leaders 1918-1939: A Biographical Dictionary, edited by William Knox, 1984, and is re-printed with permission of the editor to whom we owe many thanks.
An alternative profile of Hugh Roberton can be found on Richard Toye's blog, 'History, Politics and Rhetoric', written in September 2007.
Also see 'Music and Democracy', by Hugh Roberton, a lecture organised by the ILP in December 1912.
More about the Glasgow Phoenix Choir can be found on its Facebook page.
Sound clips of the Glasgow Orpheus Choir, conducted by Roberton, are available on You Tube. Here is a small selection:
All in the April Evening
Dear Isle of Man
Ca' the Yowes, Bonny Dundee, and Peat-Fire Smooring Prayer