Georges Kopp was George Orwell's commander when he fought with the ILP contingent in the Spanish Civil War. A new biography reveals him as a brave man of many parts and much mystery, as CHRISTOPHER HALL explains.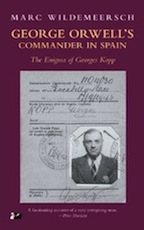 Anyone who has read Homage to Catalonia, or any major biography on Orwell, will have come across several mentions of Georges Kopp. Unpicking the many facets of this intriguing man has involved several years of investigation by Marc Wildemeersch, the author of a new biography, including research in British and European archives, plus interviews with members of the Kopp family.
The Kopp portrayed by Wildemeersch served in the POUM militia during the Spanish Civil War, was imprisoned in Spain, and fought in World War Two – both in the regular French Army, when he was wounded four times, and in the resistance – before he finally moved to Britain where he married into Orwell's wider family. However, the book also paints a picture of the man as a womaniser, a spy, an inventor and a fraud, a man who was regularly in financial trouble and possibly the inspiration for a major character in Orwell's famous book  1984.
Kopp is a complex figure who often lied and exaggerated about his life and career. For example, in Spain he claimed he had previous military experience, and even Orwell believed this to be true because of his bearing and natural authority. But the author proves that he had no previous military experience, a fact which was never discovered at the time and, maybe because of inactivity on the Aragon front, never seriously put to the test during the conflict.
Wildemeersch also looks at other questions about Kopp's life, suggestions that he was a Communist spy, for example, had links with MI5, and had an affair with Orwell's wife, Eileen Blair. His experiences in a Spanish jail and the wounds he suffered during the Second World War cut short his life – he died from a blood clot aged just 50.
This is a fascinating, well-researched book and, as the author admits, the tale it tells could well have made a good novel. Although sympathetic to his subject, Wildemeersch provides a warts-and-all portrayal of Kopp's life, covering the more unsavoury aspects of his personality as well as his undoubted bravery and anti-Fascism.
He has written a fascinating account of one of the most mysterious figures in the Spanish Civil War. It is the first proper in-depth biography of Orwell's comrade in arms and I strongly recommend it.
—-
George Orwell's Commander in Spain: The enigma of Georges Kopp, by Marc Wildemeersch, is published by Thames River Press, and available from their website for £10.99.

Christopher Hall is the author of In Spain with Orwell: George Orwell and the ILP Volunteers in the Spanish Civil War, 1936-1939, available from Tippermuir Books for £12.50. Email: tippermuirbooks@blueyonder.co.uk
Hall's book 'Not just Orwell': The Independent Labour Party Volunteers and the Spanish Civil War was published by Warren and Pell, in May 2009.
A new edition of Land and Freedom, the ILP's pamphlet on the Spanish Civil War, has just been published. It includes a new section on ILP volunteer Stafford Cottman, written by Christopher Hall.
Click here for more information and here to buy a copy for £4.00.