History has often overlooked Katharine Bruce Glasier in favour of her more famous husband. But, as PAUL SALVESON shows, she was an inspiring figure who made an immense contribution to the socialist movement.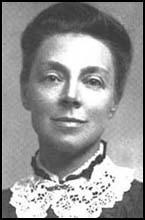 Katharine Bruce Glasier was one of the most remarkable figures in the English socialist movement. She was one of the most popular figures in the ILP, always in great demand as a speaker from the early days of the 1890s through to the 1930s. She became known as "the grandmother of the Labour Party". Yet her huge contribution is almost forgotten, her fame mainly resting on her marriage to John Bruce Glasier whose early death in 1920 had a profound impact on her.
She was born Katharine Conway on 25 September 1867. Her father was a Congregational minister in rural Essex but when she was a child the family moved to Walthamstow. The Conways held progressive views and Katharine received an education equivalent to that of her brothers. After being educated at home by her mother until the age of 10, she went to Hackney Downs High School for Girls. Katharine's teenage years were unhappy ones, however, as her mother, Amy, died in childbirth when she was 12.
She studied at Newnham College, Cambridge, and met several feminists, including Helen Gladstone and Olive Schreiner. After graduating in 1889 she moved to Bristol to work as a Classics teacher. It was here that her political involvement took off.
The city had a growing socialist movement and a feature of campaigning there was to 'invade' Church of England services with groups of hungry young women workers. Katharine was moved by their plight and her 'conversion' to socialism came as a result of her talks with the young women.
She joined the Bristol Socialist Society, a local section of the Social Democratic Federation, and threw herself into frenetic activity, despite being the subject of deprecating comments by some of the movement's male leadership. She also became involved in the Fabian Society in 1891 and became a popular lecturer speaking on subjects such as 'Socialism and the Home', 'The Religion of Socialism' and 'Why Working Women Want the Vote'.
One socialist commented: "It is possible that Katharine Conway was getting more applause than a woman less young and attractive might have got but that was all doing good to socialism. She has a peculiar magnetic influence over her audiences, and larger audiences could be drawn for her than for almost any other lecturer." Apparently George Bernard Shaw proposed, but she told him, with clever guile, that she intended to dedicate her life to socialism.
In the autumn of 1892 she attended the Trades Union Congress (TUC) in Glasgow. One of those who heard her speak was Bruce Glasier, one of the leaders of the socialist movement in Scotland. They became lovers and married on 21 June 1893. Shaw sent his congratulations.
Christian socialism
The Glasiers shared a belief in 'ethical socialism', inspired by Christianity. To Katharine "socialism was the economic expression of Christianity". She and Bruce found a congenial home in the Independent Labour Party, founded in Bradford in 1893, which included fellow ethical socialists such as Keir Hardie, Tom Mann, Ben Tillett and Philip Snowden. It was not long before she became the only woman on the ILP's National Administrative Council, while Bruce became its chairman.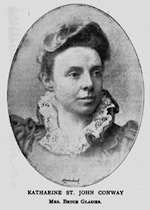 They led demanding lives, travelling around the country as lecturers, often speaking at two or three meetings in a day. In 1900 she lectured in more than 30 different towns. A talented writer as well as an inspirational speaker, she wrote regularly for the Labour Leader and contributed to other socialist journals and newspapers, such as the Labour Woman and The Workman's Times. She also wrote a feminist novel, Marget: A Twentieth-Century Novel, and Tales from the Derbyshire Hills, a collection of short stories.
She certainly made an impact on young working class women such as Hannah Mitchell, who heard her speak at the socialist club in Bolton in the mid-1890s. She described Glasier as "a slight girlish figure in a black frock with a Medici collar, and her hair swept back from her forehead; she looked as if she belonged to some religious order. Though not much older in years than myself, this girl was already a highly educated, well-trained personality. Perhaps at first I paid more attention to the speaker than her speech, but heard enough to send me away with inspiration which later sent me out to the street corners with the same message." (The Hard Way Up, p. 86).
Mitchell's perceptive comment highlights Glasier's middle class self-confidence, which was certainly a strong characteristic. She could also move an audience of both male and female workers in a way few other ILP speakers could, except perhaps Philip Snowden, who was ultimately to become her nemesis.
She became editor of the Labour Leader in 1916 and continued its anti-war position. By the summer of 1917 sales of the newspaper under her editorship reached an all-time peak of 51,000. The ILP was delighted and raised her salary from £2.17.0 to £3.5.0 a week. She was thrilled by the Russian revolution and was swept along with the left's support for Lenin, causing friction between her and Snowden.
Ellen Wilkinson, future socialist MP and heroine of the Jarrow March, heard her speak during the war years at a packed meeting in Manchester's Free Trade Hall.
"It was a memorable meeting. I got a seat in the front row of the gallery. It seemed noisy to me, whose sole experience of meetings was of religious services. Rows of men filled the platform. But my eyes were riveted on a small slim woman her hair simply coiled into her neck, Katherine Glasier… To stand on a platform of the Free Trade Hall, to be able to sway a great crowd, to be able to make people work to make life better, to remove slums and underfeeding and misery just because one came and spoke to them about it – that seemed the highest destiny any woman could ever hope for."
She was devastated by the death of Bruce in 1920 but continued to work for the ILP. However, she fell out with Snowden as a result of his particularly virulent attack on the Bolsheviks in Labour Leader. Glasier added a repudiation of Snowden's diatribe in the same issue, which did not go down well with the ILP leadership. She was effectively sacked from the job and appears to have suffered a nervous breakdown.
Glasier joined the Society of Friends and sent her son, Glen, to the Quaker school at Ackworth in West Yorkshire. Glen was a brilliant scholar and an avid socialist. He was awarded a scholarship to Oxford University but was killed while playing football in 1928. Her son's death inspired her to write The Glen Book.
Spiritual philosophy
The spiritual side of Glasier's nature came more to the fore. She had been influenced by the writings of Walt Whitman and was a close friend of Bolton's pre-eminent Whitmanite (and ILP NAC member), JW Wallace. She became a regular visitor to Wallace's home on the rural outskirts of Bolton and experienced what she described as "cosmic consciousness" during one of her visits.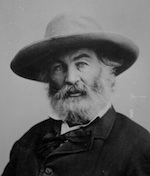 She continued to develop a socialism which melded conventional ILP politics with an emphasis on spirituality which she promoted in her weekly column in the ILP newspaper, Labour's Northern Voice, during the late 1920s. The Glen Book, first serialised in Labour's Northern Voice, is a celebration of Whitman and his philosophy, with numerous excerpts from Leaves of Grass. She quotes extensively from Whitman (left) about a coming new age "rounding forward to another springtime of the Spirit of the Whole … an age of reason and faith with far more wonderful works than man has yet seen is drawing near".
Like many other socialists of her time, including Edward Carpenter, she was an admirer of the writing of Rabindranath Tagore, the Bengali poet and philosopher. In a more cynical age it's easy to dismiss Glasier's blend of socialism and spirituality as naive and even comic. But we are foolish to ignore the ageless wisdom of Whitman, Tagore and Carpenter. Glasier made a brave attempt to harness their spiritual philosophy to her political practice.
And her politics could not be accused of being remote from day-to-day reality. She was heavily involved in several campaigns during the 1930s which included the fight for pit-head baths and for the abolition of the Poor Law. She was a close friend of Margaret McMillan and they worked together in the fight for school meals and nursery education. She had a particular passion for open-air nursery schools, pioneered by McMillan, and played a major role in forming the Save the Children Fund.
But, for all that, she stressed the importance of the spiritual and personal alongside the political: "Again, I urge it, there is a personal as well as a socialist gospel. It is a tragedy when socialists and Christians imagine they are in opposite camps. It is joy beyond all telling when they labour together for the kingdom of heaven on earth." (Labour's Northern Voice, 29 November 1929).
Her late husband Bruce never really left her side. Many years after his death she still dressed as a widow. Politically, she continued to promote his writings, above all The Meaning of Socialism which was published shortly before his death in 1919. Given his illness, it is more than likely that much of the book was written by her. As he states in the preface to the book, but for her "encouragement, assistance and loving care during long months on a bed of pain, these chapters would never have been written".
The growing division between the ILP and the Labour Party in the early 1930s caused her great anguish. She decided to remain with the Labour Party when the ILP voted to leave en masse in 1932, although she kept many of the friendships she had formed over decades.
After the first majority Labour government was formed in July 1945 she wrote in her diary of "the joy of the harvest", celebrating the years of hard work which had finally led to victory.
Glasier still had the energy to campaign for numerous progressive causes, including the Margaret McMillan Memorial Fund which raised nearly a quarter of a million pounds to build the Margaret McMillan Training College in Bradford.
In 1947 Glasier celebrated her 80th birthday by giving a lecture to more than a thousand people at the Bradford Co-operative Assembly Hall on her most popular subject: 'The Religion of Socialism'.
She died on 14 June 1950 at her home, Glen Cottage, in the village of Earby, where she had lived since 1922. The house was preserved in her memory by the Labour movement. It is now a youth hostel.
History has dealt badly with Katharine Bruce Glasier, one of the most fascinating figures from what is a distinctly English socialism. Laurence Thompson wrote an affectionate, though not uncritical, biography of both her and Bruce, aptly entitled The Enthusiasts.
She was a great enthusiast, but she was generally enthusiastic about the right things.
—-
Professor Paul Salveson is general secretary of the Hannah Mitchell Foundation and author of Socialism with a Northern Accent and Railpolitik: Bringing railways back to the community.
The Katharine Bruce Glasier Memorial Youth Hostel in Earby, formerly Glen Cottage, is here.
See also this portrait of Bruce Glasier written by Martin Haddow.