The 75th anniversary of the return of the International Brigade's British Battalion from the Spanish Civil War will be celebrated with a series of events in east London on Saturday 7 December.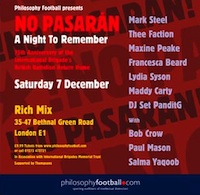 An afternoon seminar entitled 'Spain, the Civil War Legacy, Los Indignados and the Politics of Protest' will be followed by an evening of spoken word, comedy, ideas and music featuring Francesca Beard, Maxine Peake, Paul Mason, Mark Steel and Salma Yaqoob, among others.
There will also be a teenagers' book reading with Lydia Syson, author of A World Between Us, a teenage novel set in the Spanish Civil War, and a guided walk around the 'anti-fascist heritage of London's east end', led by David Rosenberg of East End Walks, author of Battle For The East End: Jewish Responses to Fascism in the 1930s.
The events, organised by Soundings and Philosophy Football in association with the International Brigade Memorial Trust, mark the 75th anniversary of 7 December 1938 when the British Battalion returned to London.
'No Pasaran', the Soundings seminar on Los Indignados, is at 3.30-5.30pm with Red Pepper's Hilary Wainwright, Common Ground author Jeremy Gilbert, and Olga Abasolo of Los Indignados among the speakers.
The teenagers' reading is at 4.30-5.30pm, and the 75th anniversary evening event starts at 7pm.
All events are at Rich Mix, 35-47 Bethnal Green Road, London, E1 6LA.
The afternoon seminar is free, booking fee only. Book online or call 01273 472 721.
Tickets for the evening event are £9.99 plus p&p, and are going fast. Book online or call 01273 472 721.