From Liverpool ILP to the House of Commons via Russia, Spain and the USA, Bob Edwards was politically active all his life. CHRIS HALL retraces his long journey.
Bob Edwards had a remarkably long political life. He was a member of the ILP 'Guild of Youth', then became an ILP member and a Labour Party member. He became a councillor aged just 22 and was a Labour MP from 1955 to 1987, retiring when he was 82.
He met both Stalin and Trotsky, served in the Spanish Civil War, was a member of the ILP's National Administrative Council, became the ILP's chair and spent 24 years as general secretary of the Chemical Workers' Union, from 1947 to 1971.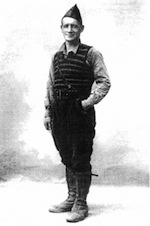 Edwards was born in 1905 into a working-class Liverpool family. His father was a docker and his early influences were religion, Keir Hardie and pacifism. During the 1920s Edwards joined the ILP's youth wing, the Guild of Youth, where he was involved in the disarmament movement. During the General Strike he was a TUC messenger, delivering messages from the various unions to their leading body, the TUC.
In the same year he led a youth delegation to Soviet Russia where he met and had discussions with Leon Trotsky. On his return Edwards wrote his first political pamphlet, Youth in Red Russia, in which he emphasised the need for strong trade union links between the two countries and stressed that capitalism should not be allowed to overthrow the Soviet Union. From 1926 to '36 Edwards was a leading member of the Socialist Youth International and later the 'London Bureau' Youth International.
In 1927, Edwards became Liverpool's youngest councillor, elected as a Labour Party candidate. He was a keen supporter of the ILP's decision to disaffiliate from the Labour Party in 1932, and in 1933 became a member of the party's central body, the NAC. In the same year he married Edith May Sandham, an ILP councillor and daughter of a prominent ILP member. Edwards became the ILP's Divisional representative for Lancashire in 1934.
In the early 1930s Edwards became a keen supporter of the RPC (Revolutionary Policy Committee) group within the ILP, which wished to move the organisation towards a more revolutionary position. This group advocated greater links with the Communist Party, including joining the Comintern, the international Communist movement's organising body.
The RPC sent Edwards and another man to Russia to find out how far the ILP would be allowed to keep its separate identity while joining the international Communist movement. The Soviets agreed the ILP could keep its name, organisation and officials but ruled that it must obey the policy of the Comintern. On their return, Edwards and his colleague wrote a pamphlet called Revolutionary Unity, which encompassed these points.
When it became known that two leading lights of the RPC were secret members of the Communist Party, the NAC disciplined all RPC members, including Edwards. He was suspended and asked to declare that his main loyalty was to the ILP and not the Communist Party. Edwards' suspension was lifted when he gave suitable assurances of his loyalty.
Edwards also wrote a brief account of his second visit to the Soviet Union when he and a colleague were in Moscow for 12 days meeting leading members of the Communist International including its leader, the Bulgarian Dimitrov. Dimitrov had won international fame during his trial when the Nazis accused him of burning the German parliament building, the Reichstag. Edwards also met Stalin whom he described as "a small man, half a head shorter than myself", and "very modest".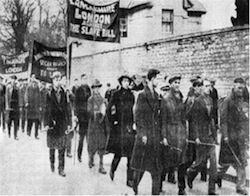 In 1934 Edwards was heavily involved in the national Hunger March, when unemployed workers converged on London from all over Britain to protest about their situation. Although he was not unemployed himself, Edwards decided to take part in the march on behalf of the Chorley unemployed. (In the picture, left, Edwards is at the front, second from right.)
The 300-strong Lancashire contingent set off from Manchester accompanied by a red lorry. Edwards was elected leader and met the Minister of Transport who agreed to arrange free rail tickets back to Lancashire for the marchers. Edwards was then ejected from the Houses of Parliament for heckling the Prime Minster, Ramsay MacDonald.
Edwards stood as ILP candidate for Chorley in the 1935 general election and polled 1,365 votes, or 3.3 per cent of the vote, reflecting the ILP's weakness in Lancashire. Appraently Edwards began the campaign late and the local newspaper described the ILP's election campaign as "lacklustre".
Fighting fascism
When fascist Italy invaded an independent Abyssinia (now Ethiopia) in 1935 Edwards opposed the party leadership and supported sanctions against the Italian invaders. Edwards had been a pacifist all his life, but by 1936 he decided the only way to defeat fascism was through armed resistance.
He said: "I had got rid of my pacifist ideas watching fascism and all that it involved – the killing of some of my friends, the missing people in concentration camps, the danger of the Second World War, the destruction of democratically elected government by the revolt of an army based on fascist ideas. So by that time I had firmly come to the conviction that you had to do something about it in an armed way. You couldn't talk these people out of it, resolutions were meaningless, they needed fighting men."
Edwards' first involvement in the Spanish conflict was in September 1936 when he was one of two drivers who took an ambulance of medical supplies from Britain to Spain. While in Spain he visited the frontline and came back to Britain in October determined to raise a unit of volunteers to fight. By November the NAC had agreed to his suggestion.Fellow NAC member Fenner Brockway stated: "On the initiative of Bob Edwards we mobilised a group of volunteer fighters of which Bob took command."
Edwards himself said: "The Spanish government had no other means of defending themselves other than the workers' organisations. So they armed the political parties and the trade unions, and they formed themselves into a militia to defend the democratic government of Spain. I persuaded the Council of the ILP, which was then pacifist, that it wasn't enough to be pacifist, that we should send a fighting force to Spain. Even though it was small it would be a gesture of international solidarity. I wasn't a military man but I was a good organiser."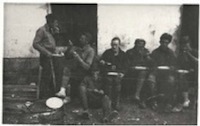 One fellow volunteer, an ex-army veteran and a Communist, was more critical, commenting that Edwards would have made a better "Salvation Army leader": "He lived a life of a snail, creeping out of his hole only to eat and wash. He evaded duty as our political leader and brought a Sam Brown belt [commonly worn by officers in Spain, designed for a pistol] and strutted about like a half-paid officer. Even our Spanish comrades made fun of him."
In letters to his wife, Edwards talks about rats in the trenches, the poor quality of the bread and coffee, and the wet weather. Edwards (pictured above with ILP volunteers near the front) described problems with the men – some did not fit in and the later arrivals were the more troublesome – but he still said they were a "damn fine lot without exception".
He stated that the nights were very cold in the Aragon mountains and asked if he could be sent a winter coat. In a letter written in March Edwards described little happening except long-range rifle and artillery fire. But Edwards did experience the social revolution in Catalonia and saw it as a cause worth fighting for.
"We were inspired by what we saw in Catalonia," he said. "The owners of the factories had left, and workers had to take over the factories. Landowners, always absentees, had left, and the land taken over by the peasants, and co-operatives formed. Hotels were taken over and councils set up to run them. There was workers' control throughout Catalonia, and equality of income. Everyone got 10 pesetas a day, the general and the woman sweeping the streets. There was no black market. Prostitution was abolished. Bullfighting was abolished. It was a marvellous country to be in – for socialists."
In Spain, Edwards met the author George Orwell, a man he described as fearless under fire, although he was suspicious of Orwell's reasons for going to Spain, calling him a "bloody middle-class little scribe" and a "bloody scribbler". The first time they met, Orwell and two young Spanish boys were accompanied by a rather strange pet: "Behind them was a shaggy dog with POUM painted on it," said Edwards. "It made me roar with laughter. It was comic opera."
When Orwell expressed a wish to join the International Brigades, Edwards pointed out to him the political dangers of doing so. Edwards explained that he would be accused of being a Trotskyite, be court-martialled and shot.
At the end of March 1937 Edwards was recalled to Britain to attend the ILP annual conference. Back in Britain he travelled the country promoting the ILP policy on the Spanish Civil War, which occasionally led to friction with the local Communist Party. Edwards also supported Orwell's article in the New Leader refuting the claims of one ILP volunteer that the POUM were traitors.
Post-war politician
For a brief time after his return from Spain Edwards lived in the USA working with trade unionists and independent socialists in that country, but in December 1939 he was back in Britain standing as an ILP candidate in the Stretford by-election. He polled more than 4,000 votes, approximately 15 per cent of the vote and a creditable performance against the coalition government's candidate. He stood in another by-election during the Second World War, this time at Newport in Wales where he took more than 13,500 votes – more than 45% of the vote – and almost won the seat.
Edwards supported the official ILP policy on World War Two – that it was an imperialist war, and that the public should not support the government – and did not serve in the armed forces. He discovered that he would not have been accepted for service because he had served as an officer in a foreign army.
In 1943 he became the national chairman of the ILP and remained so until 1948. A trade unionist all his life, he was also elected general secretary of the Chemical Workers Union in 1947 and served till 1971.
He eventually left the ILP and became Labour MP for Wolverhampton Bilston from 1955 until 1974, when the seat was abolished. In 1974 Edwards won the new enlarged seat of Wolverhampton South East, eventually standing down in 1987 as the oldest sitting MP in the House. He promoted 10 private member bills as an MP, of which four became law. His greatest achievement was the Clean Air Act.
Thanks to his experiences in Spain, Edwards was the MP Spanish dissidents automatically contacted for help. He received countless appeals from the International Brigade Association asking him to raise matters in the House, or to write to the Spanish authorities about such-and-such an imprisoned Communist or trade unionist.
He first returned to Spain in 1959 and was immediately imprisoned and interrogated by Spanish police for 10 hours, and then expelled when it was discovered he had been sentenced to death in his absence in 1939. In 1975 he wrote to British Prime Minster Harold Wilson requesting that the British government boycott Franco's funeral. Wilson replied saying he agreed with Edwards' sentiments although he had to send someone.
Bob Edwards died in 1990.
—-

Christopher Hall is the author of In Spain with Orwell: George Orwell and the ILP Volunteers in the Spanish Civil War, 1936-1939, available from Tippermuir Books for £12.50. Email:tippermuirbooks@blueyonder.co.uk
Hall's book 'Not just Orwell': The Independent Labour Party Volunteers and the Spanish Civil War was published by Warren and Pell, in May 2009.
See also Chris Hall's profile of Spain veteran and ILPer Stafford Cottman.