Our society has been deranged by neoliberal capitalism, says BARRY WINTER. How can the creative, reflective forces of the progressive left begin to counter the huge imbalances in power and wealth?
This is perhaps one of the most fluid periods that I can remember in UK and, indeed, world politics.
The crash of 2008 and its aftermath exposed the self-destructive and self-serving character of neoliberal capitalism. The high and mighty bankers and financiers, and their allies, stood exposed for unleashing an economic tsunami upon humanity. Yet the dominance of these elites remains largely unchanged and unchallenged. When the crash came, the blame was very quickly transferred to those in government.
Neoliberalism still rules, as one recent example shows: the coalition government has privatised the Post Office despite dogged opposition from the workforce and against public opinion, and did so at bargain basement prices.
Yet public feelings were not mobilised into political opposition; people, it seems, were resigned to the fact that it was going to happen. In an era of political cynicism and defeatism, the sentiment seems to be, 'Well, what can you do?' And, of course, that argument has a point.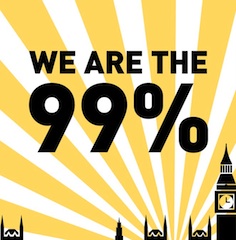 Such sentiments are also reinforced by what's happening to many people in their workplaces where the pressures and insecurities have never been greater – in both the public and private sectors. The recent exposure of Amazon, a company where workers are being transformed into robots, demonstrates that this deserves muuch greater attention.
Of course, there have been some mobilisations, such as the almost forgotten Occupy movement, which for a time dented neoliberal hegemony with its slogan about the richest 1% versus the other 99%. Yet we now have Boris Johnson, calculating and resurgent, praising the rich and belittling the poor for being genetically stupid, poor dears. Let's hope his remarks one day come back to haunt him.
The main political opposition under Ed Miliband is struggling to create a coherent counter message as the Labour Party remains deeply wounded by many aspects of New Labour's record. Under Miliband, the party sometimes rises to the occasion very well, such as in its commitment to tackle the energy companies which has forced the Tories to change tack, or at least appear to.
But, surely, the aim should be to take this sort of initiative further, to encourage the party to go live locally on the issue, for that is where it has a live membership. The party has to begin to mobilise public support on these issues.
Meanwhile, a Left Unity party has been created with 8,000 people initially responding to Ken Loach's call. It has its work cut out. I am certainly not opposed to the venture itself, but I am not confident about what it can achieve in the current climate. The People's Assembly Against Austerity is undertaking some constructive work opposing the cuts and health service reforms. But neither the new party nor the assembly are really making big waves – although that's not meant to belittle their efforts.
I'd venture to suggest that progressive left forces have never been weaker, whether inside the Labour Party, in the trade unions, in other left groups, or in a variety of campaigns and initiatives. Nothing is yet gelling and that's not for lack of trying.
There are issues which continue to come to the fore, such as the geographical concentrations of wealth. For example, while the coalition regularly talks about the need to rebalance the economy, the opposite is happening, and the government carries much of the responsibility here. Recently, the Guardian reported that councils in the north east will lose more than twice as much funding per person as those in the south east. A group of local authorities are warning that some of them are at breaking point and that, on present form, any economic recovery could bypass large parts of the UK.
In addition, we are all watching a very real challenge to the integrity of the UK itself in the forthcoming referendum on Scottish independence. The polls strongly suggest it will not happen, but the situation remains fluid. Even a rejection of the idea is likely to lead to further powers being ceded to the Scottish parliament while in Wales Labour and Plaid Cymru are also seeking further devolution.
I won't even speculate on the consequences of a 'Yes' vote. All I will say is that Alex Salmond is one of the most astute politicians I've observed and he usually runs rings around Labour in Scotland.
So there's plenty to be concerned, or even fearful, about.
Exciting work
And yet, and yet, this is also one of the most creative and reflective periods I've known in politics. Thanks to the internet, but not simply because of it, there are a variety of groups, organisations, publications, think tanks and research bodies undertaking a range of exciting work.
Here are but a few of those which strike me:
the Kilburn Manifesto and the journal Soundings
the Living Wage campaigns
the IPPR, the Smith Institute and CRESC
Policy Network
Shifting Grounds website
Compass (perhaps)
Class (Centre for Labour and Social Studies)
the Max Planck Institute, Cologne
the US-based Democracy Collaborative and perhaps Transpartisan Politics
and, not least, the journal Renewal.
Something is in the air. The questions are: What form or forms might this opposition take? What does this creative moment amount to? Is it to become a dead end or can it offer new beginnings? And, without wishing to exaggerate our importance, what should the ILP's contribution be in this period?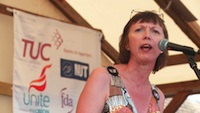 One person who impresses me is the new general secretary of the TUC, Frances O'Grady (left). In an interview in the latest edition of Renewal she emphasises the importance of "building alliances, to try to rebalance power" – and I strongly support her argument.
If anything I'd want to extend and develop the metaphor of 'rebalancing' much further to identify a number of specific fronts where power needs rebalancing: the world of work; education; the media; the extremes of wealth and poverty; politics, generally; and the economy, where corporate power has spread insidiously into all aspects of our lives.
Indeed, I'd like to suggest that we produce a pamphlet on 'unbalanced Britain' to expose the deranged condition of our society as a result of three decades of neoliberalism.
We should perhaps hold an ILP day school on the topic and submit our ideas for a publication to those who attend so that we can share and shape the initiative. We can draw on a myriad of examples. Every day there's another, such as the recent accusation that the Royal Bank of Scotland deliberately bankrupted small businesses to acquire and then sell their assets.
In saying that Labour and left progressive forces have to change to meet the challenges we face, we also have to reflect on how best the ILP can develop. We took a small step in recognising the need to review our annual weekend school to widen our appeal.
We have some assets – a great website and a proud history which offers some fascinating political insights as well as warnings of what can go wrong. Our historical commitment to ethical politics and fellowship remains crucial.
All that's a start, but now we have to look outwards, to develop links and to raise our profile with some accessible but intellectually sound literature. We have a contribution to make in these strange times. We have particular insights that give the ILP its particular character and, hopefully, contemporary relevance.
This was brought home to me recently when attending an event at Leeds University on 'Ideology after the Crash'. One speaker, for whom I have much respect as a Marxist economist, gave a good account of how neoliberalism survived the economic crash. But when it came to the politics, he dismissed political parties of being of no value and argued the need for movements. Of course, we would share his opinion that social movements are valuable but to reject more mainstream politics – understandable as that temptation may be in the present climate – is politically disabling.
We need coalitions of progressive parties and movements to challenge the stranglehold of neoliberalism. That means building countervailing currents in civil society, the economy and politics to redress society's multiple imbalances.
We need to be saying this on our website and through a range of literature which we now need to produce. We may not always get things right but we do need to offer our ideas to people in a variety of forms and formats, just as the early ILP did. This would give our politics greater visibility and accessibility while, hopefully, providing us with a new beginning.
—-