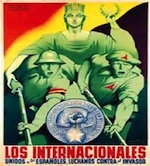 A collective of Manchester-based artists have organised a special evening of prose, song, poetry and exhibition to tell the story of the city's unsung heroes and heroines who went to fight fascism in the Spanish Civil War.

'Los Internacionales' is expected to be "a moving and inspirational night" featuring Chorlton group Maddonnas, Mike Wild, Chris Hall and many other guests.
Hall, who has helped to organise the event, promises to "sneak in a bit about the ILP and Orwell" as part of his contribution.
When: Saturday 17 May 2014, from 6.30pm
Where: Wilbraham St Ninian's United Reform Church, Egerton Road South, Chorlton, Manchester. M32 0XY.
Who: Maddonnas, Mike Wild, Chris Hall and many guests.
Further details and tickets from: www.chorltonartsfestival.com/event/los-internacionales/
—-
See also: 'Land and Freedom', a new edition of the ILP's pamphlet about the Spanish Civil War
and: 'In Spain with Orwell', a review of Chris Hall's latest book on the conflict
and: 'A Warm and Generous Man', Chris Hall's portrait of ILPer and Spanish Civil War veteran Stafford Cottman.