Doreen Massey and Michael Rustin will introduce the latest instalment of the Kilburn Manifesto at the seventh seminar in the series at London's Marx Memorial Library on Tuesday, 10 June.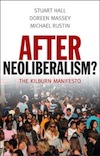 In 'Whose economy? Reframing the debate', Massey (Emeritus Professor of Geography at the Open University) and Rustin (Professor of Sociology at UEL) will open a discussion on the peculiarities of the British economy and how these might be reframed for a progressive politics.
"The woes of the UK economy do not result from the recent crisis, nor from the austerity-driven response to that crisis," they write. "Neither – and this is more rarely said – do they result solely from the decades of neoliberalism immediately preceding the crisis.
"Rather those decades themselves can be seen as a particular, and particularly acute, expression of underlying characteristics and deeper causes that have been with us for a long period of Britain's economic history as a former imperial power."
Initially edited by Massey, Rustin and the late Stuart Hall, the Kilburn Manifesto, After Neoliberalism, was launched last year by the Soundings journal. It is attempting to call into question "the neoliberal order itself", and argue for "radical alternatives to its foundational assumptions".
Seven chapters have been published so far. Massey and Rustin's forthcoming chapter on reframing the economy will be the eighth.
The seminar will be held at the Marx Memorial Library, in Clerkenwell Green, London EC1R 0DU, starting at 18:30.
—-
Tickets for Kilburn Manifesto seminars are £5 (£3 concessions, unwaged) or free for Soundings subscribers. Click here to buy tickets for 'Whose economy? Reframing the debate'.
More information about the Kilburn Manifesto, and access to previous chapters, is available here.