A full reading of Alison Mead's play 'Politic Man', about pioneering ILPers Alf and Ada Salter, will be staged in Kent on Monday 24 November.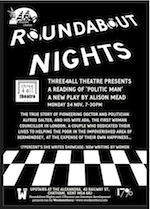 The play tells the true story of the Salters, the ILP couple who transformed an impoverished area of south east London before the Second World War with their 'Bermondsey Revolution' of local health care, house building and environmental change.
A 15-minute extract from Mead's play was performed at the Cockpit Theatre in Marylebone in October, and now the full play will be read by three4all theatre as part of Roundabout Nights at the Alexandra in Chatham.
The Salters' story is an almost forgotten gem of Labour history, telling how the brilliant doctor, Alf Salter, and his campaigning wife, Ada, dedicated their lives to the people of Bermondsey, a slum area overrun by squalor and disease.
Alf introduced a free local health service for the poor long before there was a national health service, while Ada campaigned to improve housing and the environment, building gardens as part of a local 'beautifcation' programme.
The reading of 'Politic Man' will take place at 7.30pm, upstairs at The Alexandra, 43 Railway Street, Chatham, Kent ME4 6RJ on Monday 24 November.
More details here.
—-
More information about Alison Mead is here.
Graham Taylor's profile of Alf Salter is here, and Ada's story is here.