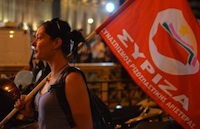 Support for Greece's new Syriza-led anti-austerity government is growing on the British left with Labour MPs putting their weight behind an Early Day Motion in the House of Commons and an open letter published in today's Guardian (27 January).

According to the Greece Solidarity Campaign, the EDM – led by Katy Clark and Jeremy Corbyn – is already backed by 12 MPs, while the Guardian letter, in support of Greece's new government, has been signed by  more than 25 Labour movement figures, including TUC general secretary Frances O'Grady, film maker Ken Loach, and Unite general secretary  Len McCluskey.
The Guardian letter can be read here, and you can add your name to it here.
The wording of the proposed EDM is as follows:
"That this House welcomes the support for the Syriza party in Greece, which is committed to ending years of austerity and suffering on the Greek people; notes that there have been huge increases in unemployment with a consequent loss of health insurance for over one million workers as well as substantial wage and pension cuts, a crisis of public health and the erosion of basic rights; further notes that such a method has failed to reboot the Greek economy and the public debt in relation to gross domestic product which is now far greater than before that programme started in 2010; believes that the Greek people support a new path which will undoubtedly mean that there will be pressure on the new Government from some quarters not to deliver this change; states its confidence in a government that will face down such pressures and defend the democratic choice of the people of Greece; and applauds Syriza's immediate priorities to end the austerity programme, renegotiate the public debt so a proportion can be cancelled and link repayment or the remainder to economic growth and to address the humanitarian crisis with support for the poorest and to create a more equal, democratic and just society, supported by a sustainable economy."
The GSC is urging people to send emails to their MPs calling for support for the EDM, while the organisation has also prepared a model motion for Labour Party constituencies, trade unions and other organisations.
'Putting Hope into Practice', a GSC meeting on the elections and the aftermath, with speakers from Syriza, GSC and the TUC, is being held at Congress House on Great Russell Street in London on Wednesday 28 January, 6.30-9pm. Details and how to register are here.
See also: 'Greece's solidarity movement: "it's a whole new model – and it's working"' from the Guardian on 23 January, which highlights the 'bottom up' support that is being developed for Syriza's programme through Solidarity for All.
According to Mike Davis, press officer of the Greece Solidarity Campaign, "This … marks Syriza out as a new model for 'doing politics'."
—