A new play about the remarkable London ILPer, Ada Salter, will be performed live in Birmingham for the first time next Saturday, 21 March, before it sets out on a tour of venues across the country over the next few months.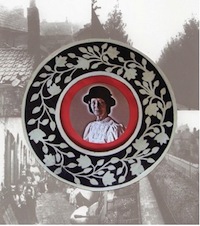 Red Flag over Bermondsey: The Ada Salter Story is written and performed by Lynn Morris. It tells the story of a woman described as "a true radical, campaigner for equal rights, socialist, republican, pacifist, environmentalist, trade union activist and a leading light in the transformation of the Bermondsey slums in the early part of the twentieth century".
Salter and her GP husband, Alfred, "dedicated their lives to the people of Bermondsey, living and working right in the heart of their community – and having to accept the tragic consequences of their choice.
"Ada broke through the glass ceiling of her time, becoming both the first woman councillor in London and then the first woman mayor.
"Red Flag over Bermondsey explores both the private and the public lives of Ada from 1909 until 1922, interwoven with her beloved Ira Sankey hymns and her passion for Handel."
Presented by Journeymen Theatre, the play lasts 65 minutes without interval and performances will be followed by audience discussion. The tour dates booked so far are:
Bull Street meeting house, Birmingham, on Saturday 21 March, 11.30am (a Quaker Socialist Committee event)
Stourbridge Quaker meeting house, Saturday 11 April, 7.30pm
Woodbrooke Quaker college, 18 April, 7.30pm
Barnstaple Fringe Festival, 25-28 June
Mansfield Quaker meeting house, Sunday 13 September, 1.30pm.
All profits and donations from Red Flag over Bermondsey will be used to support the Women's Co-operative of Seir, on the West Bank in Palestine.
This is the second play about the Salters to reached performance in the last few months. 'Politic Man' by Alison Mead, was staged in Chatham, Kent, in November.
—-
For more information visit: www.journeymentheatre.com
or contact the company via: info@journeymentheatre.com.
Graham Taylor's profile of Ada Salter is here and Alf Salter's story is here.
Graham Taylor's biography of Ada Salter, called Ada Salter: Pioneer of Ethical Socialism, will be published by Lawrence and Wishart and available for £18.99.