HARRY BARNES picks apart the Labour Party's policy process and finds a raft of positive proposals. He just wishes they were being delivered in a less piecemeal way.
Labour has an elaborate (if obscure) policy making process. Its programme (which should significantly shape its coming general election manifesto) was finalised at its party conference in Manchester last September. The manifesto itself is now expected to be issued early in April. It should relate significantly to what was decided at Manchester.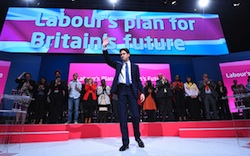 In the final stages of this policy making process, constituency Labour parties (and others) were entitled to make final submissions. My own constituency party in North East Derbyshire held a couple of all-member meetings for this purpose and then sent in 10 proposals, the maximum permitted. These were submitted by the Labour Party to the appropriate members of the eight groups set up to examine the different aspects of Labour's policy programme.
The policy process dominated Labour conference in September, yet what was going on wasn't always easy to comprehend. Each of the proposed policy documents were moved in turn and voted for on the nod, without any amending procedures. But a whole host of other measures were slipped into these discussions and interruptions took the form of related 'contemporary' resolutions, keynote speeches and fraternal greetings.
Many speakers from the floor were prospective first-time parliamentary candidates and often first-time delegates. They tended to get a clap when they announced each of these factors. The plan seemed to be to get them local media coverage, but not to ensure they stuck to the policy matters which were, in theory, under discussion.
However, there is every indication that the programme endorsed will be strongly reflected in the forthcoming election manifesto. (The full 'National Policy Forum Report' can be read on the Your Britain website.)
These policies are now being delivered in a piecemeal way, mainly in a series of speeches by Ed Miliband. On Saturday, for instance, he launched a Labour Party five-point pledge card. These pledges all relate to items in the policy documents which were adopted back in September.
The procedure for deciding Labour's policies are laid down in the party's rules. Members of the National Policy Forum are nominated and voted for in 14 different categories – the larger ones being for the CLPs, affiliated trade unions, the regions and the PLP.
Then there are also various appointees, including eight front benchers, who are split among the eight policy groups. These groups held plenary sessions and joint meetings and in the end produced eight policy documents amounting to 218 pages. Shortly after they were adopted, I reproduced these in 180 bullet points in 15 separate lists on my blog 'Three Score Years and Ten'.
The following are snippets from each of the eight group reports:
Stability and Prosperity is mainly about regulating capitalism, although it does not say that. It covers measures such as tackling false self-employment in the construction industry and providing tough penalties on tax evasion.
Work and Business could (in part) have even been called a 'Workers' Charter'.  It links in with the 'Stability and Prosperity' report and I will deal with it more fully later.
Living Standards and Sustainability includes, on railways, allowing public sector operators to take on lines, and promises to break the stranglehold of the 'big six' energy companies.
Stronger and Safer Communities stresses the need for revitalising youth services, which have borne the brunt of local authority cuts, and banning recruitment agencies from hiring exclusively from abroad (this is its main comment on immigration).
Education and Children includes a stress on provisions for apprenticeship training and reducing undergraduate debt, a matter which has recently been pushed by Miliband.
Health and Care includes a promise to repeal the Health and Social Care Act and to introduce 'whole person care', uniting physical health, mental health and social care within the NHS. This is probably the most widely understood aspect of Labour's programme.
Better Politics provides for votes at 16, an extension of citizenship education, a ban on second jobs for MPs (so this is not a new issue that has just arisen following the cases of Rifkind and Straw), and an elected second chamber under a proportional system which is nationally and regionally based.
Britain's Global Role states Labour's commitment to oppose the TTIP and any associated investor-state dispute settlement, especially where it would undermine public services, and its desire to reform the European Union with a new Commissioner for Growth.
In December, Labour produced a pre-manifesto document entitled Changing Britain Together with 114 bullet points taken from these National Policy Forum decisions. This pre-shadows the coming election manifesto.
Not New Labour
My impression of these documents are that they represent a move away from the days of New Labour towards something more like the position that was developing during John Smith and Margaret Beckett's two-year leadership from 1992 to 1994.
Although Smith espoused a rather middle of the road Labourism, he did provide an opening for democratic socialists. Immediately following his election as leader, I got both Smith and Beckett to reply to five points I raised in the Morning Star about the party's future direction. At least the answers (which again went into the Morning Star) seemed to open something of a narrow doorway for democratic socialists.
Under Tony Blair, there was never such an opening. What was left of the left in parliament became isolated as 'the usual suspects'. When Blair was prime minister, I rebelled in parliamentary votes some 10% of the time – but lost on all occasions.
Of course, there is tension within the current PLP, the majority of whom wanted David Miliband to be leader. Ed ditched shadow cabinet elections to give himself greater control over the hierarchy. He also developed the party structure to give the leadership more influence over policy formation, using measures such as 'Refounding Labour'.
If Labour wins the general election (even as a minority government) it will be interesting to see who Miliband appoints to his government, and where. Patronage can be effectively used by a prime minister, as shown by Blair who used it to virtually destroy the Tribune group of MPs.
Of course, it is not an ideal position for democratic socialists that their hopes of future openings within the Labour Party should rest on patronage, but at the moment we are in a position where 'beggars can't be choosers'.
The Labour policies I have outlined bear Miliband's imprint, or they would not be there. My criticisms are less to do with the policies' content than Labour's failure to publicise the proposals effectively, for example in the Scottish referendum when they should then have been used to stop the advance of the SNP.
Nor are the policies peddled propery to Labour members, those who need to go out and sell them to the public. Instead we are sent pleas for donations, circulated raffle tickets, offered tea towels to buy, and invited to expensive meals to hear big wigs talk.
Chances have been missed to spread the word. When membership cards are circulated, or renewals sought, no pages on policy initiatives are included in the envelopes. Recently a glossy 32-page membership magazine was posted to members, entitled One Nation. It only had two pages on policy, and these were lost beside an exclusive interview with a celebrity I had never heard of, another interview with a baroness, plus photos and soundbites from those seen as up and coming.
Work and Labour
Let me conclude by highlighting the 'Work and Business' policy document, which I said earlier contains a workers' charter (or perhaps a trade union charter) – not terms Labour will use openly as they might frighten the pants off some of the media.
The policy group contained 28 members, a mixed bunch that included four front benchers – Chris Leslie (Shadow Chief Secretary to the Treasury), Rachel Reeves (Shadow Work and Pensions), Stephen Timms (Shadow Employment), and Chuka Umunna (Shadow Business, Skills and Innovation) – as well as Paul Kenny, the general secretary of the GMB, Karen Christiansen, the Co-op Party's general secretar, and Richard Angell, director of Progress.
This group linked with its sister group on 'Stability and Prosperity'. Here are a dozen of their proposals:
Strengthen the National Minimum Wage – to at least catch up the ground lost under this government and provide a new framework for the Low Pay Commission, with a five-year target of further improving the minimum wage. (A report by Alan Buckle points out that (a) more than a quarter of a million do not receive the minimum wage, (b) the real value of the minimum wage has fallen 5% since 2010, (c) the exchequer loses £3.23 billion from lost tax revenue and by paying in-work benefits to those who earn below the living wage.)
Expand the role of the Living Wage – to build on the progress of Labour councils (although there's no recognition here that 'privatised' services under councils also need to be tackled for they often use zero-hours contracts), and to give a tax rebate to companies who sign up to become living wage employers in the first year of the next parliament.
Stamp out Zero Hours abuse – in November, Miliband specifically attacked Sports Direct – picking up on a campaign against the firm by Dennis Skinner. Of course, some of us would see all zero hours contracts as abuses in themselves. Perhaps Miliband does too.
Review TUPE's rules to avoid a race to the bottom on pay – tackling situations where workers are transferred to a new employer.
The final eight points are:
Advance the role of Pay Review Bodies.
Pursue equal pay for equal work.
Expand the work of the Low Pay Commission to tackle in-work poverty.
Ensure there is an employee representative on renumeration committees.
Support flexible working for parents.
Provide proper health and safety in the workplace.
Ensure that self-employed workers are protected.
Use a European Court of Justice ruling to assist in calculating and advancing holiday pay.
While the points I have picked out are selective, and there are grounds to fear that Labour's overall economic approach may not be rigorous and expansive enough, overall they do seem to me to suggest a radical programme (in the best sense of the word) and one that needs to be pressed in the short period before the general election.
The politics of the future will be influenced significantly by the election result. For now democratic socialists need to try to get Labour into office, but we also need to be thinking about the complex situation we may be faced with in the future. Let us not forget that within a decade of 1914, parliament effectively changed from a two-party system dominated by Liberals and Tories, to one mainly dominated by Labour and Tories. At this moment we can't know what the next decade will hold for us.
When it came to the Labour Party, GDH Cole used to describe himself as "a loyal grouser".  For the next seven weeks or so, I feel that it is the first term which needs to be to the fore. Afterwards, I am sure there will still be plenty of time for the latter.
My normal disposition, ever since I joined the party in the days of Gaitskell's leadership, has been to be a 'grouser'. But at the moment there is some hope that we can overcome a few of the limits of New Labour. That is worth pushing.
—-
Harry Barnes is a former Labour MP for North East Derbyshire and author of the blog 'Three score years and ten'.
This is a slightly edited version of a talk given by Harry Barnes at the ILP's second Unbalanced Britain seminar in Leeds on Saturday 14 March.