The Rose Bowl at Leeds Beckett University was the venue for the ILP's second Unbalanced Britain seminar on 14 March, examining the changing nature of work, the campaign for a living wage and the likely response from a Labour government.
The recession and its lop-sided recovery have left millions of working people in poverty, claimed Tom Chigbo of Leeds Citizens. Addressing the latest ILP seminar on 'Unbalanced Britain', Tom argued that with 10 per cent of the workforce on zero-hours contracts and 20 per cent earning less than the living wage, there was an urgent need to address the gross inequalities emerging in the UK labour market.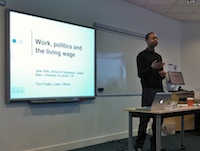 Ironically, at a time of fiscal deficits, such in-work poverty costs the UK government some £30 billion in tax credits, which merely fill the income gaps created by poverty wages, plus £5 billion in housing benefit, much of which goes to line the pockets of private landlords.
Underlying this dismal picture, Tom suggested, was the long-term weakening of labour power through diminished trade union influence and membership, sub-contracting and job insecurity. If you are struggling to make ends meet, perhaps with two or three jobs, you don't have time or space to challenge employers, he pointed out.
Tom moved on to look at one of the most influential and inspiring responses to the growth of a low-wage economy – the Living Wage campaign. He detailed its growth from its early beginnings in East London in 2001, through the founding of London Citizens, until the present day when it's become an issue firmly on the national radar with over 1,000 companies pledging to pay a living wage.
Aside from its achievement in getting the issue onto the agendas of politicians and private companies, perhaps the most interesting aspect of the story was the campaign itself and the distinctive way it was organised.
First started by TELCO (the east London community organisation, the fore-runner of London Citizens), the campaign was organised on a geographic, community basis by networking among existing institutions and community groups. It focussed on making connections between these organisation before identifying specific issues on which to campaign.
Even once the living wage was identified as a key concern, the campaign began, not with a generalised call for all employers to pay a living wage, but with targeted actions aimed at a couple of specific organisations – local NHS employers and Barclays bank, for example. Once these were won over, attention moved to other employers and eventually to the Greater London Authority itself with both Tory and Labour politicians brought onside.
Secondly, the issues were framed in a specific way so that it was hard for employers to disagree – for example, the call was for a 'living' wage, not a 'fair' wage or a 'higher' wage. This was in marked contrast to traditional trade union campaigns, which typically argue for per centage increases in pay.
Imaginative tactics
The campaign also managed to reach sections of the workforce not captured by traditional unions. Casual and part-time, subcontracted employees were often not present 'on site' long enough to be contacted by trade unions. But the living wage campaign gave 'a voice' to those normally excluded, such as cleaners.
It also used imaginative tactics, such as giving office cleaners a share in the company so they could vote and speak at company shareholders' meetings, and embarrass the CEOs whose offices they cleaned. Some also left leaflets on senior civil servants' desks so that the issue was brought to the attention of ministers.
The movement's aim was to remain very broad, Tom explained, to bring temporary 'enemies' – those resisting living wage demands – onside, so converting enemies into allies. The list of organisations now backing the Living Wage Foundation (the body that certifies companies implementing living wage policies) testifies to the success of this strategy.
The campaign has also had a broad political impact, managing to get Tory and Labour London mayoral candidates to vie with each other over who had the best record on living wages. Boris Johnson was by any measure a free-market supporter yet had been brought into the fold as a supporter of the living wage.
The question of whether a living wage should be backed by legislation was a trickier issue, according to Tom. It was better to achieve the living wage by campaigning and voluntary support, he argued, because that helps to embed it as a 'new moral minimum'.
It also gives the low waged a status and a voice they wouldn't have if the living wage was imposed by central government. However, he did concede that there were some opportunities for legal changes – such as forcing companies seeking public procurement contracts to pay the living wage.
Despite it's success, much remains to be done, Tom concluded. An hourly living wage doesn't address the problems of zero-hours contracts – an increase in your hourly pay rate is limited help if you only get to work for a few hours a week.
Who counts as an 'employee' (not apprentices or the young, for instance) also limits its reach. And while some of the 'easier' sectors, such as law and banking, had been won over (those where the number of low waged employees is a small proportion of the workforce, making adoption of the living wage relatively low cost), others, such as hospitality and catering, are much tougher targets.
Labour's programme
Former Labour MP Harry Barnes picked up on many of the issues raised by Tom in the second session when he looked at what we can expect Labour to do to reform work and wages in Britain if it gets elected.
Through his blog – 'Three score years and ten' – Harry has been dissecting the various policy pronouncements to emerge from Labour's review process over the last six months or so. In particular he has unpicked the 114 bullet points which make up Labour's 'Changing Britain Together' document which was published last year, and which Labour leader Ed Miliband has been headlining "bit by bit" over the following months.
The policies set out in these documents, Harry says, have moved Labour away from 'a New Labour position' towards one that many on the left might recognise as 'progressive' or even 'social democratic'.
This 'shift of ground', the 'door left ajar' to the left, is not unequivocally open, he says, it needs to be pushed. For example, Labour's 'Work and Business' policy forum – which included such members as Rachel Reeves, shadow minister for work and pensions, as well as Paul Kenny of the GMB and Karen Christiansen from the Co-op Party – came up with a rather generalised list of intentions, such as 'expand the living wage', 'stamp out zero-hours abuse', and 'pursue equal pay for equal work', which fall rather short of specific commitments.
The problem, he claims, is that Labour hasn't pushed these ideas far enough or hard enough, with potentially disastrous consequences, particularly in Scotland where it is haemorrhaging support to the SNP, but also in England and Wales, where Plaid Cymru, the Green Party and UKIP look set to benefit from disillusion among Labour voters.
Others suggested the problem was less to do with Labour's policies than its lack of a compelling vision, or narrative, to capture people's imaginations. The left has not just lost the political and economic battles of the last 35 years, but the cultural ones too. Labour is now seen by many as mainstream and part of the elite, either just another bunch of politicians or another obstacle to progress.
The result of such a 'complex' situation, said Harry, is a general election that is impossible to predict, and could yet signal an end to Labour's long-term role as the primary vehicle of left-wing politics, especially if there's a change in the electoral system.
—-
'Unbalanced Britain: Work, Wages and Labour' was the second in a series of meetings by the ILP on the theme Unbalanced Britain. You can read a report of the first meeting here.
Tom Chigbo is a community organiser with Leeds Citizens. An article based on his presentation will be published here soon.
We are hugely grateful to Tom for stepping in at the last minute in place of our scheduled speaker, Professor Jane Wills, who was unable to make due to illness.
Harry Barnes is a former Labour MP for North East Derbyshire and author of the blog 'Three score years and ten'. You can read an article based on his talk here.