ERNIE JACQUES argues that Labour's 'curate's egg' of a manifesto is a long way from being social democratic or balanced. It's a confused approach exposed most clearly by its housing policy.
While there are undoubtably progressive nuggets in the Labour Party's manifesto, which sets it apart from the nasty party, it is nevertheless remarkably timid and a long way from being anti-austerity, social democratic or balanced.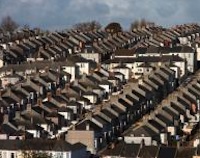 Of course, many argue that, given the size of UK sovereign debt and fiscal deficit, and the hostile political culture where attacking skivers and benefit scroungers is not unpopular, Miliband's cautious policy trajectory is sensible and realistic. Rome was not built in a day, they say, and a change of direction takes time and is unachievable without widespread public support.
Yet, if the Labour party will not, or cannot, make the case for a change of direction and an alternative to austerity and unfairness, who will? Let's take what it says about housing as an example.
A decent house is a fundamental human right from which almost everything else flows. Without a house to keep you warm and safe it is impossible to live decently, get a job, feed the family, send your kids to school, and be part of the local community.
Page 25 of the manifesto boldly state that Labour is intent on mending broken markets, but once you drill down below the headlines and sound bites, it is apparent that Labour's housing policy is not just timorous but unbelievably regressive and prejudicial to the interests the most needy, vulnerable and excluded UK citizens.
There are 'good bits'. Labour pledges to:
guarantee three-year housing tenancies with a 'ceiling on excessive rent rises'
scrap housing benefit changes that penalise those with spare rooms (the bedroom tax).
But there are 'bad bits' too, for example, Labour says it will:
encourage the private sector to build 200,000 new homes a year by 2020, with 'first priority [given to] local first time buyers'.
And then there are some down right 'ugly bits' such as Labour's pledge to:
keep the household benefit cap, examine whether it should be lower in some areas, and cap social security spending as part of each spending review.
While the target of 200,000 new homes a year is better than Tory pledges, it is nowhere near enough to cope with demand for affordable and social housing, which is growing by the day due to the failure to match demand over the past 30 years, and unprecedented population growth and EU immigration.
Realistically, we cannot build houses for anyone who happens to turn up at any airport or on the back of a lorry. That way, no matter how many million-plus houses are built and green fields concreted over, demand will be insatiable and houses for all UK citizens unachievable.
Those who welcome the flow of cheap EU labour into the UK are usually the ones with money, the landlords, and those with assets – multiple houses, property portfolios and investments – who benefit at the expense of the poor while UK citizens cannot afford to buy and access decent housing. I do not think that in making this point I am straying into UKIP territory.
Labour's plans to incentivise the private sector to build more affordable houses cannot work and is a classic cop-out in that so-called affordable housing is now deemed to be 80% of market price, and for the working poor and those most in need is completely unaffordable.
In this respect, the notion of affordable housing is political spin. Most young couples living in my home city of York are priced out of the house buying market and have little or no chance of accessing social housing.
Backing the benefit cap
The benefit cap is a central plank of George Osborne's deficit reduction and austerity programme, and is helping to accelerate rent arrears, evictions, social cleansing and housing apartheid. When Labour signed off on Osborne's £30 billion austerity reduction plan, it signalled that it had no plans to intervene and regulate the rigged housing market by capping rents and building millions of desperately needed social houses.
How could Labour do otherwise when it supports deficit reduction and continued austerity? If it was serious about mending the market it would have to rebalance the economy and challenge the vested interests of landlords (foreign and indigenous) who are (everywhere) gobbling up the housing stock as buy-to-let investments and pushing up rental income, while gratefully receiving billions in state handouts via housing benefit.
So doing little or nothing to fix a rigged housing market is not a sign of its cautious pragmatism and sensible economics, but of its lack of desire to seek real change. It is siding with private landlords who all too often prosper at the expense of poor and vulnerable tenants, many of whom live in sub-standard, Dickensian and third world conditions.
Over the past decade we have seen the social cleansing of working class communities as local authorities of all complexions encourage inward investment, private sector regeneration, gated communities and gentrification.
Meanwhile they struggle to house and re-house those who have nothing. At a hideous cost, they move local residents into dilapidated sink estates and houses of multiple occupation, sometimes hundreds of miles from family, friends, jobs and the communities they grew up in and love.
Joe Halewood, a housing consultant and welfare rights campaigner, who writes under the nom-de-plume SPeye Joe, has argued persuasively that the household benefit cap will result in upwards of one million men, women and children facing eviction from social housing and the private rental sector.
This is a process of social cleansing created, in part, by the bedroom tax, but primarily by the inexorable rise in property prices and rents, while the incomes of the working poor and benefit recipients are being ruthlessly squeezed by corporate Britain and the work of Iain Duncan Smith at the Department of Work & Pensions.
Things can get worse
The benefit cap – currently £26,000 per year, or £500 a week – consists of welfare and tax credits paid universally across the UK, whereas housing benefit is variable, depending on where you live. So, a family of two adults and two children living in three-bedroom accommodation in York is entitled to a monthly local housing allowance of £607.66. But rent for the average three-bedroom house exceeds £800, and the £200 shortfall is unaffordable to tens of thousands of York citizens working in retail, hospitality and leisure, where part-time, temporary, minimum-waged and zero hours contracts proliferate.
This is a problem which could become a whole lot more acute if the Conservatives win the election and cut the cap to £23,000 while extending right-to-buy to housing association tenants. Leaked papers suggest this cap will apply to London only, while those living outside the capital will be capped at £20,700, 10% less.
Unfortunately, if Ed Miliband triumphs it will make little difference given that shadow chancellor Ed Balls and shadow housing minister Emma Reynolds are fully signed up to David Cameron's £30 billion austerity agenda, including the  benefit cap. Ever keen to re-assure markets and demonstrate their fiscal probity, they are threatening to go further and put an annual cap on social security spending.
When that happens SPeye Joe predicts that the numbers of tenants reliant on housing benefit, caught in the double whammy of rising rents and squeezed benefits, will snowball significantly. Along with right-to-buy, this is likely spell the end of social housing and will cost billions given the huge economic and social costs associated with homelessness.
So, overall, Labour's housing policy seems to be the usual sticking plaster approach, which is wholly inadequate to the scale of the problem. Labour's housing policy fails miserably to deal with the fundamentals of a broken housing market, which could spell the death of social housing.
How can you have an inclusive, integrated and balanced one nation society when millions of UK citizens are simply a heart-beat away from eviction and homelessness and are routinely denied access to decent housing?
—-
See also: 'Judging Labour's Manifesto' by Harry Barnes.