The pre-war ILP plays a leading role in two new books of contrasting types – one a novel set in north east England, the other a radical ramblers' guide to the capital. MATTHEW BROWN follows the literary and geographical traces of our past.
It's not often you read any book these days in which the Independent Labour Party plays a leading role, let alone a fictional one. But the ILP and all its between-the-wars ruminations is central to the tale of Bill Rowe, the main character in Tom Wall's debut novel, The Coward: Conscience on trial, published by Roundfire Books at the end of July.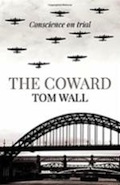 Wall is a freelance journalist based in north London, but his novel is set on Tyneside in the turbulent years leading up to the Second World War. It was inspired by Wall's grandfather, Bill Robinson, an ILP member in Newcastle who refused to join up in 1939, choosing to farm instead of fight as he toed the ILPs anti-war line.
The Coward opens with the fictional Bill languishing in a cell in Durham Prison, where he's been incarcerated after a series of tribunals rejected his explicitly political arguments for conscientious objection.
Bill is in a bad way, suffering from tuberculosis and the violent beatings of his fellow prisoners to whom he is a traitor and a coward. As he lies fighting for his life, Rowe retraces his life's journey from a poverty-stricken upbringing in a Gateshead basement to union activism at work on the docks and political awakening under the warming influence of a friendly ILP family.
Through his eyes and experiences we witness the personal aftermath of World War One embodied in the shrivelled figure of his drunken, violent and unemployed father; the horrors of the means test and all it meant for families like the Rowes, including Bill's chronically ill sister, Peggy; and the arguments, betrayals and misdirections of the 1930s left, of the ILP in particular.
The young Rowe becomes an ILPer himself, selling the New Leader around the mining villages of the Durham coalfield, and grows increasingly close to the Weaver family of schoolfriend Len and his sister, Florence.
All this is played out against the background of Ramsay MacDonald's disastrous decision to form a national coalition government with the Tories, the ILP's similarly misguided move to disaffiliate from the Labour Party, and the gradual build-up to war with Germany.
Echoes of today
Many of Bill's encounters echo with chimes of our own austere times and the dilemmas facing today's left as it tries to oppose the harsh measures of a similarly punitive government while grappling with the fall-out from a damaged Labour Party of dwindling influence.
When Labour loses its Gateshead parliamentary seat, Bill learns that his stuttering dad has voted for the National Liberals. "I-I-I've been Labour all me life, son. But this shower, they've bankrupted the country. At least the Tories and Liberals know how to handle m-m-money." Sound familiar?
Later, Thomas Weaver, Len's father, is arguing in favour of the ILP's disaffiliation with his wife, Lizzie. "The cuts made families destitute," he says. "You saw it in your classrooms. I saw it on the streets. Then when things got worse because mothers couldn't buy anything but margarine and sheep brains, they proposed more cuts. Then MacDonald …"
"What can we do by ourselves?" she asks in reply. "We are better in a mass party fighting for socialism than outside it, pure but alone… The ILP's mission is to convert the Labour Party to socialism. Have we failed? Or given up?"
Bill decides it is Labour that has failed and given up, and sticks with the ILP as it votes to go it alone. But his growing commitment to the ILP cause, especially its opposition to war with Hitler, leads to rejection and estrangement from his family, ejection from his squalid flat by his patriotic landlady, and dejection as his secretive relationship with Florence founders on his failure to appreciate her broader view of the world.
Eventually, he is sent to prison as a CO after his claims of political conscience are turned down by a London appeals tribunal. This is where we found him at the start of the novel, and where we leave him at the end as he struggles to confront his past and mend broken relationships.
The plight of First World War COs is well known, as is the ILP's role in opposing that conflict. But as Wall points, many men and women also refused to fight in World War Two, a war now almost universally regarded as 'good'.
Wall puts questions of conscience, commitment and dissent up-front and centre-view in his first novel, but never in a way that obscures the personal story, the human costs and consequences of the politics of the day.
Bill Rowe is 'the coward' of the book's title, but his resistance to his own circumstances and the mainstream opinions of the world around him is an act of courage. In telling his tale, Wall has painted a vivid portrait of the times, and a poignant parable of our own.
Footsteps of yesterday
The ILP also has a prominent presence in Rebel Footprints, David Rosenberg's new 'guide to uncovering London's radical history'. Rosenberg's aim is to uncover the stories of the ordinary men and women who fought for the rights of British people but have few memorials to rival all those overbearing statues of generals and imperial leaders which dominate the capital.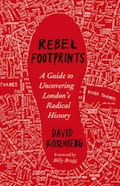 His contention is that London is a rebellious city, and that those of us who continue to march through its streets, "holding placards and banners, singing, blowing whistles, chanting slogans and voicing our demands" are "walking on well-trodden ground". "But we are also elevated," he says, "as we stand on the shoulders of those rebels who came before us, who refused to accept the status quo, and who set out on the paths of protest."
It's by tracing these "paths of protest" that Rosenberg brings the history of rebellious London to life. He does so by guiding us around nine areas of the city, pointing out the landmarks of our radical past and telling the stories of those who lived, fought, protested and struggled for change on the same streets.
So, we explore the free speech debates of 1830s Clerkenwell, the striking matchworkers' fight against Bryant and May in Bow, the battles of Cable Street and the surrounding warren of Whitechapel, and the sites of Sufragette struggle in and around Westminster.
The ILP's contribution to this radical rambling is most significant in the chapters on Poplar, where George and Bessie Lansbury were among those worked to improve the conditions of east enders, and Bermondsey, where Ada and Alfred Salter spearheaded a local revolution in health, housing and education among the area's working families.
Each locality has a own map with a walking route and numbered stopping points at key sites mentioned in the chapter. These sites, says Rosenberg, "indicate physical remnants that recall the history" described in the chapter.
You can do the walks with book in hand, and that's certainly what the author intends, a tool for uncovering a people's history of London from the physical traces in the modern day city. But the book is written in such an engaging way it also works as a stand-alone history of the capital told through the tales of the strikers, protesters, organisers and rebels who helped to shape it.
Rosenberg ends by recalling a few of London's more recent acts of protest and resistance, including Stop the City blockades, Queer weddings and Occupy tents outside St Paul's Cathedral. He writes: "London remains a vibrant and rebellious city and we should honour those who had the courage, conviction and determination to blaze the trail."
For many, that trail will be all the more enticing and inspiring thanks to Rosenberg's guide.
—-
The Coward: Conscience on trial, by Tom Wall, is published by Roundfire Books and will be launched at Bookmarks bookshop in London on Friday 31 July 2015. An ebook version is also available.
Rebel Footprints: A guide to uncovering London's radical history, by David Rosenberg, was published this year by Pluto Press.
More about Ada and Alfred Salter can be found here.
Jon Cruddas's appreciation of George Lansbury is here.