As Labour's controversial voter registration process closes and ballot papers for the leadership elections go out, it's time to indulge in a spot of 'we told you so', says WILL BROWN.
Despite it being a giant stride in the right direction, major weaknesses have been exposed in Labour's new electoral system, as reformed by former leader Ed Miliband. Sadly, these weaknesses were not hidden and have not come as a huge surprise. Indeed, the ILP pointed out the flaws in the system when it was announced.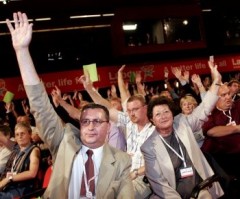 The ILP has been one of the longest standing supporters of the principle of one member one vote. Back in the 1980s the ILP stood out against the prevalent opinion on the left which regarded OMOV as a capitulation to the right wing of the party. This left included the ancestors of various groups which are now supporting Jeremy Corbyn, such as the Campaign Group of MPs.
That old left thought the idea of each individual having a vote was somehow contrary to a self-serving left-wing version of democracy whereby only the initiated and elevated party delegates, MPs and trade union executives had the right to vote on who should be party leader.
The ILP argued that one member one vote was an unchallengeable democratic principle and should be promoted.
However, it was obvious that such a system was open to abuse and undue influence, both from organised groups on the left and right of the party, and more broadly from a hostile media. So we argued that one member one vote should come with a proviso that voters should be required to show some kind of evidence of their commitment to the party – a minimum period of membership before gaining voting rights, for example, or attendance at party meetings.
Given recent attempts to check the veracity of new registered supporters (see below) the question of what evidence might be used remains a current one.
The ILP was unable to win the argument in the party then, although with the decline of trade union membership and the Campaign group, the idea of one member one vote did gradually gain traction.
First, under Kinnock's leadership in 1988, OMOV was introduced for the constituency section of leadership elections. Then, under John Smith in 1993, it was extended to selection of parliamentary candidates. Finally, under Miliband, and following the lengthy Refounding Labour and Collins review processes, OMOV fully replaced the electoral college for leadership elections, vastly reducing the influence of MPs and trade unions.
Complications
However, there were complications. First, the unions have been given the task of converting their political levy-paying members into affiliated members of the party. This new category of member must make a positive choice to support the Labour Party but they pay a much lower fee than ordinary (full) party members.
Secondly, Miliband's system gives registered party supporters a vote in leadership elections on a par with ordinary members. When this category of registered supporter was introduced as part of the 2011 Refounding Labour project, they were allowed to vote in leadership elections only if numbers exceeded 50,000, and their influence was capped at a low level within the existing electoral college system. The abolition of the electoral college in 2014 removed thst cap.
Before the current leadership election, relatively few registered supporters had signed up, making it a little-noticed aspect of party democracy. All that has changed.
In fact, at the time of Refounding Labour, various ideas were floated about creating a formal role for registered supporters, ranging from full primaries to a section of the electoral college, to more limited voting rights in various party elections.
The ILP welcomed the idea of registered supporters as a way of opening the party and reaching out to a wider constituency. However, we argued strongly against the idea of registered supporters having any voting rights in elections, whether at local or national level. Such a role, we claimed, was incompatible with enhancing the voice of party members, rather it would dilute it.
The move to full OMOV came about as part of the fall-out from the controversy over parliamentary selections in Falkirk in 2013. Miliband launched the Collins Review and, with the endorsement of the NEC and a special conference in March 2014, radically changed the system for leadership elections.
The reforms created a complex version of OMOV that allows equal votes to individuals whether they are full party members, affiliated members originating from trade unions, or registered supporters. In abolishing the electoral college and leaving no cap on the influence of registered supporters, Labour opened a Pandora's box.
Again, the ILP pointed out the dangers of this system:
'… full members may see their voice challenged, some think drowned out, by individuals who make a far more limited commitment to the party, financially or organisationally. To say that all will be treated fairly and equally …is disingenuous in a situation where members pay over 10 times the amount in membership fees than people joining via the two other categories. There is a danger too that political opponents could use the registered supporter section to influence party elections…'
As the numbers in both new categories have escalated, many joining in support of Corbyn's campaign, there has been growing resentment among party members and gleeful scaremongering by the media. Labour has hurriedly scrambled to address the issue, instituting a system of checking new registered supporters and affiliated members to weed out those who have been recent opponents of Labour. These have included Green Party candidates, members of some left-wing parties and groups, as well as some Tories.
Such a system of checking can ever only be a stop-gap. It is very difficult, for instance, to distinguish between someone who is a committed supporter of a group opposed to Labour seeking to influence the election and someone who has been involved in other parties or groups but now wants to genuinely re-engage with the Labour Party. Doing so at speed (the gap between registrations closing and ballot papers going out is just two days), and with precious little reliable information, is even more difficult.
Ironically – it has hardly happened in the way envisaged – the upsurge in full membership, and the influx of affiliated members and registered supporters, has gone some way to realising Peter Hain's hope at the time of Refounding Labour of creating 'an entirely new party for an entirely new era'.
Whoever wins Labour's leadership contest, the deficiencies of the current voting arrangements will need to be addressed and some serious attention paid to how you create an open and properly democratic party.
—-