Only time will tell whether Jeremy Corbyn's election as Labour leader is the beginning of the party's renewal or yet another stage in its decay. It's a question of head as well as heart, says JONATHAN TIMBERS.
Jeremy Corbyn's overwhelming election vcitory by a new mass Labour Party could be a sign that public discourse is open to left-wing ideas. Indeed, his position as party leader may help to lend authority to those ideas. Even if he doesn't win the next election, he may be laying the foundations for a fundamental shift in politics.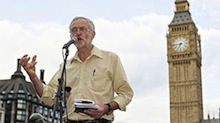 Certainly, his willingness to adopt centre-left economics about 'the strategic state' and 'people's QE' suggests that he can inject credible new approaches to economic organisation into the mainstream. And his ability to communicate emotionally, without spin, may help Labour recover its most important political quality, authenticity, without which it is doomed.
However, the latest polls indicate that the "tsunami [of support] on which Jeremy surfed", to quote the Rt Hon Jon Trickett MP at a recent ILP event, might be about to break on the shore.
The most obvious reason is economic credibility. Polls of public attitudes towards Corbyn – which were consistently negative for Ed Miliband in the lead-up to the last election – do not make for hopeful reading.
Only a very small proportion of the population trust him on tax and spending (28%), and about a quarter of Labour voters don't trust him on the economy either. Since Corbyn's main message is that you can't reduce the deficit by cuts, you must grow the economy through investment, this is bad news.
If he is to gain people's trust Corbyn must become more economically literate. At the moment, he seems to think that the only way the economy will grow is through state investment. While investment in infrastructure in the UK is appalling, and must be tackled, one-off projects will not revive the economy for long. It will only grow sustainably when businesses start up and expand, and when capital is invested in long-term projects.
That can only happen if the state operates more boldly than it does now – you only have to compare the UK with capitalist Singapore, with its incredible state-led investment in housing, transport, education and health, to see the truth of that. But the point of state investment is not that it substitutes for private-sector growth, more that it creates the conditions in which the private sector can thrive. That is what 'the strategic state' is all about.
Corbyn has played fast and loose with economic figures. He implies that the £120 billion a year that disappears in tax evasion and avoidance can be used to plug the gaps in public finance. In fact, the Tax Justice Network, the source of Corbyn's figures, reckons that only £20 billion a year is recoverable (HMRC, of course, says it's about £5 billion).
Corbyn also claims he wants to renationalise the utilities (not without good reason, in some ways, as even the right-wing Centre of Policy Studies says that households could be £92 a year better off if the system was renationalised). Unfortunately, the day after the Financial Times pointed out that renationalisation would cost the taxpayer at least £124 billion shadow chancellor to be John McDonnell rowed back from Corbyn's statement, saying that Labour believed in 'nationalisation from below' – in other words, community-owned renewable power generation. This sort of confusion won't be tolerated for long by voters.
Then there is the stupid claim that business sucks up £93 billion of corporate welfare. This figure, lazily picked up from a Guardian article, includes tax reliefs that are essential to the growth-led recovery Corbyn wants. This laziness needs to end, or Corbyn's leadership will be short-lived. If he alienates the whole of the business community, he will go down the same road as 'Dead Ed'.
A huge opportunity
He has to rein in finance capital – no easy task. If he is to do that, he must show that it works against the interests of productive businesses and get some backing from that side of the economy.
He should be talking now to John Mills, Labour's most important erstwhile business backer. Mills has put forward his own plan to save the British economy, and reduce inequality and poverty, with former leadership contender and author of Labour's 1987 manifesto, Bryan Gould.
This involves devaluing the pound and rebuilding our manufacturing base. Devaluation is one of the 'negative' effects of people's QE (which would also increase inflation – a good thing in the current economic context). Mills doesn't rate people's QE (he's wrong about that in my view) but bringing him into dialogue would help Corbyn's credibility.
By all means, let Mills fund centrist think tanks rather than the party, so they come up with business-friendly social democratic economic alternatives. That could only be a good thing – Corbyn's Labour can always filch the best ideas, and it could lead to a rebirth of discussion about real alternatives to austerity in the party and the country. But Corbyn needs to show that he gets business, that he likes it when it behaves well, and that he can work with it to reduce inequality, poverty and make people better off.
Corbyn also needs to stop acting like a left-wing schoolboy. Not singing the national anthem at a Battle of Britain commemoration makes him look like a fool (as did his subsequent excuse). You sing the national anthem at events like that out of respect for those who fought, many of whom, like my father, were right-wingers who served for 'king and country'.
Personally speaking, I loathe the national anthem, but since my dad actually risked his life fighting Nazis in the Arctic and the Mediterranean (as did Prince Philip by the way), I'll sing 'God save the Queen' out of respect for him, and I expect Labour's leader to do the same. Between them, they did more to stop fascism than the Anti-Nazi League.
Not kneeling to the Queen however is another matter. You should pick your fights carefully. Corbyn needs to learn how to do that, and perhaps the time is right to insist that we should look the monarch in the eyes.
Corbyn's election represents a huge opportunity to make politics different and to show the way to a more civilised society. When Corbyn speaks up for that, he speaks directly to my heart. But he needs to get his head properly screwed on if he's going to help people escape the hell the Tories are making for people like you and me.
—-
Read the ILP's Statement on the Labour Leadership Election here.
Jon Trickett MP was speaking at the ILP's joint conference with Compass on 'The Politics of Radical Hope and the Labour Party'. Reports from the conference will be available on this website.