Born into an impoverished family in Boston, Lincolnshire, in 1887, John McNair grew up on Tyneside. There he joined the Independent Labour Party at 19. A powerful public speaker, he became known as the 'boy orator'.
For health reasons he spent many years in France where he became financially successful. He taught for a time at the Sorbonne.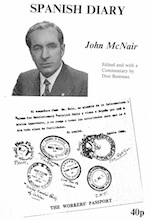 With the outbreak of the Spanish Civil War, McNair offered to become the ILP representative in Barcelona. There he channelled money and medical supplies to support the republican cause. He also liaised with the ILP contingent which was fighting alongside the POUM militia.
McNair made numerous diary notes, sent frequent reports back to the ILP's newspaper, the New Leader, and wrote a number of pamphlets, all of which he later assembled into a graphic account of the war which was reprinted in the ILP's Socialist Leader in 1974.
Escaping back to Britain with George Orwell and others, he became the ILP's general secretary. He died in North Shields aged 80 in 1968.
In the 1980s, the Greater Manchester branch of the ILP (now called Independent Labour Publications) republished McNair's Spanish Diary as a stand-alone pamphlet, with a commentary by Don Bateman. At the time this was sold for the grand sum of 40 pence, but we are pleased to be able to make it available to read or download for free via the ILP website.
This publication contains a brief account of his life followed by his own contemporary, first-hand reporting of the events in Spain in 1936. Almost eight decades later, it remains a compelling read and a testament to John McNair's reputation as a born storyteller.
Click here to read John McNair's Spanish Diary as a pdf document.
—
Land and Freedom, an expanded edition of the ILP's short, moving account of the Spanish Civil War, using the often-silenced voices of Spanish activists, is available to order from our Publications page, priced just £4.