Graham Taylor's new biography of pioneering ILPer and ethical socialist Ada Salter has been published by Lawrence & Wishart. Salter played a key part in the 'Bermondsey Revolution' in south east London and had a major influence on the development of socialist politics nationally.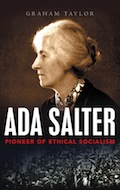 Yet her role in the socialist politics of the early twentieth century has for a long time been neglected. This book, based on extensive original research, for the first time tells the story of this remarkable woman, and documents her significance for the history of both socialism and feminism.
Salter was responsible for most of the ideas behind the Bermondsey Revolution, drawing on her experiences in the women's movement and as president of the Women's Labour League. Her groundbreaking ideas on urban development then spread all over London through her work as an London County Council councillor, and all over Britain through her role as chair of the National Gardens Guild.
Taylor's book shows how Salter's experiences as a 'Sister of the People' in the London slums eventually led her to the ILP, and to the belief that achieving democracy and social justice in Britain required a grassroots alliance between the labour and women's movements. Other women in the ILP had similar ideas, but it was only Ada Salter who actually took political power, implemented her 'utopian' ideas, and won elections by huge majorities.
Ideas of ethical socialism have recently returned to contemporary politics, adding to Ada Salter's importance as a figure of topical historical interest. Her story is thus one that deeply resonates with contemporary political concerns.
—-
Ada Salter: Pioneer of Ethical Socialism by Graham Taylor is published by Lawrence & Wishart and available to buy here for £18.99. There is also a free chapter available to download from this link.
Look out for a full review of the book to be published here soon.
Graham Taylor worked as a lecturer in further and higher education and has written extensively on the history of the labour movement. He is co-author of Grunwick: the Workers' Story and Politics and Power.
He wrote profiles of Ada Salter and her husband Alfred for the ILP's 120th anniversary series. They are available on this website here:
'ILP@120: Ada Salter – Sister of the People'
'ILP@120: Alfred Salter & the Bermondsey Revolution'.