Graham Taylor's fine biography of Ada Salter provides a vivid account of the ILP's ethical socialism as she lived it, says BARRY WINTER.
Ada Salter's hands-on approach to making the world a better place is told with clarity and passion in Graham Taylor's new biography of the pioneering ILPer. Moreover, Ada's busy life is explored without subordinating her to her husband, Alfred Salter, who became MP for West Bermondsey (1922 and 1924-45). Indeed, having become a Quaker herself she converted him, for theirs was a creative partnership, personally and politically.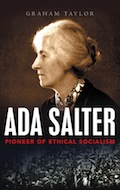 Both were from middle-class backgrounds: Alfred was a doctor and Ada (born in 1866) came from a comfortably-off Liberal and Methodist family. They chose not just to work but to live in Bermondsey amidst its terrible slums, poverty and squalor. Tragically, this probably cost them the life of their only child, Joyce, at the age of eight.
As Taylor recounts, Ada was involved in what he describes as "twin movements": campaigning for votes for women and transforming society. He writes that the ILP, which she and Alfred joined, was "not a run-of-the-mill political party obsessed with the capture of political power, but a party that organised emancipation in the factories and on the streets, an emancipation comprised not just of strikes and protests but fun and fellowship, reading and song."
If anything, Taylor can be a little too complimentary about the party but he is certainly right that an imaginative, humanitarian vision shaped the ILP's politics. As Keir Hardie declared, socialism "is at bottom a question of ethics and morals". The biography provides a sympathetic and informed survey of ethical socialism, notably its reliance "on everyday deeds to express social and moral ideals in daily life", as the author puts it. The aim was to encourage and inspire others to become involved, to generate a living politics from below.
One unusual feature in Bermondsey which highlights this approach was the ILP's co-operative bakery. It became so successful that it employed more than 100 workers and ran several bread shops. Ada chaired the management committee with its elected staff (including conscientious objectors) and ILP representatives. Not only did the co-operative fund the ILP branch but, to the chagrin of other bakeries, it provided people with affordable, wholesome food.
What is important to recognise is that the Salters were by no means alone. The Bermondsey ILP attracted many committed women and men. This was no mean feat in London where it had always been an uphill struggle to establish the party. By 1917, Jessie Stephen, herself a formidable activist, noted that Bermondsey ILP was one of the largest branches in Britain at a time when it was deeply unpopular because of its opposition to the First World War.
In 1906, Ada joined and later became treasurer and then president of the Women's Labour League which promoted political representation of women on local bodies and in Parliament. Her branch was soon supporting 14,000 women in a successful strike against their dreadful working conditions in 22 factories.
By 1912, the League was much larger than the more confrontational and elitist (but far better remembered) Women's Social and Political Union (WSPU) dominated by Emmeline and Christabel Pankhurst. Seven years later, the League influenced the first legislation to introduce council housing.
Representatives of the Women's Labour League, including Ada, travelled to Bern during the First World War saw to meet European women's groups opposed to the conflict. The Bolshevik leader, Lenin, then living in Switzerland, determined to control its decisions from behind the scenes.
His party had a majority on the Russian delegation, which included his wife Krupskaya, so he drafted a motion calling for armed revolution against the war. He was soundly rebuffed. Ada and the British delegation would have none of it and were backed by the German and many other delegates. Lenin then failed to prevent the congress from sending greetings to a women's pacifist congress in The Hague.
Housing and beauty
On the domestic front, the issue that chiefly engaged Ada, before and after the war, was housing. Her fight against slum housing in Bermondsey and beyond began at the grass roots but was equally a struggle to improve the environment itself. It led to Ada's election as the first woman councillor and later the first woman mayor of Bermondsey (a role in which she did not follow the usual mayoral conventions). Taylor notes that the slum housing in London was the worst in Europe. With its overcrowded homes, foul air and filthy conditions it blighted the lives of all who lived there.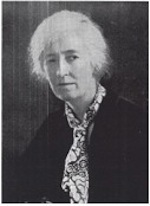 Ada's vision was not simply to remove the slums but to redesign homes themselves so that they made a qualitative difference to people's lives. As she put it, she wanted housing not "warehousing". She was also determined to bring beauty into the local environment through window boxes, floral displays, tree planting, playgrounds, recreation space for all, and also a London garden's guild. Taylor says that the "beautification project", as it was known, gave Ada great joy; it "began one of the most remarkable episodes in municipal history".
To do this, Ada had to tackle some of the obstacles to local decision-making and took the fight to the more powerful London County Council, to which she was elected. In time, Labour took control of the LCC and housing issues, like extending the green belt and giving people access to it, became more achievable.
Unsurprisingly, the Tories denounced her as dangerous and an extremist – after all, she had the temerity to challenge those who said the slums actually suited the poor. In time, these activities – and wider housing struggles – had an influence at national level. It began with the 1919 Housing Act and was followed by ILPer John Wheatley's reforms in the first Labour government.
In 1937, Fenner Brockway, who was later to write a biography of Alfred Salter, provided a description of the improvements made to the borough: "By this time Bermondsey's trees and flowers were famous. Travelling on the Southern Railway by the long viaduct which crosses the borough, passengers noted with wonder the avenues of green between the crowded buildings, the beds of tulips or dahlias in the gaps between the houses, the climbing roses on the balconies of the tenements. Films of the streets, gardens and churchyards were shown all over the world and some American visitors included them with Westminster Abbey and the Tower of London in the sights of London."
Ada died in 1942, having retired from her official positions a few years earlier. Sadly, the bombing during the Second World War did great damage to the borough and to her achievements.
In 2014, statues of Ada, Alfred and their daughter were unveiled in Bermondsey to replace one of Alfred which had been stolen. It is right that their work and lives should be commemorated, particularly in these challenging and forgetful times. Remembering them and others is part of the struggle for a better society, drawing on what might be described as "the ethics of remembrance".
Graham Taylor's biography of Ada Salter fits splendidly into that tradition. He deserves our thanks.
—-
Ada Salter: Pioneer of Ethical Socialism by Graham Taylor is published by Lawrence & Wishart and available to buy here for £18.99.
There is also a free chapter available to download from this link.
Graham Taylor worked as a lecturer in further and higher education and has written extensively on the history of the labour movement. He is co-author of Grunwick: the Workers' Story and Politics and Power.
He wrote profiles of Ada Salter and her husband Alfred for the ILP's 120th anniversary series. They are available on this website here:
'ILP@120: Ada Salter – Sister of the People'
'ILP@120: Alfred Salter & the Bermondsey Revolution'.