In November 2015 Labour's Leeds North East MP Fabian Hamilton launched the Building Homes for Britain report. Here, its researcher and editor SIMON JOSE outlines the report's core ideas and explains why a complete rethink of housing policy is needed.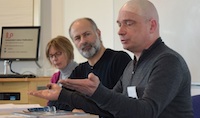 For decades the housing market has trundled towards the chaotic state it is in today. With house prices rocketing, especially in London, a largely unregulated private rented sector and restrictions on building affordable homes, that crisis is now at boiling point.
Removing the right of councils to build houses has been largely responsible for the lack of supply, and private builders and housing associations have not filled that gap. The right to buy has exacerbated the problem, removing valuable housing stock from councils and channeling around £9 billion away from the public purse into the pockets of private landlords. Housing policy has been akin to giving half an aspirin to someone who's drowning. In short it's all a bit of a mess.
Not only do we have to haul the housing market back on its feet we have to reinvigorate it and ensure it delivers sustainable, energy-efficient, affordable homes to those who need them. The foundation of this policy would be built on three ideas:
give councils the power to begin building again to solve the supply problem
set up a National Housing Investment Bank (NHIB), called for by Royal Institute of British Architects (RIBA) back in the 1990s
pull this together by establishing Regional Public Housing Authorities (RPHAs).
None of this is rocket science, or particularly new, but what is desperately needed is a comprehensive approach. Fixing just one of many holes in the roof isn't going to work and tinkering at the edges of housing policy has been the guiding light of government policy since Margaret Thatcher introduced Right to Buy.
Around 240,000 houses have to be built each year to keep up with demand and every time we fall short of that target it means a tougher uphill battle. Practically, only local authorities can deliver on the scale and at the speed needed, and to enable them to do so we need an integrated approach to housing.
Councils are in pole position to do this. Using land they own, access to low-cost borrowing and investment, and using economies of scale to deliver cost reduction in construction, are all factors in creating a sustainable long-term housing model. The housing charity Shelter called councils the "sleeping giants" of house building and we need to wake them up.
Making the simple complex
Putting our report together, we kept an open mind in relation to responses and took advice and guidance from professional trade bodies, such as RIBA and the Chartered Institute of Building (CIOB), as well as housing professionals, both academics and those with experience in housing. We spoke to housing professionals at councils and those at the sharp end of housing, such as Giroscope in Hull and Latch in Leeds, who help the most disadvantaged people find a home through conversion and renovation.
Ron Beattie, from builders Beattie Passive, provided us with some real examples of how sustainable homes could be built and the Federation of Master Builders (FMB) were clear that small building firms need help. This two-way dialogue, attending housing conferences and putting theory to the test, helped mould the final report.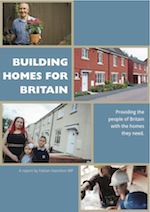 What was striking, though, was the near unanimous consensus, from the private sector, think tanks and housing professionals, that housing in the UK is dysfunctional and that doing nothing is simply not an option. When you have the CBI, Legal & General, left leaning think tanks and academics all going in pretty much the same direction there is a sense that, although the problem is huge, the barriers to reconstructing the housing market are not insurmountable. As one professional said, "building houses is pretty simple, we've just made it complex".
We need to be blunt about the financial challenge that lies ahead if we are to create a more dynamic and fair housing strategy. And it is up to central government to kick-start the house building process and enable local authorities, housing associations and private builders to meet housing demand. Investment is key, hence the idea for a National Housing Investment Bank.
The NHIB is based on the very successful Bank Nederlandse Gemeenten (BNG Bank) in the Netherlands. Other countries also have similar banks such as the German Kreditanstalt für Wiederafbau (KfW), the Nordic Investment Bank and the European Investment Bank. The BNG Bank does not provide financing to private customers, but exclusively to semi-public organisations such as municipalities, provinces, public utilities and public housing.
There is also an appetite from the private sector. Burned by the 2008 global financial collapse and dodgy investments, such as the Icelandic Bank fiasco, they are keen to invest in residential housing. It's safe, it has a solid returns and there is a consensus that housing with long-term rents is not only needed but desirable.
Some dodgy landlord providing sub-standard housing may be happy with short-term rental agreements but big pension funds want stability. However, the private sector has not invested in residential housing in the UK. Unlike the US and Europe where investment in this sector is the norm, our pension funds and institutional investors simply don't have the experience. Unlocking this type of funding has a two-way benefit. It provides funds for housing projects and it provides pension funds with a much more stable and healthy return. A serious dialogue between government and institutional investors is long overdue.
Making sense out of the dysfunctional housing market and lining up the battle tanks is one thing, coordinating the whole process will be a monumental task. But we have done it before in much more trying circumstances in post World War Two Britain.
Added to the two keystones, councils and the NHIB, we also need to add a further organisational structure to coordinate the whole process and this will be in the form of Regional Public Housing Authorities (RPHAs).
In 2004 economist Kate Barker presented recommendations to the UK government for securing future housing needs in The Barker Review of Housing Supply report. The review led to the establishment of the National Housing and Planning Advice Unit (NHPAU), their remit being to give guidance on housing and to gain a greater understanding of the housing market and advise government, planners and local authorities. Although widely praised for its work, the unit was closed by the Con-Lib coalition government in 2010.
Barker highlighted the dysfunctional nature of the housing market and how a radical overhaul is required of the delivery and planning mechanisms. A dedicated housing body, established at a regional level, with a national remit, would aid and support local authorities and other housing providers. One of the recommendations of the Barker Review was that "a regional planning executive should be set up to bring together regional planning and housing boards". This advice still holds true and the establishment of RPHAs would strengthen council's ability to build houses and increase capacity.
The idea of the RPHAs is to ensure clarity and accountability, to enable those that deliver housing to work towards a coordinated plan. Strong RPHAs would also liaise with other agencies, central and local government departments and the private sector to ensure the relevant infrastructure needs are met. One such problem is that utility companies, under the existing, uncoordinated system, may re-lay pipes in an area only for the local authority to dig up the same streets a year later. There needs to be much more linked-up thinking, where short-term and long-term infrastructure planning and information is shared, thereby lowering costs and reducing disruption.
Boots on the ground
So let's say we have the councils ready to build, we get a green light on investment and funding, and organisational structures are set up, then the next step is boots on the ground, shovels in hand. And here we hit another barrier. There are simply not enough plumbers, joiners or bricklayers, or many other construction professionals, to get the whole thing started.
One symptom of the lack of house building is that many of those who worked in construction have left the industry, many small builders went to the wall and apprentice numbers fell. So not only do we have to train young people, encourage women into construction and get back some of those who have left the industry, we have to do it quickly while not skimping on quality.
There is a huge amount of work to be done in creating a housing strategy that is workable. We need to make the whole housing process more transparent, address the question of space (we have the smallest rooms in Europe), challenge the social cleansing going on in London, dressed up as 'redevelopment', and promote self- or community-build, highlighting the excellent work done by many community land trusts. Renovation, restoration and retro-fitting is something we are exploring in detail, and this is tied to bringing empty homes back into use and rethinking how we use old buildings. Pubs don't have to become supermarkets.
A house building project on the scale needed has the potential to create thousands upon thousands of new jobs, stabilise the housing market and kick-start the economy.
What is important though is that we put people at the heart of housing policy, not profit or the needs of the wealthy few. Housing is integral to the social fabric of the nation and poor housing is a blight on all of us.
Hopefully, this report is a starting point, a call to arms, and a blueprint for a Labour housing policy. But it also aims to place the idea that a safe, sustainable, affordable home is within reach of every single citizen.
—
Simon Jose was the researcher and editor of Labour MP Fabian Hamilton's report, Building Homes for Britain, published in November 2015.
Jose and Hamilton  presented their report at the ILP's Unbalanced Britain seminar on the housing crisis in Leeds on 5 March.
Articles from the other two speakers at the seminar are also available here:
• 'The Housing Crisis Weaponised', a version of Dr Quintin Bradley's presentation
• 'The Housing Crisis and the Struggle for Affordable Homes', by Ellen Robottom of Hand off our Homes.