'We still believe in each other' is the message from Hope not Hate, just one of a number of left wing groups and organisations who have responded to the European Union referendum result.
The United Kingdom voted by 52% to 48% to leave the EU at the polls yesterday, triggering Prime Minister David Cameron to announce his retirement this morning and provoking calls for political leaders and parties to work towards uniting a divided country.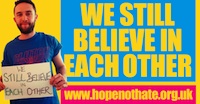 Nick Lowles of Hope not Hate sent a message to supporters calling for support in opposing anti-immigrant rhetoric and expressing fears of a "racist backlash" against European migrants.
"A short time ago, after a campaign tainted with racism and anti-immigrant rhetoric, it was formally announced that Britain had voted to leave the European Union," said Lowles. "This is a seismic moment for our country and indeed Europe.
"I worry that there is a real danger that the bitterly-fought contest could leave a lasting legacy of division in our country. We cannot allow this to happen.
"As the nation looks towards a life outside the EU, we will need voices that champion our vision of Britain and supports those most at risk from any sort of xenophobic backlash.
"That's why I'm asking you to join me in building HOPE not hate into an organisation capable to meeting the challenge.
"One thing is sure. We cannot allow the toxic Referendum debate to spill over into local communities. Speaking to those from eastern and central Europe, and indeed other immigrants, over recent days it is clear that many are worried. They are uncertain about their future and concerned about a racist backlash.
"But let's also be clear that we need to reach out to those areas which have been abandoned by mainstream politicians, particularly those in often de-industrialised parts of Britain. We need to offer an alternative narrative to those voices wanting to blame immigrants for all their problems, whilst also genuinely addressing people's real concerns.
"Ultimately, we need to offer more positive channels for people to effect change in their local communities.
"Britain has spoken and now we need to stand together for the tolerant, diverse and multicultural society we want. We need to heal the rifts and try and bring communities together.
"I won't lie, none of this is going to be easy, but the simple truth is that if we don't do it then no-one will.
"Hope not hate has prided itself with working in the most difficult of communities. Now we are fighting for our entire country."
Over the next few weeks Hope not Hate will be organising meetings across the country to consult with supporters and agree a plan. You can sign up for the campaign here.
Meanwhile, Momentum, the Labour Party campaigning group set up in the wake of Jeremy Corbyn's leadership victory, said the "vote reflected anger in communities which have experienced many years of industrial decline with the subsequent loss of secure employment".
The full statement reads:
"Momentum, which campaigned to remain in the EU to transform the EU, respects the decision taken by the electorate.

"We recognise that people voted 'Leave' for many reasons. Much of this vote reflected anger in communities which have experienced many years of industrial decline with the subsequent loss of secure employment. Many such working class communities have been utterly neglected for years by those in power. Millions appear to have chosen 'Leave' to vote against the unfettered globalisation that has seen living standards stagnate or fall, as the cost of living rises. We share this scepticism of big business dominance, austerity and distant elites, be they British, European or global, and share that demand for a country where working people have control.

"Many 'Leave' voters usually vote for Labour or are working people Labour should represent. Now the Party and the whole labour movement needs to show the country that it alone can offer working people genuine control over their lives, workplaces and communities.

"Labour must clearly demonstrate how it will improve lives through policies that will increase wages, tackle the housing crisis, and give people a greater say at work and in their communities.

"If we do not, we will not only be failing to advance the policies that will benefit working people but also could enable the populist right, who blame immigrants, not the powerful for the problems in our country. Part of the Leave campaign empowered these racist, reactionary forces, who peddle hatred and offer false hope. We must redouble our efforts to stop migrant scapegoating, focus our attention on the needs and desires of the overwhelming majority, and offer a real programme of hope for our people.

"Although we will leave the EU, our movement remains an internationalist one. We must continue to work with our friends, partners and allies across Europe in the shared struggle against austerity, to tackle climate change and to build a sustainable economy with full employment for all the peoples of Europe."
In a statement headed 'Brexit: The silver linings playbook', Compass described its "shock, bewilderment, sadness, anger" at the result, "not just because the country will now take the extraordinary step of walking its own plank to Brexit, but because of how divided our country, and its constituent countries, have become, and how impotent its political, democratic and party system is in terms of dealing with the one thing it needs to help us do – learn how to live together."
The statement calls Cameron's decision to call the referendum "the most monumental act of political recklessness" and claims that "because our democracy is so broken, the referendum became a blank ballot paper onto which so much anxiety and anger was projected. In the days and months ahead we have to unpack this, understand it and know what to do about it."
It goes on:
"The real story of this referendum goes something like this. Thirty years of neo-liberalism have taken their toll on so many people in our country – a material, physical and emotional toll. People haven't just struggled financially; they have been made to feel permanently insecure and anxious about their jobs, their home and their futures. Too often when they brushed up against the state they felt humiliated, or when they heard the voices and views of the establishment they felt sneered at or ignored.
"Meanwhile Brussels drifted on in its own arrogant, aloof and elitist way, humbling the Greeks and refusing to heed the siren calls. Then add in to this toxic mix large-scale immigration from a Europe that expanded too fast and in the absence of labour market regulations, public housing, enough teachers and nurses and the rest – you get a situation in which Nigel Farage and Boris Johnson can be the heralds of democracy, the NHS and working people and change the destiny of our country and maybe Europe, if the dominoes start to fall."
However, Compass also sees hope in the result, not least in the demonstrable ability of people mobilised around "a shared set of values and beliefs" to make change happen.
"Anywhere that hate and fear can win, love and solidarity can create something stronger, bolder and more permanent," it says. "After fleeting triumphalism, Brexit will not heal the wounds or stop the anxiety. Out of the wreckage of Brexit we will build something new – nothing but ourselves stops us reaching out and forging the bonds we need with the rest of Europe."
It concludes: "In all this gloom, the silver lining is that we live to struggle another day for a different and better world. We have been shown how bad things are and how much worse they could get. We know so many people think and feel like us – they know that we can and must be better than this.
"The issue is how can we assemble ourselves in a way that makes hope possible because the real darkness lies in not trying, believing and showing that something better is both desirable and feasible.
"As Another Europe is Possible have reminded us today, it is better to light a candle than curse the darkness. 

This is the wake up call. We listen and change or we are finished."
Click here to read the Compass Good Europe report.
Journalist Paul Mason put it a different way. Writing in the early hours of the morning, he said: "Told by the government they could never control migration while inside the EU, just over 50% of the population decided controlling migration was more important than EU membership.
"So the problem for Labour is not, yet, large numbers of its own voters 'deserting the party'. They may still do so if Labour plays this wrong — but even as late as the May council elections Labour's core vote held up.
"Instead Labour's heartland voters simply decided to change the party's policy on migration from below, and forever, by leaving the EU."
He adds:
"The task for the left in Britain now is to adapt to the new reality, and fast. The Labour right is already trying to pin the blame on Corbyn; UKIP will make a play for Labour's voters. Most likely there'll be a second independence referendum in Scotland.
"Corbyn was right to try and fight on 'remain and reform' but his proposed reforms were never radical enough. He was also right to devote energy to other issues — making the point that in or out of the EU, social justice and public services are under threat. But the right and centre of Labour then confused voters by parading along with the Tory centrists who Corbyn had promised never to stand on a platform with."
Mason goes on to propose a 10-point programme of action for how the Labour left should respond.
To read Mason's full statement click here.
—