Ada Salter's 150th birthday will be celebrated in south east London on the weekend of 15-16 July with a series of events to mark the extraordinary legacy of this pioneering ILPer on the people and politics of Bermondsey, London and the country.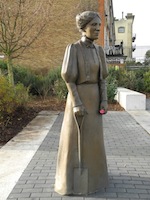 Ada Salter was actually born on 20 July 1866 in Raunds, Northamptonshire. She became the first woman councillor in Bermondsey and the first woman mayor in London but her fame went far beyond London.
In continental Europe and the USA she was famous for her 'beautification' of the London slums with trees, flowers and music, for her children's playgrounds, for model housing in Wilson Grove, for her defence of dockers and factory-workers from dreadful pay and conditions, for her fight against conscription and for her struggle in the Women's International League for world peace at conferences in Bern, Zimmerwald and Zurich.
She worked selflessly over decades for the people of Bermondsey and London alongside her equally dedicated husband, Dr Alfred Salter, a noted MP and innovative doctor, whose work for the poor prefigured the National Health Service.
The planned events for Ada Salter Day are as follows:
Friday 15 July, 7.30pm-8.35pm
Performance of Lynn Morris's acclaimed play, Red Flag over Bermondsey, at the Sands Film Studio in St Marychurch St, Rotherhithe.
The play movingly describes Ada's first years in Bermondsey, the tragic death in the slums of her daughter, Joyce, and her victory in 1922. This performance will be attended by Neil Coyle MP, and there will be an opportunity for questions and discussion afterwards.
Saturday 16 July, 10am-5pm
An exhibition depicting Ada's life and times will be open in Cherry Garden Hall on the corner of Southwark Park Road and Jamaica Rd (previously, Millpond Hall).
10.30am-12 noon
Reception at Cherry Garden Hall of a Quaker delegation and of a delegation from the Historical Society of Raunds (Ada's home town), to be accompanied by the Mayor of Raunds, Cllr Helen Howell, and Cllr Lee Wilkes.
The Mayor of Southwark, Cllr Kath Whittam, will welcome the two delegations and they will also be greeted by Stephen Humphrey, President of the Rotherhithe and Bermondsey History Society, by Sheila Taylor of the Cherry Garden TRA and by local councillors.
12 noon-2pm
There will then be a chance for visitors to look round the exhibition and see some sights (the Wilson Grove houses, the Salter Statues and the Ada Salter Garden), before taking lunch at the Angel pub (booked), or at a venue or picnic-area of their choice.
2pm
Laying of birthday flowers at the foot of Ada's statue on the river-front. The Leader of Southwark Council, Peter John, and Juliet Prager, representing Quakers in Britain, will lead the speeches.
Present at the statue too will be the two Mayors; representatives of the GMB and Unite trade unions; a representative of the peace movement; Rachel Henderson and Pauline Ellis of the Raunds Historical Society; Chris Newsam of the Quaker Socialist Society; a member of Ada's family; and local councillors.
3pm-5pm
Second performance of the play, Red Flag over Bermondsey, at Sands Film Studio, finishing at 4.05pm, followed by a Question and Answer session on the play and on Ada's life by David Morris and Graham Taylor.
7pm
The summer choral event at St Peter's church, put together especially by Sue Heath-Downey  to include Ada's favourite songs and arias. Ada was herself a singer and this promises to be a very enjoyable event.
Some of Ada Salter's sayings:

"The cultivation of flowers and trees is a civic duty."

"The agent of the landlords explained to me that the appalling tenement blocks were suitable for the class of person that rented them."

"It is always like this. We are against the last war, and against the next war, but not against the present war."

"Before trade unions the girls lost their fingers in machinery and glass jars exploded in their faces."
—
Click here for more information and details of how to get to the events.
Graham Tayor's profile of Ada Salter, 'Sister of the People', is here.
A review of Graham's biography of Ada Salter is here.
See also: 'Ada Salter and the Origins of Ethical Sociaism' by Graham Taylor.