The battles and achievements of working-class women in the drive to achieve a fairer and more balanced society will be celebrated in a one-day conference at the Working Class Movement Library in Salford on Saturday 17 September.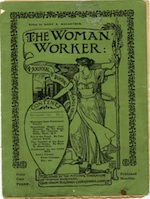 Radical women of the decades around the turn of the 20th century not only battled against the gender-conservative males within their family or community but also those who claimed to be fighting for equality.
The period saw an upsurge in female activism as women began to organise themselves into trade unions, take part in the socialist debates on social and economic change, and demand the vote.
Radical women had a significant effect on working class industrial power as the London match girls' strike of 1888 sparked the rise of New Unionism, which combined socialism with trade unionism. The co-operative movement and syndicalists also benefitted from the hard work and determination of female members.
Not all was harmonious, though, as demands for the vote and gender equality were met by the benign patriarchy of socialists such as Blatchford, the overt misogyny of Ernest Belfort Bax and 'Tattler' as well as the industrial gender-conservatism of male trade unions.
The keynote address will be given by Professor Sheila Rowbotham of the uNiversity of Manchester and Professor Karen Hunt of Keele University, while the conference will cover topics such as the Cabin Restaurant waitresses strike of 1908; the life of Crewe tailoress, campaigner, activist and author Ada Neild Chew; the forgotten history of domestic servants in women's suffrage; radical women and the bicycle; suffragette Constance Lytton and the cause of prison reform; and many more.
Full programme details can be found here.
Attendance costs: £20 (£7.50 unwaged) including lunch and refreshments.
Book in advance from trustees@wcml.org.uk
What: Radical Women 1880-1914 Conference
Where: Working Class Movement Library, Old Fire Station, Crescent, Salford
When: 9.30am-4.00pm, Saturday 17 September 2017
—