A statement from the ILP's National Administrative Council on Labour's leadership election and a call for the Party to pull together, whoever wins.
Despite its largest individual membership for many years, the Labour Party is in deep crisis. The Party and the left are teetering 'on the brink of disaster', as Owen Jones has argued. The second leadership election in a year is testing the resilience of Labour's broad church to breaking point.
Attitudes are polarising at an alarming rate. The atmosphere at the official hustings has been compared to that of a football match – cheer your own side, boo the other; never doubt your own side, always doubt the motives of the other. As the anti-Corbyn MP, Peter Kyle noted in the New Statesman (19 August),
"It feels like the party has already split. It's one of those chasms you see in the Arctic. It starts very small at the top, a dusting of snow covers it; but underneath is this enormous gap, and when somebody steps on it you fall through … the question is whether we can put it back together again, or whether it will just snap."
Never has there been a greater need to remember Jo Cox's maxim: there is more that unites us than drives us apart. Labour and the left can pull back from this brink, but it will take much more political sense and courage than has been on display recently.
Background
Labour has always been an awkward coalition of socialists, social democrats and reformers, trade unionists and Parliamentarians, whose early MPs drove Keir Hardie to distraction and despair. But this broad church is now under unprecedented strain. In the wake of the financial crisis of 2007/08 and the collapse of the Blair-Brown version of neo-liberalism, political tensions have reached a crisis point.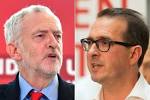 As many have recognised, Corbyn's leadership is the accidental product of the reform of Labour's rules for leadership elections in 2014 – the abolition of the electoral college, the introduction of one member one vote (OMOV) and votes for registered supporters, plus the '' actions of Labour MPs in nominating Corbyn in 2015 despite him having little support within the PLP. But it is also the product of a deep frustration with the inability of Labour, and of politics more generally, to give expression to a broad strand of left-wing opinion and effective opposition to the Tories.
The internal reforms, particularly the introduction of registered supporters, had in recent years been promoted by the Blairite pressure group Progress in order to reduce trade union influence, though both OMOV and the proposal to create a category of registered supporters have a much longer history.
The principle of OMOV had always been viewed with great suspicion by most of the left, including the Campaign Group of which Corbyn was a member. The irony of Corbyn supporters, such as former Bennite and now chair of Momentum, Jon Lansman, railing against recent NEC moves to restrict the selectorate hardly needs pointing out. In 2014, in the run-up to Labour's adoption of the Collins reforms, Lansman found eight reasons why they should be rejected, including the dilution of trade union and members' influence by the creation of a registered supporters category.
More or less alone on the left, the ILP has supported the principle of OMOV for many years but we were also deeply critical of giving registered supporters a vote, long before the 2015 leadership election.
However, it was dissatisfaction with Labour's inability to articulate a strong opposition to Tory austerity, and a longer-standing rejection of the Blair-Brown formula, that meant the new rules became the route by which a transformation of the Party took place.
A key achievement of Corbyn's first campaign was to catalyse a phenomenal increase in the number of members and supporters across a wide age range and to galvanise the enthusiasm they have demonstrated for renewing the Party. Contrary to some opinions, this is a broad left rather than just a hard left movement. Those joining the Party include many left-leaning former members and, although there are many young activists new to Labour politics, the average age of those joining since May 2015 is over 50. There are also some credible claims of hard left 'entryism', although the numbers involved are likely to be tiny in comparison to the size of the membership.
Organisations such as Momentum have sought to mobilise those new members. While some of this activism has been directed in support of Labour's electoral campaigns, so far it has had its most significant impact inside the Party in support of Corbyn. It is important that Momentum continues to reflect the open spirit of this mass influx into the Party. The suggestion that Momentum should operate as a social movement parallel to Labour is highly problematic and will dilute its potential to revitalise the Party itself.
Perhaps as important as the rise in membership, Corbyn's leadership has shifted the debate in the Party in a leftward direction. This can be seen in Owen Smith's domestic policy proposals which, on paper at least, are a significant improvement on anything put forward by Andy Burnham, Yvette Cooper and Liz Kendal in the 2015 contest. Smith has also criticised Blairism, saying that "a Party that was formed to take on the Establishment ended up sometimes being mistaken for the Establishment".
However, none of this has done anything so far to improve Labour's electoral prospects, its standing in the country at large nor its appeal to non-Labour voters. The current poll figures, for both the Party as a whole and Corbyn individually, are not surprising in the least but they are no less alarming for that. Indeed, rhetorically at least, the Theresa May Tory leadership is proving to be quite politically adroit on issues such as inequality, capitalising on Labour's woes, although her government has continued to push through abolition of the last remaining maintenance grants for poor students. As the Tory MP Andrew Bridgen crowed, while the Tories continue to play chess, Labour is stuck in a game of snakes with no ladders.
While the task facing Corbyn after his victory last year was always going to be immensely difficult, and made far worse by the constant sniping and scheming of a few Blairite die-hards, his leadership nationally and within Parliament has been clumsy at best and woefully dysfunctional at worst. Claimed successes, such as the Tory retreat on tax credits and the London Mayoral victory, had little to do with his leadership (although no doubt if Sadiq Khan had lost Corbyn would have been blamed). When even allies and well-meaning supporters voice severe doubts about his leadership, it is an indication that something is not working.
Prospects
Barring a major surprise, the signs are that Corbyn is likely to win the leadership contest. In this scenario there are strong indications that some Labour MPs will establish some form of dissenting group. Most anti-Corbyn MPs appear to be shying away from a formal split of the SDP variety and it is easy to see why. United, the Party has an electoral mountain to climb; divided into competing entities, candidates from both sides would struggle even to reach the foothills.
Perhaps more likely is some kind of unofficial group within the Parliamentary Labour Party, criticising and dissenting as they see fit but without resigning the whip. Given that this is the model of the left wing Campaign Group during the Kinnock, Blair and Brown leaderships, it is hard to see how Corbyn could object to such a move. However, it is very welcome that the Co-operative Party has issued a strong statement rejecting the notion that it could be used as a vehicle for more formal Parliamentary factionalism.
The nature and size of this resistance to Corbyn will be crucial. The rebellion against him has already gone way beyond any group that can credibly be called 'Blairite' and involves many centrist and left-wing MPs. If a rebel Parliamentary faction is significantly bigger than just the hard core Blairites then the public damage done by the civil war that will surely follow will be immense.
Equally important will be the actions of Corbyn and his supporters in the event of a victory. Rumours of 'vendettas' against critics are deeply worrying and will simply perpetuate the civil war in the Party. As Owen Jones noted, "a belief that even differences of opinion on the left can't be tolerated – well, that cannot bode well". Historically the left has been well versed in how to win battles inside the party, and very poor at finding a language and attitude that can speak to and attract the wider public. A continued focus on internal contests and an obsession with small differences will only perpetuate this failing.
Our call
Given that many members are yet to cast their votes, the following comments are directed to both sides of the contest equally.
1. The ILP is not formally endorsing either candidate.
This is partly driven by doubts about what both candidates have to offer. More importantly it is because we agree with some of what Neal Lawson says when he points out that the crisis facing Labour goes so much deeper than the identity of the leader. Both the PLP and Corbyn's supporters have become fixated on the question of the leadership to the exclusion of almost everything else. Whoever is leader will face major challenges, both internal to the Party and external with the wider electorate, and neither candidate has yet articulated a clear enough sense that they have answers.
2. The ILP believes that the forthcoming election result should be accepted as legitimate by all concerned.
There are deep flaws in Labour's internal democracy and in the conduct of this election. But these need to be addressed in the round in a principled and inclusive manner after the election is concluded. Casting doubt on the legitimacy of the result, or trying to implement and interpret the rules for factional advantage – as both sides have tried to do – can serve no long-term good.
3. Whoever wins will need to work hard to rebuild the Parliamentary party into a functioning opposition.
Given that questions of leadership of the PLP are arguably more central than policy differences in the current contest, it is disappointing that neither candidate has given us more sense of how the Party can be brought together. As former MP Harry Barnes wrote in a letter to The Guardian, "Before I fill in my Labour Party ballot paper, I would like to know the candidates' proposals as to how (if elected) they will seek to bring about peace and reconciliation within the party."
Should Corbyn win, then – notwithstanding the profoundly unfair nature of some of the attacks upon him – he will need to make a concerted effort to rebuild bridges to as many MPs as possible. We do not underestimate the enormity of the task but it should include:
inviting Owen Smith and others to re-join the Shadow Cabinet, explicitly taking up some of Smith's policy proposals
overhauling his management of the Shadow Cabinet and PLP – a difficult task for someone who is probably not a natural team-builder but a necessary development, all the same, if he is to minimise the number of MPs who break away
taking on board the points made by Owen Jones in his critique, especially in relation to media strategy.
As a quid pro quo, Smith and his supporters must respond constructively with this re-engagement process. There will of course be those who are irreconcilable, with whom any kind of rapprochement is impossible, but without some kind of stabilisation the immediate prospects look bleak indeed.
If Smith were to win then he too faces the task of providing leadership that can draw support from Corbynites as well as left and centrist MPs.
4. As a corollary to this, whoever wins also needs to work hard to overcome the rancour and distrust in the wider Party.
They could do worse than promote the aims we set out before the 2015 leadership result – for co-existence and pluralism; for mutual respect and comradeship; and for democratic participation and openness. These are essential pre-requisites to the necessary longer-term discussions on the overhaul of Labour's internal policy making and internal election and membership rules.
5. Externally, whoever wins has the unenviable task of beginning to boost Labour's electoral appeal and remake its political and emotional connection to the wider public.
The Party's current standing could hardly be worse, and faces a very real prospect of the kind of annihilation it has already experienced in Scotland. Although there has been much talk since May 2015 of the need for the Party to 'do politics differently', little progress has been made. Nationally, regionally and locally, too much of the Party structures and culture remain stuck in the past and the influx of new members has not, so far, energised the Party in the way some hoped. Too much of the leadership contest has focussed on policy declarations by the candidates, too little on a vision for how the Party can be attractive, gain the trust and emotional commitment of the electorate, and speak and act in a way that is 'open, optimistic, cheerful'.
Even if all of this and more is pursued with genuine conviction and vigour it may still not be enough to revive Labour's long-term fortunes. But the alternative is ever more rancour, bitterness and personal attacks, and a downward spiral into an interminable civil war. Labour's supporters and voters deserve something better than this grim prospect.
—
The ILP will lead a discussion on Labour's future at the Rose Bowl in Leeds on Saturday 15 October. Details to be announced here in the next few weeks.