It seems hard to believe, these days, that the 2015 general election was only 18 months ago, so profound has been the change in the political landscape since the Tories' unexpected triumph under David Cameron.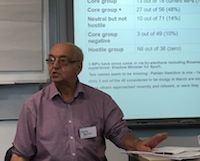 For Labour, the political and emotional traumas of that defeat have been resonating ever since as it's reeled from Jeremy Corbyn's even more shocking victory in the party leadership election, to civil war in the PLP, record low poll ratings and the aftermath of the EU referendum vote, including mass resignations from the shadow cabinet and a leadership challenge from which Corbyn has emerged even more triumphant.
Meanwhile, the party has grown in membership like never before, re-attracting old timers who fled during the Blair-Brown years and drawing in swathes of politicised young people excited by what the 'Corbynistas' call the 'new politics' based on grassroots campaigning and the potential of a mass movement for change.
At times it has seemed as if Labour is heading for 'the brink', so great are the levels of uncertainty and division, as ILP chair David Connolly commented during his opening remarks at the recent ILP weekend school on the party's crisis and future.
"The challenge the Corbyn-inspired movement has made to the Labour of the Tony Blair and Gordon Brown era is profound," he said. "There has never been a more apt time to take a step back and look at how we got here, and where we should go next."
'Labour on the Brink: What future for the Party?' aimed to do just that, bringing ILPers and friends together in Leeds to hear former Labour MP Harry Barnes examine the roots of Labour's crisis in the New Labour years; Leeds University's Hugo Radice analyse 'why mainstream Labour doesn't understand what's happening'; and Will Brown introduce a wide ranging discussion on where Labour and the left goes next.
Harry (pictured above) began by looking back to the last "window of opportunity" for the party's left in 1992 when John Smith and Margaret Beckett took over at the helm from "Kinnock and co". "Of course, that ended with John Smith's death," he said. "And then we had Blair's rise, leading to the new clause four and new Labour's huge electoral successes in 1997, 2001 and 2005."
Labour's traditional working class support was still "large and solid" at the '97 election, Harry pointed out, but as Blair's governments did little to protect the jobs and welfare of traditional working class communities, that connection soon started to weaken.
"Although New Labour did a lot of good things, from the minimum wage to the Northern Ireland peace process to civil partnerships, it didn't tackle the basic problems caused by changes in British society hit by the rise of finance capitalism," he said.
"That's when you started to see rebellions in the Commons – and Corbyn was the most rebellious – then we had Iraq and all the disillusion that followed."
As for the Ed Miliband era, despite some "helpful policies", according to Harry, "there was no central, coordinated push to take them to the people – the membership were not informed, the media was not enthused and there were no campaigning materials".
The leadership fetish
It's in the wake of those failures by previous Labour leaderships that Corbyn's success needs to be understood. His long history as a rebel and campaigner has made him attractive to a wide range of people who were otherwise disillusioned, while rousing deep hostility within parts of the PLP.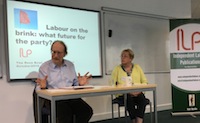 According to Hugo (left), the origins of this division between "mainstream Labour" and Corbyn's "insurgents" lie in Blair's top-down re-structuring of the party during the 1990s. New Labour's obsession with centralised control, its orchestration of policy and conference, and fetishisation of leadership "disempowered those at the bottom and absolved those higher up of any responsibility", most notably members of the PLP.
The party's command and control managerialism, imported from the corporate world of the 1970s and '80s, has eroded notions of "functional collective decision-making", he said. It's now so embedded in some parts of the party that Corbyn, like Miliband before him, is deemed responsible for everything that's gone wrong.
The political consequence of this New Labour approach, said Hugo, is the belief that what matters is "to find out what people want and craft politics to fit". "So the party becomes oriented to the state it wants to govern, not its members; its promise becomes: 'We will run this better than the Tories.'"
Corbyn's appeal lies in his opposition to this way of thinking, built around the notion that we need to have some values and principles to guide us, and that members should be able to help shape policy based on those foundations.
As for the chances of peace and reconciliation, that, according to Hugo, depends on each side at least being willing to understand where the other is coming from. At the moment, there are precious few signs of that happening.
So how to move forward? Will Brown structured the challenges facing Labour into five broad areas, posing a series of questions for delegates to consider under each heading:
Labour's electoral mountains, and how to overcome them
internal Labour issues around policy and democracy
internal Labour issues around relations between the PLP, leadership and members
policy directions
movements, connections and alliances.
The dilemma facing Labour, he pointed out, was how to do "bottom-up" politics while remaining relevant in a hostile culture and capable of re-engaging with the wider electorate – how to be bottom-up, in short, while not becoming an ostrich.
It needs to "do politics differently" both through its branches, constituencies and regional structures, and online; and it needs to learn to disagree without being disagreeable, not least in developing policy via a clearer, more open and democratic process.
"There is a distinction," he said, "between a politics of adjusting to change, such as protecting workers rights, improving public services and managing immigration, and a politics of changing the direction of change – shifting the centre of gravity of the economy, creating space for more sustainable llifestyles, and putting areas such education and health on a more permanently stable footing.
"It's the difference between limited short-term reforms and reforms that lay the basis for more radical change."
Labour needs both.
—-
'Labour on the Brink: What future for the Party?' was held at Leeds Beckett University on Saturday 15 October.
Articles based on all three of the speakers' contributions will be available on this website within the next few weeks.
See also: 'Labour on the Brink: A statement on the leadership crisis'
If you would like to be informed about future ILP events, please send an email to:
info@independentlabour.org.uk.