STEVE THOMPSON visited a Lancashire youth hostel this summer and found a memorial to one of the ILP's founders and pioneers that is now fighting to survive.

For a long time I have intended to get to know more about Lancashire, so in June this year I looked up a youth hostel in the county and came up with Earby. It was a place I had never heard of, but a couple of days in the Pendle area seemed a good idea.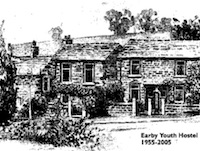 The train and bus got me to Earby in time to visit the village library and, as usual, I was drawn to the local history section. The first book I noticed (there were three copies) was the story of Earby Co-operative Society by Bob Abel and Stephanie Carter, published by the local history society. Then a pamphlet about Katharine Bruce Glasier who, I discovered, had lived in Earby. This too was written by Bob Abel as a history society publication.
The library's 5 o'clock closing time coincided with the 5 o'clock opening time of the hostel and I was amazed to see the blue plaque on the wall stating that this had been the home of Katharine Bruce Glasier from 1922 until her death in 1950.
Abel had donated a book to the hostel – The Enthusiasts: a biography of John and Katharine Bruce Glasier, by Laurence Thompson, published in 1971 and I began to read it while staying there. When I got home, I bought a copy and have now read it all.
Katharine Bruce Glasier was one of those people who really made a difference through her tireless commitment to a gentler and kinder world, a world where poverty, deprivation and the resulting misery would no longer be looked on with indifference, but where everyone could strive together for the dignity of all. She was a socialist and a humanitarian.
The Independent Labour Party (ILP) was more than a political party, and still is. To many who joined, it was a great social fellowship. It was founded in 1893 and Keir Hardie, the first person to be elected as an independent Labour MP, chaired the inaugural conference.
Katharine Bruce Glasier was a member of the founding National Administrative Council at a time when women in other political parties were restricted to 'women's groups'. She played a vital role in the life of the ILP from its beginning, including when it was helping to found the Labour Party in 1906, until it disaffiliated from the Labour Party in 1932.
Permanent memorial
She wrote for the ILP newspaper, the Labour Leader, becoming its editor in 1916, and was a speaker and educator, as well as a wife and mother. Bob Abel's nook describes how Earby Youth Hostel became her memorial:
"Following her death discussions began as to how Katharine Bruce Glasier's life could be commemorated. And in May of 1952 a memorial fund was inaugurated and ideas were discussed as to how her memory could be perpetuated. One suggestion was to buy Glen Cottage and the two adjacent cottages and adjoining land, to be used for some social purpose. On display at the meeting was a model of Glen Cottage, made by Welbury Holgate of Earby, a renowned local historian and archaeologist.

"Donations from individuals and organisations soon began to swell the fund. The list read like a who's who of prominent Labour MPs and Peers of the Realm and include Tony Benn, Lord Silkin, personalities such as the actress Dame Sybil Thorndyke and the organisations with which KBG had been associated, eg. the co-operative movement, the National Union of Mineworkers, Friends Meetings and the Labour Party Women's Associations. By 1955 a plan to redevelop the cottages as a youth hostel were enthusiastically approved and in 1956 a final appeal was launched to raise the last £1,000 required.

"In 1958 the Earby Youth Hostel was opened as a permanent memorial to Katharine Bruce Glasier."
The next day Bob Abel called in and told me a few things about the hostel.
I already knew that it was a model hostel, performing the service youth hostels were set up to provide. The other hostellers there were cyclists and walkers. Earby is perfectly situated for long distance walkers and cyclists and people exploring the area.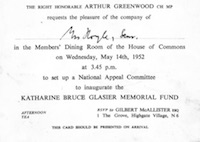 However, Bob told me that the YHA decided to close and sell it 10 years ago in order to focus on larger and more profitable hostels. This was contested because Earby had been bought as a "permanent memorial to Katharine Bruce Glasier". The YHA's response was that this had not been recorded in the legal papers and so the decision to sell it went ahead.
At the 11th hour, Pendle District Council stepped in and bought it, so it is now on a 'peppercorn' lease to the YHA. This lease has to be renewed every five years and the time for renewal fell in October this year. The YHA are concerned about the cost of its upkeep, despite benefiting from the capital raised at the sale 10 years ago and having had it to use virtually rent free ever since.
It seems to me that the profile of KBG could be raised and the ILP could help. Bob had not realised that the ILP still exists and was very interested when I told him how it has developed. I suggest that the ILP and Friends of Earby Hostel could co-operate to ensure the memory of KBG remains in the form of this iconic hostel.
—
This article was originally published in Glen Cottage Diary, the Friends of Earby Hostel newsletter, autumn 2016.
For more about the Earby Youth Hostel you can contact Bob Abel, secretary of Friends of Earby Hostel, on Bobabel2224@gmail.com.
See also: 'Katharine Bruce Glasier – The ILP's Spiritual Socialist' by Paul Salveson.