The co-author of a seminal account of "the strike that changed the rules of the game" will be giving a special one-off talk at Canary Wharf in London's Docklands on Sunday 27 November to mark the publication of a second edition of his book about the dispute, Grunwick: The Workers' Story.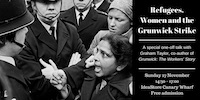 Graham Taylor, who wrote the book with Jack Dromey, "will attempt to disentangle the racism and sexism that afflicted the Grunwick strikers, first in east Africa and then in London".
The event will include a reading from Taylor and Dromey's account, relaunched last month to commemorate the 40th anniversary of the conflict, followed by a question and answer session and a book signing.
The book, which has been published in a new edition by Lawrence & Wishart, describes the dispute in the workers' own words.
"Grunwick was the strike that changed the rules of the game," say the publishers.

"It changed the way the unions thought about race, about their own core values, and about the best way to organise among the new immigrant communities coming to Britain in the 1970s. Moreover, it changed the way unions thought about the law, and raised big questions about their will to win.

"In the beginning, Grunwick wasn't a strike about wages – it was about something much more important than that. It was about dignity at work. And, for the small band of Asian women strikers, who braved sun, rain and snow month-in and month-out on the picket-lines, from August 1976 to July 1978, rights in the workplace and pride at work, were far more important than any amount of money.

"At the time, this book was the seminal account of the dispute, providing the workers' own story in their own words and told by two of the leading participants in the strike. Now, 40 years later, its themes still resonate, making this book vital reading for all of those who seek to organise within their own communities and workplaces."
What: Refugees, Women the Grunwick Strike
When: 2.30pm-5.00pm, Sunday 27 November 2016
Where: IdeaStore Canary Wharf, 1 Canada Square, London E14 5AB
Who: Graham Taylor, co-author of Grunwick. The Workers' Story
The event is free but you need to register in advance here.
@earth, a photomontage by photographer Peter Kennard, will also be exhibiting at IdeaStore on the same day as the event. Admission is free and guests are encouraged to enjoy the exhibition before or after the Grunwick event.
—-
The second edition of Grunwick: The Workers' Story, by Jack Dromey and Graham Taylor, is published by Lawrence & Wishart in association with the GMB and available to buy here for £12.00.
See also: 'Jayaben Desai and the ILP Tradition' by Graham Taylor.