A new play about pioneering ILPers Ada and Alfred Salter is heading to south east London next month after a long battle for funding by its writer and director, Alison Mead.
Politic Man tells the true story of the Salters, the ILP couple who transformed an impoverished area of south east London in the first half of the last century with their 'Bermondsey Revolution' of local health care, housing regeneration and environmental change.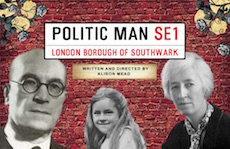 The play was due to tour venues across London in May and June this year before expected funding fell through at the last minute. The play will finally see the light when it's performed at The Loft space at The Ugly Duck venue in Bermondsey on 17 and 18 December thanks to backing from the ILP, the Joseph Rowntree Charitable Trust and Unity Theatre Trust.
The Salters' story is one of a brilliant doctor, Alf Salter, and his campaigning wife, Ada, who dedicated their lives to the people of Bermondsey, a slum area overrun by squalor and disease.
Alf introduced a free local health service for the poor long before there was a national health service, while Ada campaigned to improve housing and the environment, building gardens as part of a local 'beautifcation' programme.
The play, to be staged by Mead's Three4All Theatre Company, "explores the antithesis between the public and the private face of politicians and asks if it is ever possible to stick to your principles at all times. It is the true story of Alfred Salter and his wife Ada, who between them, stood for local, mayoral and parliamentary elections throughout their lives. Salter and his wife proved that moral values and integrity could walk hand in hand with leadership. Through their eyes, we are asking what leadership really is."
There will be three performances of the play on its opening weekend, followed by a London tour in January 2017.
What: Politic Man
When: 7.30pm Saturday 17 December 2016; 4.30pm & 7.30pm Sunday 18 December 2016
Where: The Loft, Ugly Duck, 47-49 Tanner Street, London SE1 3PL
Here are the January tour dates so far:
Friday 20, 7.30pm: Katherine Low Settlement, 108 Battersea High Street, London SW11 3HP
Saturday 21, 3pm: William Morris Society, Kelmscott House, 26 Upper Mall, Hammersmith. W6 9TA
Sunday 22, 4pm: Quaker Meeting House, Lawn Terrace, Blackheath, London SE3 9LL
Monday 23, 8pm: Ivy House, 40 Stuart Road Nunhead, London SE15 3BE
Tuesday  24, 8pm: Brockway Room, Conway Hall, 25 Red lion Square, London WC1R 4RL
Sunday 29 – TBC
Monday 30, 7.30pm: N16 The Bedford, 77 Bedford Hill, Balham SW12 9HD
More information about the play and an opportunity to support the production can be found on its website.
—-
See also: See also: 'Ada Salter: Pioneer of Ethical Socialism', Barry Winter's review of Graham Taylor's acclaimed biography of Ada Salter.