HARRY BARNES continues his investigation of the state of Labour, looking at the failures of the Miliband leadership, the basis for Jeremy Corbyn's triumph and the prospects for party unity.
I have never met Ed Miliband and only went to hear one or two of his platform speeches. However, I do feel that he was carefully trying to move the party away from New Labourism towards something nearer the old Smith-Beckett stance. Perhaps it was only a start on a much longer road.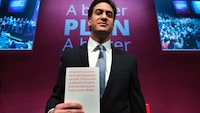 For example, he showed a strong commitment to fighting climate change as a minister in the two years before he became leader – which is a key issue Labour needs to face up to. And the proposals developed by his policy forums in the run-up to the 2015 elections (reflected in Labour's general election manifesto) seemed to me to unlock a door that socialists could begin carefully to push open.
Although Labour's programme didn't include all the policies we needed and could have delivered, it nudged us in the right direction. He even managed mixed claims for:
a strong economic foundation
higher living standards for working families
an NHS with time to care
controls on immigration
a country where the next generation can do better than the last
homes to buy and actions on rents
… all then inscribed on his ill-conceived 'Ed Stone'.
But I feel there are more inspiring details in the ideas put forward by the policy forums, which Labour conference endorsed. They are tucked away in amongst the 180 policy proposals I drew out before the election and discussed in detail here.
The problem was Labour did not make use of these policy stances to inform and enthuse its members or to persuade the media, nor as part of its wider campaigning material. It also completely failed to use policies developed for the European Union elections and the Scottish referendum campaign.
In terms of parliamentary seats, under Miliband Labour endured its worst election result since 1987 when it was still recovering from the blow suffered in 1983 in the wake of the split caused by the defection of MPs to the Social Democratic Party. The responsibility for failure in 2015 rests with Miliband, but he was also badly served, especially by Douglas Alexander, his campaign manager, who even lost his own seat in Scotland.
So where are we now?
As we know, Jeremy Corbyn was able to stand for the Labour leadership only because MPs such as Beckett gave him a sympathy nomination, expecting him soon to bite the dust. Yet, after 32 years at the very back of Labour's back-benches (never having had even a minor front bench position), Corbyn took the leadership with an across the boards victory, although he was only the choice of a small minority of Labour MPs.
Much of his political work over more than three decades had been done outside the Commons (although he did make regular contributions in the House), as a political campaigner in the country and overseas, regularly addressing of meetings and rallies. He was also a dedicated Islington MP on his own patch.
His experience was tailor-made for the form of campaigning he needed to win the leadership in 2015 and again this year. He attracted people looking for a socialist Labour Party – people disillusioned with New Labourism and with Miliband's failure. At first people thought these 'Corbynistas' were overwhelmingly young people, but recent research has indicated that the age and background of new Labour Party members is very similar to that of the established membership – they are often middle aged and older people from rather middle-class backgrounds.
Corbyn found that while rallies were one thing, handling the Commons was quite another. He had plenty of experience of hounding those at the despatch box, but none of being the person hounded. Then there were issues on which he would not compromise – he was against bombing in Syria and opposed to renewing Trident regardless of Labour policy indications (on Syria it was a complex position). He was particularly keen to exploit to the full the Chilcot Report on Iraq, although some 60 MPs still on the Labour benches had voted with Blair for the invasion, including Beckett.
Only nine months after becoming leader, the PLP held a vote of no-confidence in Corbyn and no less than 172 MPs voted against to 40 in his favour, with almost 20 non-voters. Only 16% of Labour MPs were non-rebels  – and a number of those were half-hearted – meaning Corbyn had a very low support base.
Yet he made some compromises, and in particular moved to support Britain's continued membership of the EU (something he had always opposed). He adopted what, to me, was an appealing stance – arguing for continued membership while pressing for a democratised and social Europe, plus supporting closer relations with the Party of European Socialists (PES). But as a campaigner he was less than vigorous in pursuit of his new positions, despite having the campaigning skills.
After the mass resignations from his front bench this summer, and his re-election as leader, Corbyn has now put together a fresh shadow cabinet team, the make-up of which is of some interest.
Back in March 2016 a leaked document, said to have come from Corbyn's office (although he denied it), divided Labour MPs into five categories, from those described as key supporters to those seen as most hostile. The lists are perceptive, whoever constructed them.
The MPs recently appointed to the shadow team fall into those categories in the following proportions (I have excluded those who have since died and Sadiq Khan who resigned):
(a) core group: 13 out of 18 current MPs (72%)
(b) core group plus: 27 out of 55 (49%)
(c) neutral but not hostile: 15 out of 71 (21%)
(d) core group negative: 5 out of 48 (10%)
(e) hostile group: one out of 35 (3%)
Three MPs who have joined Corbyn's shadow team are excluded from the above figures because they arrived in the Commons via more recent by-elections – Rosena Allin-Khan, for example, who had only 24 days Commons experience before becoming Shadow Minister for Sport. And at least two of the names are missing from the leaked list, including Fabian Hamilton who is now Shadow Defence Minister.
As we can see, only six of Corbyn's 83 appointees (7%) were in the 'negative' and 'hostile' categories (d) and (e) (although we don't know how many were approached and refused), and only Rosie Winterton – moved from shadow chief whip to be Labour's envoy to our sister parties in the PES – is from the 'hostile' group. In fact, her new post could be of real significance as the party works with labour movements inside and outside the EU.
If there had been a similar list under Blair, his cabinet may well have displayed a similar bias. Chris Mullen went from the Socialist Campaign Group to the front bench but he, like Winterton, was an exception to the rule. But then Blair had far higher numbers of core supporters. Compared to Blair, Corbyn has his work cut out to create even a vision of reasonable unity in the PLP.
Finally, I'd like to consider the role that Momentum now plays (a) in mobilising support for Corbyn, (b) in seeking to shape the future direction of the party, and (c) in helping (at least) in some areas to stimulate canvassing and campaigning activities for Labour.
I receive national, Derbyshire and Sheffield area material from Momentum, rather as if I was a member – although I am not – and so far have attended two of their open meetings. I am keen to maintain a watching brief on their activities as I recognise the organisation may well be different in different areas. No doubt some trends will be welcome and others less so.
Other people's assessments of the PLP, the involvement inside the Labour Party of old and new members, the work of Momentum and of other groups around the party, plus Labour's wider links with bodies such as the PES, would all be welcome.
—-
Harry Barnes is the former Labour MP for North East Derbyshire. He blogs at 'Three Score Years and Ten'.
This is part two of a two-part article. It is a longer version of the presentation made by Harry to an ILP conference on Labour's crisis held in Leeds on 15 October 2016.
The first part of Harry's piece is available here.
See also: 'Labour on the Brink: A Statement on the Leadership Crisis'.