To mark International Women's Day on 8 March, the Working Class Movement Library is hosting a talk by Marika Sherwood on Claudia Jones, the Trinidad-born communist, feminist, peace activist, orator, journalist and founder of the biggest street festival in Europe.
Called Thank you, Claudia, the talk takes place on Saturday 4 March at 2pm as part of the Wonder Women stream of events across Greater Manchester.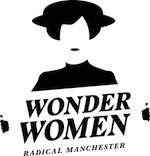 Born in 1915 in Trinidad, Jones was taken as a child to the United States by her parents. She was subsequently imprisoned for her political activities and later deported to the UK where she became an journalist and activist, and helped to start the Notting Hill Carnival.
She died in 1964 and is buried next to Karl Marx in Highgate Cemetery.
Peggy Mulongo will also speak about her work on female genital mutilation (FMG) and women's rights.
Mulongo is a cross-cultural mental health practitioner and co-founder the New Step for African Community charity (NESTAC), which has been established to support Africans and immigrants, particularly those living in the north west of England.
Admission is free.
The WCML is also hosting a 10-week history course on Radical Women from 1914 to 1979. The classes, taught by Michael Herbert, author of "Up Then Brave Women": Manchester's Radical Women 1819-1918, start on Tuesday 14 February, 11am-1pm.
This course will be an introduction to some of the key movements and events which changed women's lives in the 20th century, and will include the following:
Women's anti-war movements in the First World War
Women  councillors in the 1920s
Campaigns for birth control in the 1920s
The General Strike of 1926
Women's Hunger Marches in the 1930s
Women volunteers in the Spanish Civil War
The Women's Parliament in Manchester during the Second World War
The work of Joan Littlewood and Shelagh Delaney in the 1950s and 1960s
Peggy Duff and  the Campaign for Nuclear Disarmament
The emergence and influence of the Women's Liberation Movement in the  1960s and 1970s
For more information and/or to book a place, email Michael Herbert: redflagwalks@gmail.com.
—-