'Labour – preparing for power' is the title of Chartist's annual open meeting and AGM to be held at the University of Westminster in London on Saturday, 8 July.
The meeting will look at what Labour should do next following the "political earthquake" of the general election, what tasks lie ahead for the left, and what could happen with the Brexit negotiations.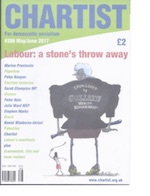 "A political earthquake in Britain has shocked the Tories," says the meeting publicity. "Labour made a huge advance in the June General Election while Jeremy Corbyn`s leadership now seems unassailable. What will happen next?
"Theresa May is a wounded Tory leader or 'a dead woman walking'. The coalition of chaos is unlikely to last long. Another General Election can't be far off. A hard Brexit and more austerity look set to be ditched or moderated as part of the Tories' survival strategy.
"So what are the likely scenarios?  What must Labour do?  What are the tasks for the Left?"
The open meeting will be divided into two main sessions with Don Flynn of the Migrant Rights Network looking at 'What Next?', alongside Momentum's Puru Miah, Karen Buck MP for Westminster North and Ann Pettifor, economics advisor to John McDonnell, followed by a session on 'Brexit – Where do we go from here?' addressed by Labour MEP Julie Ward and John Palmer, former European editor of The Guardian.
The Chartist AGM will follow with elections for the magazine's editorial board.
What: 'Labour – preparing for power', Chartist open meeting and 2017 AGM
Where: University of Westminster, 35, Marylebone Road, London NW1 5LS
When: 11am-4.30pm, Saturday 8 July 2017
Who: What Next?
Don Flynn (Chartist EB and former Director Migrant Rights Network)
Puru Miah (Momentum national committee)
Karen Buck MP for Westminster North (tbc)
Ann Pettifor (Prime Economics/adviser to John McDonnell MP)
Chair: Mary Southcott – Chartist Editorial Board
Brexit – where do we go from here?
Julie Ward Labour Co-op MEP for NW England
John Palmer (ex European editor The Guardian)
—-
For more about Chartist go to: www.chartist.org.uk