The experiences of Fenner Brockway and Eamonn de Valera in Lincoln Prison during World War One will be discussed as part of an event on freedom, justice and equality at Lincoln's Bishop Grosseteste University in September.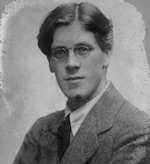 Brockway (pictured), a prominent conscientious objector, and de Valera, a leading Irish Republican, were both were imprisoned for defying the British government during the war.
Dr Erik Grigg and Dr Hazel Kent will tell 'dramatic tales of escape, defiance and subterfuge, as they discuss the pair's interconnected experiences at an event on Saturday 9 September, part of Lincolnshire Heritage Open Days 2017.
Related events include a guided walk focused on de Valera's escape and an exhibition about the imprisonment of World War One COs.
What: Prisoners of Conscience: Eamonn de Valera and Fenner Brockway in Lincoln prison, 1918-1919
When: 2pm, Saturday 9 September 2017
Where: Hardy Building, Teaching Room 1, Bishop Grosseteste University, Lincoln
Who: Dr Erik Grigg and Dr Hazel Kent
Admission is free. Tickets from 01522 585635; events@bishopg.ac.uk.
—-