ROS BATCHELOR examines the short life and sad death 100 years ago of an early ILPer and World War One CO who paid a heavy price for sticking to his conscience in defiance of military orders.
On 11 July 1917, a young man was found drowned in the River Ouse at Bishopthorpe, a village south of York. He was eventually identified as Alfred Martlew, a conscientious objector, whose stand in the spring of 1916, had led to his forced enlistment in the army.
Alfred was one of the 'Richmond 16', a group of conscientious objectors who were held at Richmond Castle in Yorkshire before being taken to France in late May 1916. For maintaining their strong beliefs and continuing to disobey military orders, they were sentenced to death. Ultimately the sentence was not carried out, but commuted to 10 years with hard labour.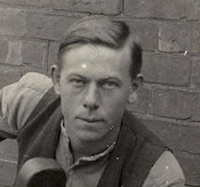 Alfred Martlew (pictured) was born in Gainsborough on 11 October 1894, the second son of Alfred Frank and Zilpah Martlew, née Cotton. His father was coachman to local solicitor and gifted amateur natural historian, Frederick Merryweather Burton. The Martlew family occupied the lodge at Highfield House, Gainsborough until their employer died in May 1912. In the 1911 Census, Alfred was recorded as living with his parents and was a short-hand typist at the local engineering works. In 1912, the family moved to the lodge at Coupland Hospital where father, Alfred Frank became handyman and gardener.
Alfred moved from Gainsborough to York early in 1913, to work as a commercial clerk at the chocolate factory in York, owned by the Quaker Rowntree family.  Alfred's family were Church of England, but he may well have attended the well established Quaker-run Adult Schools in Gainsborough and York. It was while in York that Alfred became liable for conscription into the army under the Military Service Act, passed in January 1916. By this time, he had been a member of the Independent Labour Party for several years and had also joined the No Conscription Fellowship (NCF).
After vast numbers of casualties in the first two years of the war, the Military Service Act 1916 legalised compulsory enlistment in the British Army for single men from 2 March 1916. The NCF, set up in autumn 1914 and working with Quaker MPs, Arnold Rowntree (York) and Ted Harvey (Leeds), and others, successfully campaigned to secure the 'conscience clause', which allowed men to apply for exemption from military service.
General Haig and Lord Kitchener were angry that the Military Service Act allowed absolute exemption, and believed men should serve their country before their conscience. They feared that large numbers of men might use this clause to seek exemption from conscription at a time when the army wanted more soldiers.
All COs and others applying for exemption on grounds such as economic hardship, had their cases heard initially at local tribunals and if refused by an appeal tribunal at county level. Alfred's case was considered by the local York Military Service Tribunal.
Fortunately, the papers relating to 6,000 appeals in North Yorkshire were not destroyed in 1921, as the government ordered, but have lain in dusty storage in the Record Office at Northallerton for 100 years. In 2015, a project began to examine this "treasure trove" and it is now possible to read, in the applicant's own hand-writing, the grounds on which exemption from military service was sought by Alfred and so many others.
Alfred's application to Local Tribunal in York is dated 23 February 1916 (on Buff form R-41) and was given Case number 52. He gave his age as 23, his address as 48 Fairfax Street, York and his occupation as a Ledger Clerk, Rowntree & Co Ltd, The Cocoa Works,York.
Alfred applied under Ground (f) "On the grounds of a conscientious objection to the undertaking of combatant service".  He added:  "Also to any alternative service under the Military Service 1916" and sought "Absolute & Complete" exemption.
His reasons in support of the application were eloquently and succinctly expressed as:
I have a conscientious objection to participating voluntarily or compulsorily in the taking of human life, or being an instrument for aiding others in the destruction of the same, as I believe in the principle of the "oneness" and solidarity of the human species, as being one of the fundamental principles of existence.
I absolutely and emphatically deny the right of our government to call upon me, as a Citizen of the world, to assist in the slaughter of my fellow men.
I am convinced in my own mind of the complete futility, inefficacy and wastage of war as a means of settling any kind of quarrel or grievance existing among Nations.
The decision of the Local Tribunal held on 14 March 1916 was that Alfred was "exempted from combatant service" (ECS).  On 16 March 1916, he submitted an appeal to the North Riding of Yorkshire County Appeal Tribunal (Pink form R43), which was allocated case number 289. His grounds for appeal were:
"I applied to the Local Tribunal for absolute and complete exemption, on the grounds that I hold, and have held for some years, a conscientious objection to warfare as it involves the killing of human beings, which I firmly believe is, from a moral, sociological and humanitarian point of view, absolutely wrong, as it is in conflict with the principle of the Brotherhood of Man and the solidarity of the Human Race. The local tribunal granted me exemption from 'Combatant Service' only, but I cannot consent to any kind of 'Non-Combatant Service' under the Military Service Act 1916, as I should thereby be assisting the Military System in the prosecution of warfare, and I am prepared to be myself sacrificed, rather than be the means of sacrificing others."
This appeal was dismissed on 3 April 1916, signed by tribunal chairman, H Bereford-Peirse, of Bedale Hall. In practice, only applications on religious grounds were likely to receive support, and socialist objections were often not considered adequate grounds for conscientious objection. By this dismissal, Alfred's "exemption from combatant service only" was confirmed.
On 25 May 1916, Alfred appeared in the York Police Court, charged with failing to report for military service at Fulford Barracks in York. The newspaper accounts of the event report that Alfred had not actually been notified of the result of his County Appeal, due to some possibly administrative mix-up. The outcome was ascertained by telephone and relayed to him. Consequently he was immediately handed over to the military authorities.
Alfred was drafted into the 2nd Northern Regiment Non-Combatant Company.  Non-Combatant Corps were newly established army units, specifically formed to accommodate conscientious objectors, who it was considered should be prepared to serve their country in the army, but would not be called on to actually fight and kill.
Defiance and detention
Alfred's military papers record that on 26 May 1916 he was awarded seven days in detention for refusing to obey an order. Sixteen men from various parts of Yorkshire, including Alfred, were held in cells at Richmond Castle for refusing to obey military orders, wear uniforms or undertake war-related work. The graffiti that they and other later prisoners wrote on the castle prison walls still survives, although not currently publicly accessible, as a legacy to their courageous stand.
On 29 May 1916, the men who became known as the 'Richmond 16' were sent as part of their unit by train to Southampton and transported, with another group from Seaford, across the channel on the torpedo boat, HMS Viper, to France.
Back in England, the NCF and the Society of Friends (Quakers) discovered these movements, but too late to stop the removal of the men to France. One of the '16', Bert Brocklesby, managed to send a coded message to the NCF.
A telegram from Arnold Rowntree, MP, in York to Ted Harvey, MP, in London reported the plight of the Richmond 16, alerted by  "my cousin, visiting Richmond".  This would have been Seebohm Rowntree, a director of the firm, possibly visiting Alfred as he was a Rowntree employee.
It is significant that on 31 May 1916 a York postal worker, who was another socialist conscientious objector, ILP and NCF member, Alexander Gardner Henderson, took his own life. Alex was due to attend the appeal against the refusal of his CO status. Instead he cycled out to Nether Poppleton and hung himself from a tree near the river.
The local NCF would therefore have received word of the movement of the 16 COs from Richmond Castle to France. There, "in an active theatre of war" they might be subject to further courts martial for refusing orders and could be shot. It seems likely that Alfred and Alex were friends and is very sad that Alex in despair took his own life.
In France the Richmond 16 were held in a guardroom of the Henriville Camp near Boulogne, together with another 17 COs who had already been sent to France from England on 7 May and a group of COs shipped in appalling conditions from New Zealand. Some had already been subject to very harsh treatment including the army's Field Punishment Number One, a cruel, painful two-hour daily "crucifixion", in which hands and feet were bound behind their backs to a post or a barbed wire-fence. The ropes cut into the skin under a man's own body weight and there was no shelter from extreme heat or cold.
Word of the movement of the various groups' of COs reached parliament. The prime minister, Herbert Asquith, expressly ordered that the men must be returned to England, but the army either did not receive the orders or chose to ignore them. MPs were outraged by the underhand way that the army had behaved.
All the COs were constantly told that in France disobeying orders could mean death by shooting, and some were forced to witness the execution of a regular soldier. Military papers for Alfred and others of the Richmond 16 record that on 6 June they were being held in the guardroom at the Henriville Camp at Boulogne; they were awaiting a court martial, for each having "while on active service disobeyed in such a manner as to show a wilful defiance of authority an order given lawfully by his senior officer".
On 12 June, the court martial was held. The verdict pronounced later in front of a huge assembly of troops, separately sentenced each man to "death by order of General Haig" but after a pregnant pause " the sentence was commuted to 10 years with hard labour".
The men were returned to Britain on 4 July 1916 and initially imprisoned at Winchester prison. At a Central Tribunal at Wormwood Scrubs on 14 August, Alfred's views were declared to be genuine and he was transferred to a newly established Home Office Scheme for COs. Under the scheme, COs serving sentences were transferred to army reserve 'W' and sent to various 'work centres', many created at existing prisons.
On 29 August 1916, Alfred and most of the Richmond 16 were sent to Scotland, to a granite quarry at Dyce, near Aberdeen. There they were expected to break up stone, which they later discovered was to be used for military roads.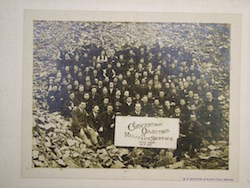 The conditions were so appalling that a young CO died of pneumonia and after an official visit, the camp was closed at the end of October. The men from Dyce (pictured) were assigned to various prisons and work centres. Alfred spent time felling trees in Scotland and was later at the Wakefield prison work centre.
Alfred and others considered the work they were required to do was not compatible with their CO stand. Unable to assuage his conscience, Alfred went on the run and returned home to Gainsborough.
At the beginning of July 1917 he came back to York, telling friends that he planned to hand himself into the police to be arrested and imprisoned rather than do, in his view, further military-related work at work centres. He met his fiancée, Annie Leeman, on 4 July 1917 and gave her his money, a watch and other articles.
Alfred's badly decomposed body was found in the River Ouse on 11 July 1917, but was identified only the next day.
At the inquest into Alfred's death held on 12 July, at the Reading Room, Bishopthorpe, Annie (a confectioner also from Gainsborough but probably working at Rowntrees) said that when she had last seen him on 4 July he was in a very distressed state. He was suffering from severe depression and had felt betrayed by the Home Office work schemes he had been sent to.
The coroner at the inquest concluded that there was no evidence of foul play and that Alfred had most probably taken his own life. The coroner's verdict, the death certificate and the entry in the burial register at the church record his death simply as "Found drowned in the river".
Researching the Martlew family history in the 1990s, Alfred's niece, Joan Jeffrey, had not been able to find his grave. Through my own research, I identified that Alfred's body was buried on 13 July 1917 in the churchyard at Bishopthorpe, the village near York where his body was taken from the river by the Archbishop of York's gardener.
Joan died, aged nearly 90, in September 2016, but was delighted to learn of the discovery of the grave and was glad to know that members of the Martlew family had attended an event on 5 June 2016, organised by York Quakers to remember Alfred and other York COs.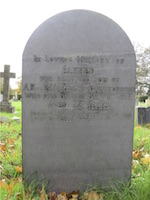 The unusually simple round-topped stone (pictured), perhaps provided by local Quakers, maybe his employers, names his parents and gives his date of death as 5 July 1917, the day after he was last seen alive.
Alfred's story was also featured by York Quakers in displays about conscientious objectors in 2014 and 2016 at the York Castle Museum as part of a wider exhibition relating to World War 1 and in a BBC Radio 4 Sunday Service on 29 May 2016, prepared by the Reverend Andrew Martlew, a descendant of Alfred's uncle.
In 1996, a 30-minute programme about the Richmond 16, with Alfred as the principal character, was broadcast by Tyne Tees Television in its 'Stranger Than Fiction' series.
Papers relating to Alfred's time in the army in 1916 were only found after I conducted a very diligent internet search. In his military papers, viewed via 'Ancestry', he was called Alfred Marklew, not Martlew. The pensionable service for a soldier demobbed in 1920 had been added in error at that time and created more confusion!
Particularly fascinating was the discovery of other military papers on 'Find My Past', mis-transcribed as Albert Martlew. These show that on 18 November 1912, just after his 18 birthday, Alfred enrolled in the Army Ordnance Corps.
Perhaps he hoped to help his parents by obtaining better pay and a place to live, as the hospital porter's lodge must have been rather cramped.
At this time, Alfred was recorded as 5ft 9in tall, weighed 120lbs with fresh complexion, greyish blue eyes and light brown hair.
Alfred stayed in the army for only 24 days and £10 was paid for his release within three months of attestation. We will never know who paid the £10, but this earlier experience may well have contributed to the stand he took in 1916.
It was almost immediately after this, early in 1913, that Alfred moved to York and began to work at Rowntrees, which may suggests some Quaker influence, perhaps through the Gainsborough Adult School.
—-
Ros Batchelor is a member of the Quaker community in York.
The author is grateful to Melissa Atkinson, Friends House Library; North Yorkshire County Record Office for early access to tribunal records, "Find My Past" and "Ancestry" for family history and military records, David Smith of Tunbridge Wells and Peter Bradshaw of Gainsborough for collaborative research and to Joan Jeffrey and other members of the Martlew family.