Sculptor Frank Casey is aiming to raise £5,000 through a crowdfunding campaign to cast busts of Spanish Civil War heroes Bob Smillie and John Cornford.
The fund raising effort via JustGiving is supported by the ILP, The Orwell Society and the International Brigade Memorial Trust.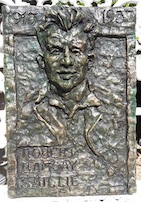 The busts have been created by Casey, who has donated his own time and materials, and the money raised will enable casts to be placed in sites across Britain and Spain associated with the young men who gave their lives fighting to save the elected Spanish government from Franco's fascist uprising.
Anyone donating £190 or more will receive an A4 sized miniature of the bust of their choice. These will be cast in batches of 10 as soon as that number of donations has been received.
To donate to the Smillie-Cornford Monument Club go to their JustGiving site.
—-